Dr. Lumpkin named recipient of Persons Case Award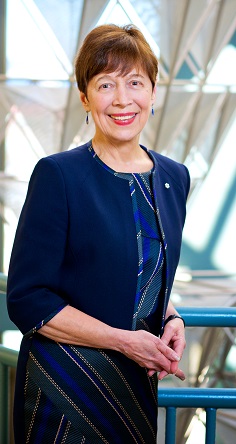 The Mount is thrilled to share the news that recently-retired President and Vice-Chancellor Dr. Ramona Lumpkin, CM, is among six Canadian women being recognized for their outstanding contributions to the goal of equality for women and girls in Canada. Dr. Lumpkin has been named a 2017 recipient of the Governor General's Awards in Commemoration of the Persons Case. She will receive her award at an event at Rideau Hall in Ottawa on October 19, 2017.

Persons Day occurs each year on October 18. This annual celebration marks the pivotal moment in 1929 when five Canadian women – Emily Murphy, Henrietta Muir Edwards, Louise McKinney, Irene Parlby, and Nellie McClung – won the right for women to be legally recognized as "persons" in Canada. The Governor General's Awards in Commemoration of the Persons Case were created in 1979 to mark the 50th anniversary of the groundbreaking Persons Case. More about the awards


About Dr. Ramona Lumpkin, CM
Dr. Ramona Lumpkin is a distinguished feminist scholar and university administrator. As President and Vice-Chancellor of Mount Saint Vincent University (2010-2017), she guided the institution towards greater equity, diversity, and inclusion, inspiring other post-secondary institutions in Canada to follow suit.

Growing up in rural Tennessee, Dr. Lumpkin was the first in her family to attend university. She achieved academic success early in her career, receiving a Fulbright scholarship before going on to earn her MA from the University of Tennessee and her PhD from the University of Kentucky. Her interest in women and gender was reflected in her research, with female self-hood forming the central theme of her dissertation and informing many of her later publications.

Dr. Lumpkin moved to Canada in 1989, holding positions of increasing responsibility at University of Windsor, Royal Roads University and Huron University College at the University of Western Ontario. In 2010, she became President and Vice-Chancellor of Mount Saint Vincent University, serving with distinction up until her retirement in June of this year. Throughout her career, she has consistently lifted her voice in support of women's participation in universities and in the public and private sectors.

During her time at the Mount Saint Vincent University, Dr. Lumpkin was the driving force behind construction of the new Margaret Norrie McCain Centre for Teaching, Learning and Research. The Centre is unique in its focus on celebrating women's accomplishments and is a testament to the University President's unwavering commitment to gender equality.

The recipient of numerous awards and distinctions, including the Order of Canada, Dr. Ramona Lumpkin lives in Halifax, Nova Scotia.


About Mount Saint Vincent University
Recognized as a leader in distance (online) and experiential learning, and based on a strong tradition of social responsibility, Mount Saint Vincent University takes a personalized approach to education to nurture socially responsible global citizens. The Mount has been nationally recognized for its legacy in the advancement of women, for providing students early access to valuable research opportunities, for having one of the lowest student-to-professor ratios, and for facilitating critical advancements in food security, healthy aging, literacy, and childhood development. When it was established by the Sisters of Charity in 1873, the Mount was one of the only institutions of higher education for women in Canada. At a time when women could not vote, the Mount provided an opportunity for women to learn and participate equally in society.