I've been looking forward to this September for many months.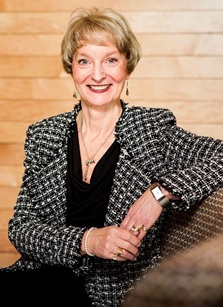 In fact, since it was announced earlier this year that I would be taking on the role of President and Vice-Chancellor at the Mount, I've been anticipating the start of my first full academic year as part of this wonderful community.


In many ways, I believe my academic and professional background in ensuring equitable access for those with disabilities has led me to this remarkable institution. It is a distinct honour to lead the Mount community in its efforts to engage and inspire marginalized and non-traditional students, and expand its focus on experiential learning, diversity, applied research and internationalization, as well as continue our historic and important focus on the advancement of women.
To those of you who are new to the Mount like me, I extend a warm welcome and assurances that you're about to discover what I did this summer – that the Mount is home to renowned professors, caring and supportive staff, and a close-knit community of students.
To those of you returning for another year, I extend an equally warm welcome back. I'm excited to dive in to a new academic year and hope you are too.
What's new and noteworthy
The summer months have been busy at the Mount with a few notable updates to share.
Sheila A. Brown Centre for Applied Research
This new research facility located in the former church at the front of campus was announced last year and construction started in earnest over the summer. When it opens early next year, the Centre will house two Food Science Laboratories and an Organic Synthesis and Biochemistry Lab. It will be home to research on diabetes, obesity, Alzheimer's disease, vitamin deficiency, early childhood health and well-being, and more. In short, it will be a wonderful new addition to the Mount's research infrastructure – of benefit to faculty and students alike.
Welcoming new faculty
We are pleased to welcome five new full-time faculty and one new librarian to the Mount this fall. Experts in English, Finance, Management, Women's Studies, Child & Youth Study, and library user experience and engagement, these educators and researchers are wonderful additions to the Mount community. We will share more information about each of these faculty members in the coming weeks – please stay tuned.
New Students' Union president and VPs
The Mount's
Students' Union
has a new president this year – Alex Cuming. Alex joins vice-presidents Alison Bryan (Student Life), Nikki Jamieson (Advocacy) and Erin Murray (Communications) to make up the union executive. The Students' Union has several exciting initiatives planned for this year; stay tuned. And watch for Student Representative Council elections to start soon (or think about putting your name forward as a candidate).
Ongoing funding conversations with the province
Further to media reports this summer of special provincial government funding for certain universities, the Mount is working closely with other Nova Scotia university leaders and the Province to ensure awareness of the need for the NS government to continue its investment in the sector in order to fully maximize the educational, research, community engagement, and, vital economic, social and cultural contributions made by our institutions across the province. We will continue to ensure that the government is aware that the Mount is a well-managed, fiscally responsible and efficient university, while also ensuring an understanding of our needs and challenges.
Changes to street names and numbers on campus
As you may have noticed, we unveiled a new street name on campus this summer in recognition of the significant contributions of recently retired President Dr. Ramona Lumpkin, CM. Lumpkin Road winds its way from the Rosaria Student Centre along the front of the McCain Centre to the main entrance of the Campus.
Also this summer, we began the process to assign civic addresses to all campus buildings and streets – an initiative that will help emergency responders more easily pinpoint locations on campus (using GPS). A call made to 911 will now show the specific civic address of the building it is originating from.
Staying connected
Paula Barry, the Mount's Associate Vice-President of Student Services has recently shared a list of the top 5 changes to student services – important things to know as we start another year. If you haven't already seen it, I encourage you to give it a read (
here
).
There is so much going on at the Mount – something for everyone – and I hope you'll stay in touch as the year unfolds. Our official
Facebook
,
Twitter
and
Instagram
accounts are a great place to look for Mount news. Dozens of University departments, programs and groups use social media to share updates; you can find a full list of those accounts
here
.
Whether you're new to the Mount or a returning student, faculty member or staff member, I hope you share in my excitement about the year that lies ahead. This is going to be a wonderful journey for all of us.