Mount Saint Vincent University alumni Violet Paul, BA, LLB has been appointed the new full-time Special Advisor on Indigenous Affairs at MSVU. She began in the role on October 10, 2023.
Supporting Indigenous student success and building meaningful relationships with Mi'kmaw, other First Nations, Inuit and Métis communities are of great importance to MSVU. As Special Advisor on Indigenous Affairs, Violet will provide strategic direction on Indigenous Affairs at the university and develop initiatives and programs that respond to student, Indigenous community and institutional needs.
"I'm delighted to work at my alma mater and represent my community as Special Advisor, which will serve as a form of healing within the Truth and Reconciliation process," said Violet. "I have advocated on behalf of my community for social justice and changes since my graduation from higher learning and I will continue to represent my community until education can truly become 'the great equalizer' in society."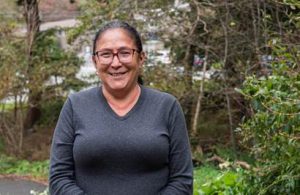 As a member of the L'nu Advisory Circle, the Special Advisor works in partnership with Indigenous communities and provides support to Indigenous learners, including overall management of the Kina'masuti aqq Apognamasuti / Indigenous Student Centre. This work is also supported by the Auntie in Residence and Indigenous Student Centre Coordinator at MSVU.
"As MSVU works to remove barriers to education, particularly for equity denied groups, Violet's leadership will be invaluable to the university and wider communities. With her leadership, we will continue to prioritize supporting Indigenous learners and working with Indigenous communities to advance meaningful efforts in Truth and Reconciliation," said Dr. Joël Dickinson, President and Vice-Chancellor.
Violet replaces Patrick Small Legs-Nagge who held the position of Special Advisor on Indigenous Affairs at MSVU from the time it was established in 2017 until his retirement this year.
About Violet
Violet is a Mi'kmaq woman from Indian Brook (within the Sipekne'katik First Nation). She is a lifelong learner who has attended three post-secondary institutions and knows firsthand what's required to foster academic and professional success.
She holds a Bachelor of Arts degree in Political Science and Sociology from MSVU, a Bachelor of Law degree from Dalhousie, and a Diploma in Business Administration from NSCC. These experiences afforded Violet several opportunities to analyze the social challenges that impact the health and well-being of Indigenous communities throughout Turtle Island.
Violet has worked in policy and programs with municipal and federal governments, the Assembly of First Nations, Shubenacadie Band Council and others. She played an essential role in the 2008 historic apology from Prime Minister Stephen Harper to the Survivors and all Indigenous persons for the multi-generational impacts of the residential school system.
MSVU is located in Mi'kma'ki, the unceded and ancestral territory of the Mi'kmaq People.