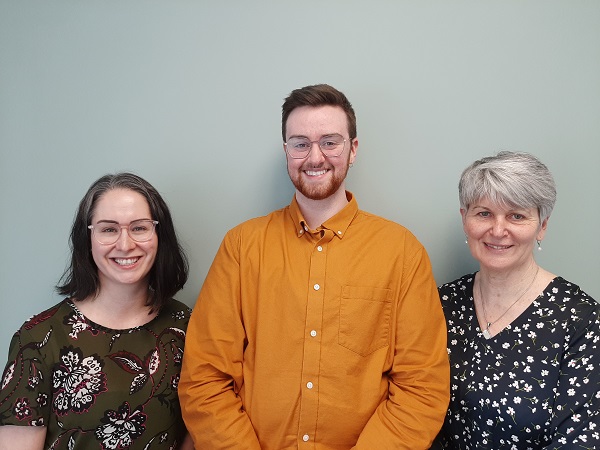 Three key individuals who've been supporting the growth and community contributions of the Alzheimer Society of Nova Scotia are linked by a common thread of Mount Saint Vincent University (MSVU) education and experience.
Meet Linda
Linda Bird, the Alzheimer Society's newly retired Director of Programs and Services, was the first to make her way to the organization 18 years ago. After earning a Master of Arts degree from MSVU in 1998 in what was at that time known as Human Ecology, Linda spent her first six years after graduation working with the Nova Scotia Centre on Aging at the university. She then joined the Alzheimer Society, where she's been up until retiring at the end of March.
"We've built the organization up, and it continues to evolve," says Linda. "It's a good time for me to step away because we have excellent staff here and the society is in good hands. The team is very capable, and they can take things to the next evolution of what the Alzheimer Society is going to look like."
Meet Sacha
Included on the competent team she's leaving behind is Sacha Nadeau, a 2014 MSVU graduate with a Master of Arts in Family Studies and Gerontology who is taking over from Linda as the society's new Director of Programs and Services. Like Linda, Sacha's initial experience was with the Centre on Aging at MSVU, and both also served as guest lecturers after graduating from the university. Sacha has been with the Alzheimer Society for three years now, providing her with a solid footing from which to begin her new role.
"It's been really inspiring to see the growth behind the scenes at the society and to have had a chance to deliver most of our programs before stepping into this position," Sacha says. "Because of this, I'm very familiar with our current suite of programs and services and have a sense of the directions in which we can grow. I also have a phenomenal team behind me to help bring it to life."
Meet Marco
As Sacha takes on new responsibilities with the society, yet another MSVU alumni member is picking up where she left off. Marco Redden is a 2021 graduate of MSVU's Master of Arts in Family Studies and Gerontology who was the recipient of the university's Graduate Thesis Award for his thesis: 'Meaningful Engagement among Care Home Residents with Dementia and Family Members: A Critical Ecological Analysis.' After being with the Alzheimer Society in a contract position for the past year, Marco is the organization's new Research and Evaluation Coordinator.
"My work involves collaborating with researchers who partner on projects with the Alzheimer Society, ensuring our clients have a voice in research and translating knowledge for our staff and clients to better understand what's happening in the world of dementia research," says Marco. "I'll also be updating how we evaluate our programs and looking at the data we collect to support evidence-based decisions with our programming."
Like Linda and Sacha before him, Marco also worked at the Centre on Aging at MSVU – and it was that organization that ultimately brought them together when Marco responded to a request Sacha made for student volunteers for a conference the Alzheimer Society was hosting.
"I raised my hand and said, 'Absolutely, I would love to get connected.' So, we met through our shared connection to working for the Centre on Aging and our shared academic background," he says. "The three of us just immediately clicked. We have the same values, the same passions and interests."
Sharing an unspoken language
While they attended the university at different points in time, the three agree their experience and education at MSVU influences how they approach their work and the way they communicate with one another.
"There's an unspoken language when it comes to how we understand issues. We can challenge each other with an array of perspectives that are so valuable in assessing evidence and supporting decision-making," says Marco. "It's informed by the work we did in MSVU's Gerontology program and at the Centre on Aging. That shared experience instilled in us a set of tools and values for how we approach and conceptualize issues in dementia and aging, and how we place older persons and their care partners at the centre of our work."
Both Sacha and Linda agree. Notes Linda, "From my time at MSVU, I learned about the human ecological perspective when you're looking at topics not only through a psychological or social lens, but also a political one. To me, that was a really important way of looking at problems – there are some things that are within your control, and some things are just systemic. There are policies that we need to change. That outlook has always really been helpful to me.".
The MSVU/Alzheimer's Society partnership
Dr. Janice Keefe, Professor in MSVU's Department of Family Studies and Gerontology, Director, Nova Scotia Centre on Aging, and Lena Isabel Jodrey Chair in Gerontology, says the relationship between the Alzheimer Society and the university is important and beneficial for all involved.
"There are a lot of interconnections between MSVU and the Alzheimer Society. I think it's great that the society provides such meaningful opportunities for graduates of our master's programs in Gerontology and Family Studies. It's clear the organization values their critical thinking and research abilities," she says. "I sit on the Alzheimer Society's research advisory board, and our team also does contract work from time to time for the society. It's always interesting and actually quite rewarding when my former students become my boss and I'm the one providing deliverables for them."
In fact, the Centre on Aging at MSVU has just completed a significant contract for the Alzheimer Society, producing an implementation plan for dementia-friendly communities. The document captures  key takeaways from four other provincial Alzheimer societies that participated in a recent Dementia-Friendly Canada pilot and provides a roadmap for Nova Scotia
"It is a hugely helpful framework of "lessons learned" for the Alzheimer Society to proceed with making Nova Scotia more dementia-friendly – an initiative we will officially launch this year," says Sacha.
Linda agrees that the ongoing collaboration between the society, Dr. Keefe and MSVU is essential, saying, "We acknowledge each other's expertise and scope, and we can lean toward each other as needed. We have a vested interest in fixing problems together. We're stronger at the same table."