Mount Saint Vincent University today announced the creation of a new fund in support of Indigenous students through a $500,000 donation from philanthropists Scott McCain and Leslie McLean. The university is also making an investment of $500,000, for a total combined new investment of $1 million in financial supports for Indigenous students at MSVU.
The Scott McCain and Leslie McLean L'nu Student Success Bursary Fund will support full-time undergraduate Indigenous students across all programs at MSVU through renewable bursaries and an L'nu Emergency Fund.
The bursaries will be awarded to Indigenous students at MSVU from Canada each year and will focus on supporting students facing financial barriers in the pursuit of a post-secondary education. Each will be renewable for up to four years.
The L'nu Emergency Fund will provide support to Indigenous students at MSVU who are faced with financial needs due to unforeseen circumstances, for example, emergency housing, travel, child care, or technology needs.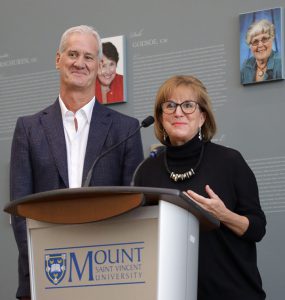 "We are deeply grateful to Scott and Leslie for their very generous gift in support of Indigenous students at MSVU," said Ramona Lumpkin, CM, PhD, MSVU Interim President and Vice-Chancellor. "Theirs is a deep commitment to removing barriers to education, in particular for Indigenous students. And it's a commitment that aligns well with MSVU's dedication to ensuring opportunity and a supportive experience for Indigenous students."
"We were inspired by MSVU's demonstrated commitment to Indigenous learners and communities and sought to help further that critical work through direct financial supports to students. We believe in the power of education to transform lives and are pleased to support Indigenous students at MSVU," said Leslie McLean, who is also a member of the MSVU Board of Governors.
"In addition to ensuring bursary supports, we recognize that unexpected financial needs can arise in other areas of students' lives which can have an impact on their abilities to continue their studies," said Scott McCain. "It is our hope that the new L'nu Emergency Fund will help address those financial challenges for Indigenous students."
"Access to post-secondary education for Indigenous youth is an important stepping stone in one's path to success. Having access to education not only supports one's own ambitions, but also supports the greater community," said Samantha Rioux, Indigenous alumna of MSVU (MA in Child and Youth Study, '21), Program Officer, Public Health Agency of Canada, and part-time instructor in Child & Youth Study at MSVU. "Obtaining a post-secondary education comes with complex barriers, one being financial. Today's announcement of new bursaries will help Indigenous youth to achieve their post-secondary goals."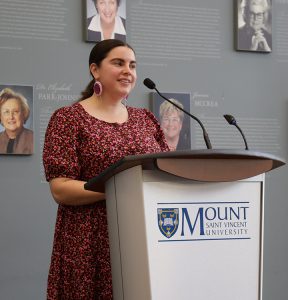 MSVU works closely with Indigenous experts to build educational programs and services in support of Indigenous youth and communities and promote Indigenous world views in its work. Current programs and collaborations include, for example: a university access program with the Mi'kmaw Native Friendship Centre; an Indigenous Student Centre (established 2013) which has recently been renamed Kina'masuti aqq apoqnamasuti (which means "learning and help"); an Indigenous Student Services Coordinator, currently Flo Spencer; bursary support; a Special Advisor on Indigenous Affairs (role established 2017), currently Patrick Small Legs-Nagge; the L'nu Advisory Circle – a vital advisory body made up of community and university Indigenous representatives; and a wikuom on campus providing a gathering and educational space for all (the first in Atlantic Canada). MSVU also continues to make progress on 12 new commitments it made to Indigenous Peoples at a ceremony of apology and commitment held in the fall of 2021.
MSVU is located on unceded ancestral Mi'kmaq territory. This territory is covered by the Covenant Chain of Treaties of Peace and Friendship signed between 1725 and 1779. We pay respect to the knowledge embedded in the Indigenous custodians of this land and to the Elders, past, present, and future.
-30-
Media contact:
Gillian Batten
Director, Communications
Mount Saint Vincent University
Gillian.Batten@msvu.ca
902-457-6439