This fall, Mount Saint Vincent University (MSVU) will welcome its first class to embark on a shiny new program of study. With the increasing demand for communications professionals, and the university's deep connection to crows, MSVU is introducing a Bachelor of Crow-munications. Students will benefit from analyzing the sophisticated communication system of crows and its applications to real-world organizational communications management.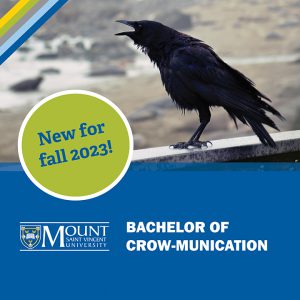 The program, believed to be the first of its kind in Canada, will roost in the Department of Communication Studies in collaboration with the Department of Biology. Students will take a variety of courses, including:
Crisis Crow-munications: When Feathers Ruffle
Stakeholder Engagement: The Shiny Object Effect
Auditory Communication: What's in a Caw?
"For decades, the crows of HRM (an estimated 4,000-8,000 of them) have flocked to the MSVU campus every evening at dusk to roost – a fascinating phenomenon for which the university has become known," explained Dr. Ramona Lumpkin, Interim President & Vice-Chancellor of MSVU. "It's high time that they were incorporated in a meaningful way into our academic programming."
Ellen Shaffner, Assistant Professor in the Department of Communication Studies, says this program is for students who aren't afraid to think outside of the box (or nest).
"You might not think it, but there's so much we can learn at this intersection of biology and communication. For instance, studies show that crows can remember human faces associated with stressful situations for up to five years, and that they'll also warn their friends. In other words, a crow will destroy the reputation of someone who threatens it, and then communicate the threat to its social networks, expressing its displeasure through voice – or caw. This process in crows really helps us understand some of the nuances of reputation and relationship management in communication."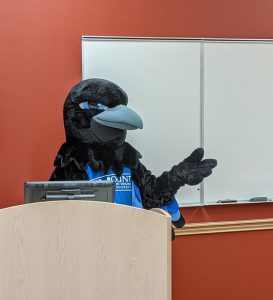 Kevin Shaughnessy, Senior Lab Instructor in the Department of Biology, is excited for students to dive deeper into the study of auditory communication, exploring crow anatomy and social dynamics.
"Crows are fascinating creatures. They may not talk, but they do communicate with a wide variety of sounds and movements. Research has even shown that if a crow changes social groups, the bird will try to fit in by 'talking' like the popular crows. Crows are much more like us than we like to let on."
Ellen and Kevin wish to acknowledge the contribution of the university's resident crow expert and mascot, Captain Crow, in the development of this new program. Captain was a key advisor on curriculum development.
For more information, check out the promotional video. A big thanks to Tien Pham, a second year Bachelor of Public Relations student at MSVU, for creating the video!
Did we get you? Happy April 1st!