Event returns February 17th, 2017 following its very successful inaugural edition last year
This African Heritage Month, the Mount's Africentric Support Group together with Soli-productions, (Mount alumna Solitha Shortte), will host the 2nd annual "Fabric of our DNA" fashion show and silent auction featuring celebrated designers Selasie Tagboto, Wafa Ouzri and Toria Aidoo. Funds raised at this event will support the Mount's Africentric Scholarship Fund.

When: Friday, February 17, 2017 from 6 pm to 9 pm
Location: Mount Saint Vincent University, 166 Bedford Highway, Rosaria Student Centre, Multi-purpose Room [map]
General admission: $35 (non-student)
Students: $20 (must show student ID)
Tickets are available for purchase online.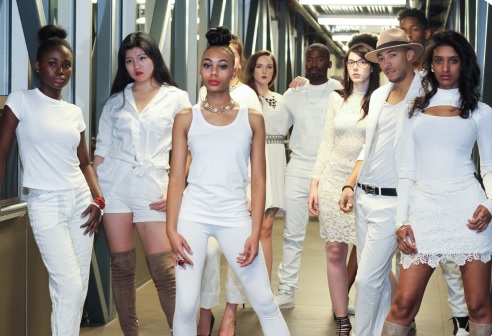 "The Fabric of our DNA" is set to be a cultural explosion and celebration of creativity and diversity in our heritage through fashion and artistry. Attendees will experience the rich African cultures fostered in various countries around the world – their elegant dress, music, artwork – and create opportunities for tomorrow's leaders," says Randy Headley, Africentric Support Coordinator at the Mount.

The Mount's Africentric Support Group was formed in 2012 and today is led by Mount employee and graduate student Randy Headley toward better supporting the learning experiences of students of African descent at the Mount. The Group also works across the Mount community to provide learning opportunities.


About the featured designers
Selasie Tagboto is the designer of "Tagboto clothing." Her collection entitled "identity" is inspired by the beauty of African print fabrics, the people and places she has seen and by incorporating detail on handbags, backpacks, and hats.

Wafa Ouzri collection: Wafa's collection came directly from Morocco, North Africa. The collection is made up of traditionally inspired clothing.

Toria Aidoo, the owner of KwestomarKreations, strives to promote African culture and heritage. Toria works closely with other designers to provide uniquely crafted outfits at fair trade prices.


For more information
Randy Headley
Mount Saint Vincent University
Africentric Support Group
902-457-5547
Randy.Headley@msvu.ca
www.msvu.ca/asg
Twitter: @MSVUASG
Facebook: MSVU Africentric Support Group