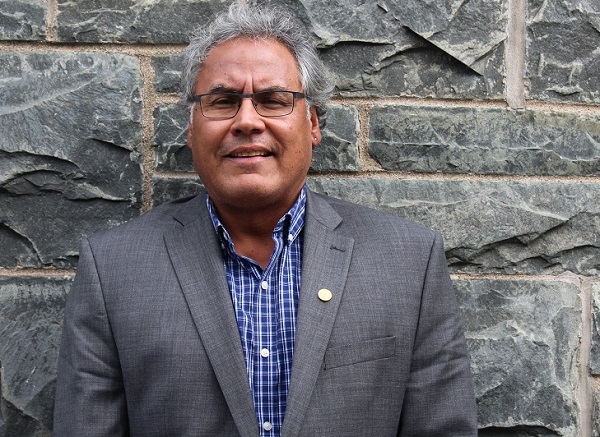 Patrick Small Legs-Nagge has been named Mount Saint Vincent University's first Special Advisor to the President on Aboriginal Affairs. This is a new role at the Mount and one that will play an important part in supporting the success of Aboriginal learners and building meaningful relationships with the Aboriginal community – both of which are of great importance to the Mount.
The Special Advisor on Aboriginal Affairs reports directly to the University's President and crosses all areas impacting Aboriginal students – from direct student support to policy and strategic advising.
The Special Advisor to the President on Aboriginal Affairs role is in addition to the Aboriginal Student Services Coordinator at the Mount, a position that was established in November 2012.
"I am looking forward to providing strategic advice and direction to the President, Dr. Mary Bluechardt, on Aboriginal matters," said Patrick. "There's already some great work being done at the Mount on Indigenous initiatives, and I'm pleased to help further that work through collaboration with faculty, staff, students and communities."
Patrick is a member of the Piikani First Nation (in Alberta) and most recently worked with Health Canada as Director of Mental Wellness, First Nation and Inuit Health (Atlantic Region). Patrick also has extensive policy experience having held advisory roles on Indigenous issues across housing, social services, environment and other portfolios. Recently, Patrick developed curriculum for and taught in the Mi'kmaw Mental Wellness & Addictions Certificate program at the Nova Scotia Community College. He has also taught within the Faculty of Social Work at Dalhousie University.
"This new role reflects the Mount's commitment to ensuring a strategic focus at the highest level on programs and policy that are supportive of Aboriginal student learners," said Dr. Mary Bluechardt, President and Vice Chancellor, Mount Saint Vincent University. "We are delighted to welcome Patrick to the Mount community and I look forward to working closely with him."
As Special Advisor, Patrick will provide leadership to the University in supporting faculty, staff and students in meeting the Mount's commitment to reconciliation and will play a vital role within the Aboriginal community at the Mount and beyond. He will provide support to Aboriginal learners through the student life cycle, assist with student recruitment, retention, and systems navigation and provide community outreach to prospective, new and returning Aboriginal Students through management of the University's Aboriginal Student Centre. Patrick will also help provide strategic direction on Aboriginal Affairs and develop initiatives, programs and policies that respond to student, Aboriginal community and institutional needs.
In 2013, the Mount consulted with 8 Mi'kmaw nations in Nova Scotia to identify their post-secondary education needs. This consultation informed an
initial strategy on Aboriginal student engagement
which has since been implemented. The Mount is now in a position to work on its next set of priorities with regards to supporting Aboriginal students. To help guide that work, in addition to the Special Advisor on Aboriginal Affairs and Aboriginal Student Services Coordinator, the University has internal and external Aboriginal Advisory Committees in place.
The Mount opened its Aboriginal Student Centre in 2013 and became the first NS university to raise a Wikuom on campus in June of 2017.
---
Kelly Gallant
AVP, Communications, Marketing and Student Recruitment
Mount Saint Vincent University
902-457-6339
Kelly.Gallant@msvu.ca