As part of Pride celebrations at the Mount, we are sharing the stories of Mount community members advancing efforts with a focus on the 2SLGBTQ+ community. Today, we're proud to feature the work of part-time faculty member and doctoral student, Brenda Hattie-Longmire.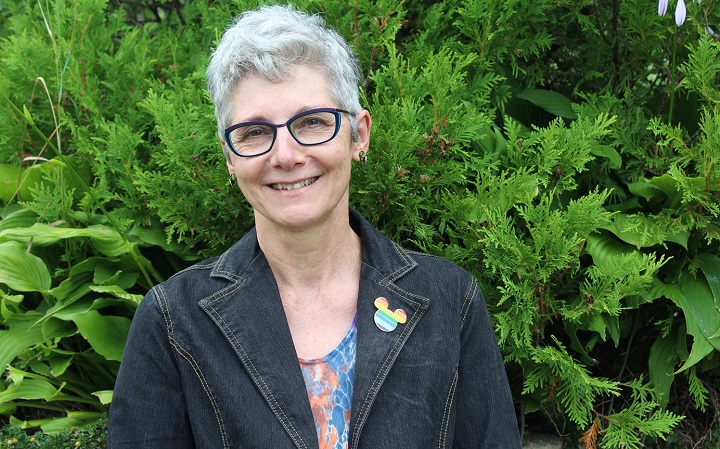 Currently a part-time faculty member in Women's Studies at the Mount, Brenda Hattie-Longmire's career has transected several fields. No matter her role, her efforts have always focused on helping others.
Brenda's current PhD research is exploring how individuals reconcile their belief systems with contrasting ideas, with an emphasis on sexual/gender identity and religion. One of the goals of that work is finding new ways of helping students in particular.
In the classroom, she has noted great variability in students' experiences with course material – specifically material focused on gender, sexuality and religious beliefs. She noticed that some students would struggle with the discrepancy between their existing or inherited belief systems and material that challenged those world views. "I wanted to better understand how to support students who feel deeply challenged by things they are learning," says Brenda.
She is pursuing a PhD in Educational Studies through a program offered in partnership by the Mount, Acadia University and St. Francis Xavier University. Students of the inter-university program conduct advanced educational research, making important contributions to academic research and policy.
As part of her doctoral studies, Brenda has interviewed students who identify as gay, lesbian or queer and who were raised in homophobic religious environments to discover how they negotiated homophobic beliefs and values in order to come out. She notes that the results are complex, drawing on many areas of identity. "The process draws on many capacities – cognitive, emotional, spiritual, and embodied," she says. "There's not an aspect of a person's identity that isn't in play."
It's a process that can be particularly difficult for people of marginalized communities who often face additional barriers, such as race, age, disability, or gender. Those feeling the pressures of stereotypes also often find the process challenging.
Brenda's hope is that the insights gained through this work can be applied to students going through similar processes of reconciliation in the classroom. "It takes courage and fortitude to make a dent in homophobia," she says. "It takes a lot of people doing it."
---
"No matter how thick a slab of concrete, you can always find little blades of grass poking through. Despite the pressures they face, people still persist."
– Brenda Hattie-Longmire, Women's Studies
---
Brenda's career began in an administrative role in a church. She later worked for a non-profit organization supporting people living with disabilities. She graduated with an MA in Women's Studies at the Mount in 2001. In 2005, she applied to teach a contract in the Mount's Women's Studies Department. It was through this experience that she discovered a passion for teaching. "I love supporting students through the learning process," Brenda says. "And I love learning with them."
This summer, she is deep in the learning process with students enrolled in
Women's Studies courses
. She regularly teaches Focus on Women I and Focus on Women II on a part-time basis; both courses explore the diversity of women's lives, including women's relations to work, family, health, education, race, class, sexuality and violence (Focus on Women I) and women's oppression (Focus on Women II). She also teaches occasionally in the department of Family Studies and Gerontology and has been working on research projects at Dalhousie University for the past five years.
A big commitment of Brenda's is keeping materials up to date through inclusion of new Indigenous, queer and marginalized perspectives and stories. "These perspectives are fundamental pieces of my courses," she says.
A teaching focus on feminist issues is rewarding in many ways for Brenda, especially for the opportunity it provides to witness growth in students throughout a course. "It's gratifying to see students take on the issues they learn about in the course," she says. "I love seeing critical thinking at play and the maturity that comes with understanding history."
Brenda encourages a social justice mindset among her students, highlighting how they can help create positive change within the structures they are part of. Some of the areas Brenda encourages students to explore are issues of gender inequity, diversity, Indigenous inclusion, queer focus and accessibility. "There are structures across every organization that need to see change, including the Mount," Brenda says. "When we understand how we work within them, we can identify ways to change them."
"Be your own advocate within structures you are part of, and it will help the next person who comes along succeed as well."