Summer's not over just yet!
In fact, there are still several warm, sunny weekends ahead – which means time to fit in a few more beach reads. We turned to our wonderful English faculty for some summer 2018 reading inspiration. Read on for their recommendations.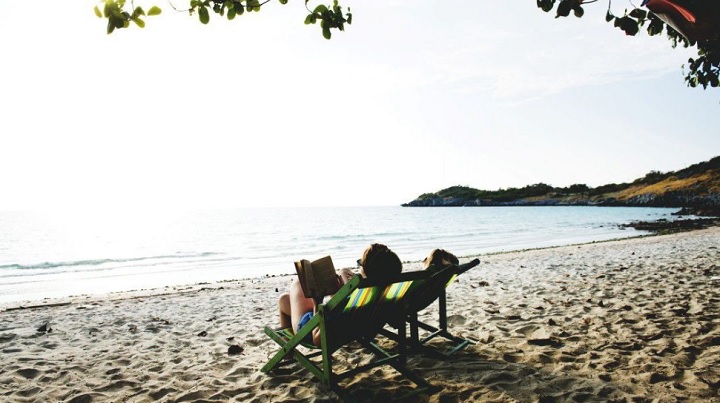 By Karen Macfarlane, Associate Professor, Department of English
When the English department was asked to participate in an article on recommended summer reading, we immediately erupted into a series of questions: recommended for what? for whom? and so on. You see, as English faculty, this, and its sister question, "what is your favourite book?" are often posed to us in a variety of social situations. And the question always stumps us. Because English faculty, as a group and as individuals, have very complex relationships to books. There are the books that we like to read for pleasure, but what we read for pleasure might be very, very different from what might best be called "beach reading" by a lot of people. There are also the books that we love to teach, there are the books that we read as part of our research. There are books that we return to over and over and over, what might be called "desert island books," but which could also be considered to be books that we consider old friends, with plots and characters that we enjoy revisiting.

So the complex relationship that we have to what we would recommend and the question of what our "favourites" are can only be answered in terms of this series of relationships to reading.

What we have put together below are our answers to this question. We have picked four categories as a way of organizing our answers and providing a bit of context for our answers. We hope that some of these will be interesting for others!

---
What are you reading for pleasure right now?
Graham Fraser: Wittgenstein Jr by Lars Iyer. Fragmentary, funny, desperate little novel on the possibilities for philosophy and love in contemporary neoliberal Cambridge. I read it on one plane trip, but I expect to be thinking about it all summer.

Reina Green: Wolf Hall by Hilary Mantel. I often pick historical fiction when reading for pleasure. Mantel's novel is set in the sixteenth century, and focuses on the rise of Thomas Cromwell, Henry VIII's chief advisor. It is written in an unusual style—in the present tense and from a third-person limited perspective, which has a strong sense of immediacy for the reader. After Wolf Hall, there's its sequel, Bring Up the Bodies.

Karen Macfarlane: The Grave's a Fine and Private Place: A Flavia de Luce Novel by Alan Bradley. Mystery novels are my go-to genre for light reading and Bradley's series featuring a precocious young English woman in the years following the end of the Second World War is smart, funny, and totally engrossing. I have been addicted since the first instalment!

Diane Piccitto: Goodnight Desdemona (Good Morning Juliet) by Ann-Marie MacDonald. Ann-Marie MacDonald adapts not one but two of Shakespeare's tragedies – Othello and Romeo and Juliet. I love good adaptations, especially ones that are feminist and queer like MacDonald's play. It's smart and funny with no joke or double entendre too cheap!

Anna Smol: If I'm going to take some days to read on the beach, I like to have a big book that I can savour. This year, I plan on reading a new translation of Homer's The Odyssey by Emily Wilson, who is the first woman to publish a translation of this ancient Greek epic. If I have enough time, I'll move on to the novel Circe by Madeline Miller, a re-imagining of the story of one of Homer's characters. To me, the best way to read about the adventures of Odysseus as he sails home from Troy is with warm sand in your toes and ocean breezes in your hair.

Nathaniel Street: Absalom, Absalom!, by William Faulkner. The pleasure lies in its stylistic tragedy. The writing is hauntingly beautiful in a way that renders the past in a mystical and naturalized haze and, thus propels the reader into the future facing backwards: never quite knowing, but always feeling, where they are and where they are going. Reading the book performs a kind of trauma that resonates with that of its characters.
---
What is your favourite text to teach?
Graham Fraser: Frankenstein by Mary Shelley. Not the book anyone ever thinks it is, and it applies somehow to every field of university study. As one student said "You can take it anywhere!"

Reina Green: Hamlet by William Shakespeare. There is a reason why this is the most well-known play in the English language. It's a revenge tragedy, historic fiction, a mystery, a ghost story, a guide to Freudian psychoanalysis, and an actor's how-to manual. The play also raises more questions than it answers. I love exploring those questions with students.

Karen Macfarlane: Dracula by Bram Stoker. I love teaching this novel partly because students often feel as if they know the text and are generally completely surprised when they read it, and partly because there is so much to talk about (issues of technology, sexuality, textuality, character, empire and race…) that our discussions are different in every year!

Diane Piccitto: Fun Home: A Family Tragicomic by Alison Bechdel. While my favourite texts to teach are those by Romantic-era writers and Shakespeare, I can't bring myself to choose just one. Instead, I chose my favourite contemporary text. Fun Home, Alison Bechdel's memoir, is an extraordinary graphic novel that prompts lively class discussion not only about the relationship between its verbal and visual components but also about its queer themes and sophisticated allusions from Greek myth to the modernist novel, from the bible to lesbian erotica, and from historical events such as the AIDS crisis to pop culture.

Anna Smol: J.R.R. Tolkien's The Lord of the Rings. It enables us to discuss so much, from Old English poetry to World War One writers to contemporary film and fan studies. And no other text unleashes my students' creativity like this one; in fact, some of my former students have published essays and artworks based on their course assignments!

Nathaniel Street: "Plato's Pharmacy." by Jacques Derrida. Aside from its astounding insights, this rather long essay is great to teach because Derrida does less to critique and discipline what Plato has done wrong than he does to get inside the philosophical life that Plato has created to bring about its own deconstruction and transformation. It's a great way to teach and explore a mode of inquiry that isn't simply committed to critique.
---
What are you reading for research?
Graham Fraser: As I Lay Dying by William Faulkner. Part of my project on modernist haunting. Spent last week reading the original typescript of the book in the archive at UT Austin.

Reina Green:Unnatural and Accidental Women by Marie Clements. While one of my areas of teaching and research is Shakespeare, the other is contemporary Canadian theatre. This play explores the deaths of several Indigenous women in Vancouver's Eastside during the 1970s and 80s. Clements incorporates Indigenous concepts of time, space, and community and a wide variety of theatrical effects into her work to emphasize the lives—the hopes and dreams—of the women rather than their deaths.

Karen Macfarlane: Haunted Media: Electronic Presence from Telegraphy to Television by Jeffrey Sconce. Sconce's book is a comprehensive and influential look at the interrelation between haunting/the gothic and media in American culture. His focus is on the ways in which our intimate interaction with various types of electronic technologies engenders a deep unease. This book has been very useful in my development of a recently submitted article on zombies and the internet and in my current work on neoliberal politics, technology and "reality" ghost hunting shows in contemporary culture.

Diane Piccitto: Eternity's Sunrise: The Imaginative World of William Blake by Leo Damrosch. William Blake's texts are notoriously challenging. Leo Damrosch provides an illuminating overview of the life and work of this Romantic artist for both specialists and non-specialists alike, making Eternity's Sunrise a great way into the Blakean universe.

Anna Smol: Tolkien and Alterity, a book of essays edited by Chris Vaccaro and Yvette Kisor. This recently published collection opens with essays surveying past scholarship in two main areas, "Queer Tolkien" and "Race in Tolkien Studies," followed by new articles in sections on "Women and the Feminine," "The Queer," "Language," and "Identities." I'm sure I'll find lots of ideas to fuel my research and teaching in this book.

Nathaniel Street: Rhetoric of Tooth and Claw: Animals Language, Sensation by Debra Hawhee. Hawhee's book is a brilliant account of the role that animals play in cultivating sensuality in language. For my research on the pedagogical power of writing, I'm particularly interested in how Hawhee turns to animal-centric writing pedagogy – especially the ancient and medieval practices (progymnasmata) of writing fables – as a way of heightening a sensual liveliness in writing and thinking.
---
What book do you read over and over again (or, what is your "desert island" book)?
Graham Fraser: Rings of Saturn by W.G. Sebald, itself a book about eternal returns. Those grainy black-and-white photos. Those empty gravel beaches. The melancholy – the museums – the herring! Whenever I read this book I always end up wandering about the house, looking out windows, feeling there's something I can't put my finger on, letting the tea grow cold.

Reina Green: The Mists of Avalon by Marion Zimmer Bradley. I've been fascinated by the legends of King Arthur since I was a teenager living near Tintagel Castle, where Arthur was supposedly conceived. The Mists of Avalon tells of Arthur's rise and fall from the perspective of his half-sister, Morgan le Fay, and focuses on the influence of the women around him.

Karen Macfarlane. The Hitchhiker's Guide to the Galaxy by Douglas Adams. I first read this novel (adapted from the original radio series) when I was an undergraduate. It is brilliant: hilarious, philosophical, thought-provoking and a total gem. I turn to this (and the other books in the series) when things get crazy busy and I need to visit with old friends!

Diane Piccitto: William Blake's Illuminated Books (http://www.blakearchive.org). I cheated – I chose not one work but Blake's whole canon of what he called Illuminated Books, which combine engraving, painting, and poetry, recalling illuminated manuscripts and anticipating graphic novels. Works such as "The Garden of Love," The Marriage of Heaven and Hell, and the epic Milton are irresistibly captivating and stirring thanks to Blake's aggressive, emotive style and his repeated calls on the audience to fight oppression of all kinds.

Anna Smol: Beowulf. I first encountered Old English poetry as an undergrad, and I was hooked because of the beautiful sound and feel of the Old English language and the meditative and courageous outlook on a transitory world generally expressed in the literature. And Beowulf still lives on in many versions: prose adaptations, children's stories, movies, graphic novels. It returns, if not eternally, then at least continually!

Nathaniel Street: Thus Spake Zarathustra by Friedrich Nietzsche. I chose this book because I will always continue to (re)turn to it. But, as the dramatization of Nietzsche's concept of the Eternal Return, it also just seems to me that I have no choice in picking this book for this category!