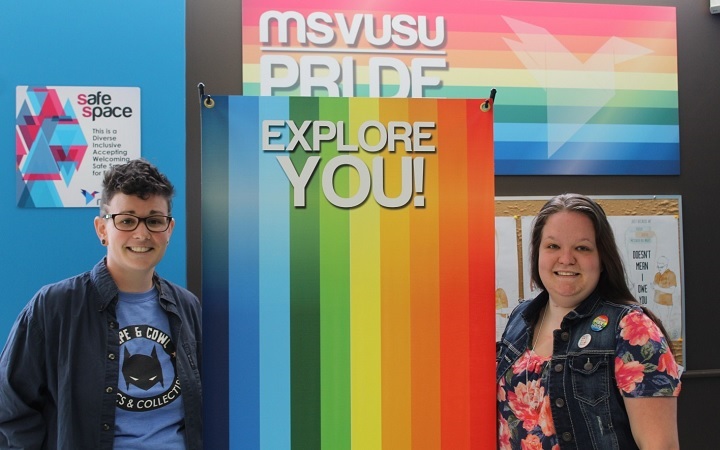 Pride Centre Coordinator Sebastian Gaskarth (left) and Mount Students' Union Vice President of Advocacy Madeline Mitchell (right) have plans to expand the reach of the MSVUSU Pride Centre for the 2018-2019 academic year.
---
As part of Pride Week at the Mount, we are sharing the stories of Mount community members advancing efforts with a focus on the 2SLGBTQ+ community. Today, we're proud to feature the Mount Students' Union's Pride Centre.
---
Extending kindness, promoting wellness
Sebastian Gaskarth is a big believer in kindness, and has plans to extend that kindness to Mount students through their new role as Pride Centre Coordinator.
Originally opened in 2014, the space is managed by and for Mount students. Sebastian is the third coordinator in the Pride Centre's history and intends to leave their legacy by just being themself. "We may never know the full impact we have on others," Sebastian says. "But it starts with being authentic."
A dedication to supporting others
Sebastian says their own desire to use the space combined with reflection on their life journey inspired them to apply for the Pride Centre Coordinator position with the MSVUSU.
Living with gender dysphoria and identifying as part of the 2SLGBTQ+ community, Sebastian was introduced to the centre by former coordinator Annastasia Wagar when the two began their Psychology studies at the Mount. Sebastian first heard of the Mount while visiting a friend in Halifax and was drawn to the university's small class sizes which foster conversation and connection among students and with faculty. Additionally, Sebastian felt encouraged by the university's accepting culture after a request to have their name changed on school documents was welcomed and promptly fulfilled.
At 31, Sebastian spent the past several years running a painting and landscaping business on Quadra Island, BC. But it was time for a change, so they decided to pursue post-secondary education.
Sebastian has since become an active participant in Halifax's student life scene, including embracing the arts (Sebastian is an avid writer and published author) and volunteering with different initiatives in the city. In particular, Sebastian lends their time to the
MacPhee Centre for Creative Learning
, supporting facilitators and youth who use the space. The centre "empowers youth between the ages of 12 and 19 by connecting passion with purpose through the arts." This work, alongside their studies has inspired Sebastian to pursue a career in school psychology. "I want to be a voice for kids who need help accessing supports and services that address their needs," Sebastian says.
---
"The more perspectives and voices that are being heard, the stronger we are."
— Sebastian Gaskarth, Pride Centre Coordinator

---
A space for all students
The Pride Centre maintains a variety of free resources for the Mount community, including information about services both on and off campus, literature, and safe sex resources; it also provides a friendly and approachable person to talk to. Open from Monday to Friday, the Centre is staffed by peers (in addition to Sebastian) – listeners trained to help connect students with what they need, including friendship. "We may not have all the answers, but we can definitely direct and support students in finding them," says Sebastian.

Sebastian has a clear plan for the Centre in the year ahead; their aim is to maintain the space as a welcoming and supportive environment while building on previous campaigns and connections in order to bring the Pride Centre's mission to more students. They are excited to extend the reach of the Pride Centre through building its online resource database and ensuring an active presence across student life on campus.

"What we do is collaborative," Sebastian says. "The Mount is one community – we're here to help students feel welcome and heard. The Pride Centre is imperative to students. Especially for students navigating personal struggles on top of academics, it's a space to be among friends who are always there for you.

Madeline Mitchell, Vice President of Advocacy with the MSVUSU, says the Pride Centre's work is relevant to all aspects of student life on campus. "It is a safe space that allows for anyone to come learn and be open about things they want to know more about," she says.


Join the team
Both Madeline and Sebastian encourage Mount students to
apply to be part of the Pride Centre's team
of volunteers, noting that all who have an open mind and a kind approach are welcome to apply. "We're looking for people who can keep an open mind to different perspectives and the depth of the community," says Sebastian. "The more perspectives and voices that are being heard, the stronger we are."
Sebastian hopes that students new to the Mount will see the Pride Centre as a space for support and friendship. "Be open to meeting people," they advise. "Building connections and meeting people is worth it and will help you along."