A. Garnet Brown awards celebrate achievement at the Mount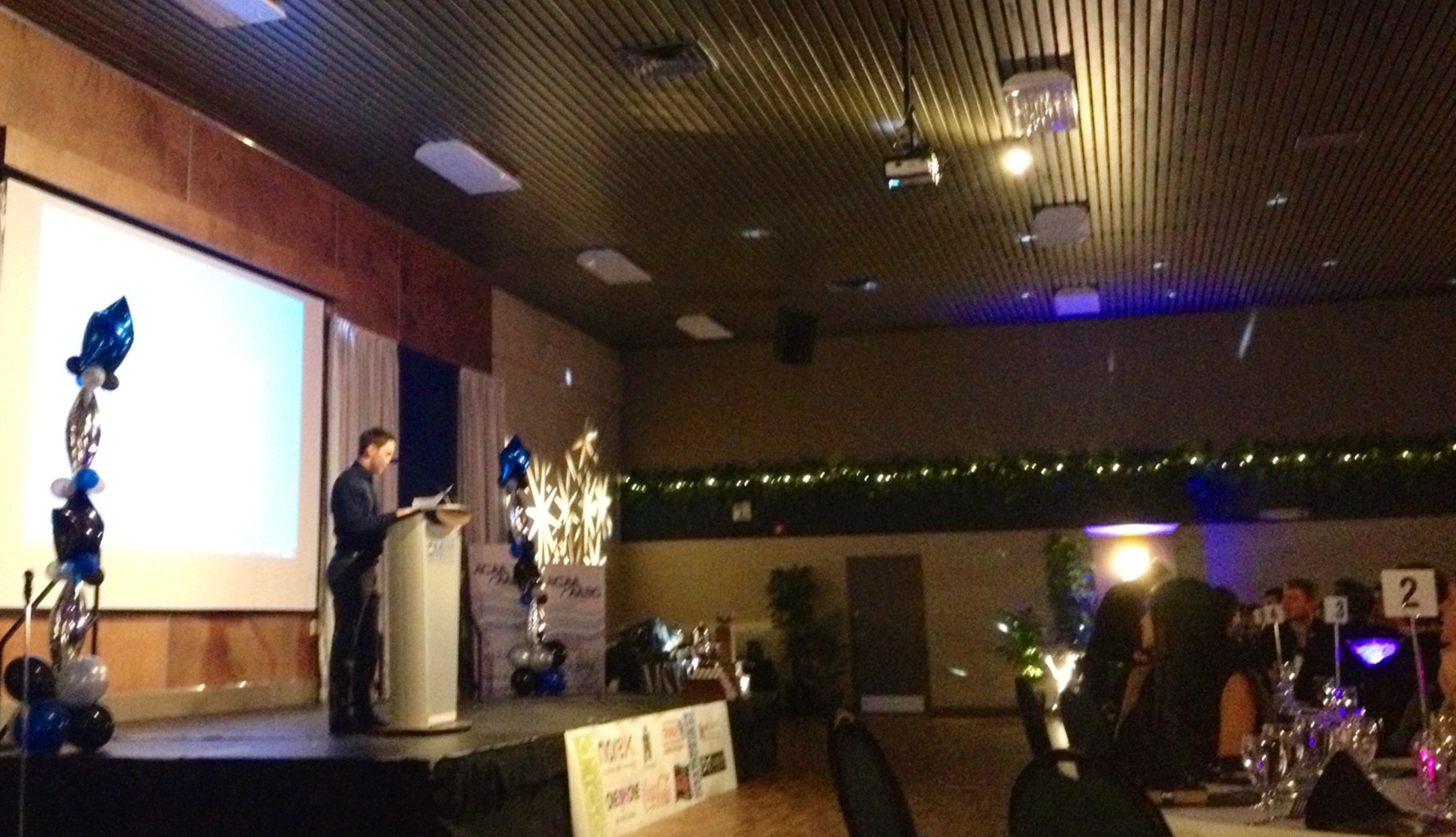 All of the glamour of the Oscars with the comfort of a family dinner: the A. Garnet Brown Student Awards Night is one of the most anticipated evenings of the year for the Mount community and always lives up to the hype.
Named for a Nova Scotian athlete and politician who was a great supporter of the Mount, the awards recognize excellence and leadership throughout the university year. The students honoured throughout the night were each chosen for setting a positive example for their teammates and fellow students.
"I'm going to try not to cry," insisted soccer player Danielle Cyr, winner of the Tracy Barton Memorial Award for athletic and academic excellence. "But I'm also not promising anything."
Grinning while wiping away tears, she welcomed her head coach, Colin Steeves on stage to share the spotlight:
"I don't know how you fit so much energy into 5ft5. He literally has a smile from ear to ear. He was working 12-hour days and then coaching us from 8-10 after… this speaks not only to how much Colin loves the game but to how much he invests in the program."
Many different kinds of leadership were celebrated including Maegan Chaffey, a senior Public Policy student with a strong commitment to her role as Vice President of Advocacy in the student union and volunteering with the Diversity Centre at the Mount. As President Ramona Lumpkin presented her with the Patricia Butler Prize for academic achievement, she was sure to mention how Maegan embraces her role as a leader.
"Meagan is not one to shy away from conversation on any topic. She has been a strong advocate for women's & indigenous rights."
Of course, it wasn't just about the students. As the audience rose to their feet to honour Rick Plato, the men's basketball coach of 25 years, it became clear that Mount students are learning how to lead from the coaches and faculty who inspire them.
Rick has seen his share of victories and challenges over the years and was quick to recognize his own role model and support network with the crowd.
"We're a team too," he smiled, motioning to his wife, Andrea, who received another standing ovation. "She's been to every game."
Although the excitement was already building for what could happen next year, it was important to properly reflect on just how much everyone had accomplished.
"If there was one word I would use to the describe the women's volleyball team…" mused head coach Derrick Brooks with a grin, "it would have to be undefeated."
The same could be said of the spirit of everyone in attendance. Joke after joke, the students and staff relished in an amazing year.