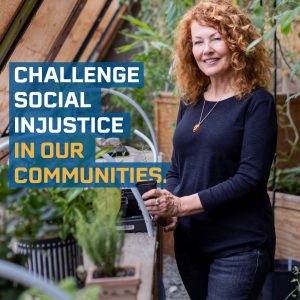 Innovator and advocate for racialized youth and those at risk of food insecurity.
Founder and Executive Director of Hope Blooms, a youth-led social enterprise and registered charity located in the inner city of Halifax, Nova Scotia.
Hometown
Currently Living In
Program of Study
Bachelor of Science in Applied Human Nutrition (Hon) '99
Also the 2021 recipient of an honorary degree from MSVU
How It Began
A dietitian in inner city health for 15 years, Hope Blooms was borne out of the challenges Jessie saw in her work: food security, social exclusion, discrimination, and racialized poverty.
"One day I was walking by an abandoned piece of land in an inner-city community in Halifax. Something spoke to me. I thought, 'This is the spot that's going to flourish, and it's going to thrive through children growing and gardening together. We're going to grow healthy foods here and bring them home to their families and create a product from some veggies grown with all proceeds going towards scholarships for the youth in this community".
Standout Achievement
Jessie is the founder of Hope Blooms Social Entrepreneurial Ventures Inc., a youth-led social enterprise located in Halifax. In 2013, she led a group of youth to an appearance on the hit CBC show Dragon's Den. The youth secured an investment of $40,000 to move their (now hugely successful) salad dressing business forward. The episode has gone on to be named one of the top pitches of all time.
Access & Impact
Nearly 25 years after graduating from MSVU and 15 years after founding Hope Blooms, Jessie believes in continuous growth in generosity and gratitude.
"You are not a drop in the ocean, you are the ocean in a drop," she said.
She has been recognized with the Governor General's Meritorious Service Medal, Oxfam's Female Food Hero Award, the Social Innovator of the Year Award, and named one of Canadian Living's Top 40 Women Change Makers in Canada.
Where is She Now?
Jessie continues her work in north end Halifax as the Founder and Executive Director of Hope Blooms.
Hope Blooms operates a community garden and greenhouse where over 150 children are leading the way in growing 10,000 pounds of organic produce yearly for their community, building innovative outdoor classrooms, and running a successful Fresh Herb Dressing social enterprise where 100% of proceeds go into growing food and scholarships. All youth involved through the years go on to post-secondary and receive $4000 annual scholarship, all from the sales of their dressings. To date, we have given over $220,000.00 in scholarships from the sales of our dressings.
Call to Action
During her address to graduates as the 2021 recipient of an honorary degree from MSVU, Jessie said: "If you want to grow as a person, it's very important to grow in generosity and gratitude – that's what the children [at Hope Blooms] taught me," she said, adding that all should seek to "be excellence. No matter where you are, when no one is looking, be excellence. In order to change a paradigm, we couldn't do the ordinary at Hope Blooms, we had to do the extraordinary."
She also called on graduates to find a way to be in service. "There is always something for you to contribute to. Its inherent in who we are to pay it forward and to give back. I see greatness in every single one of you today. And service is in how you show up for the world, giving a smile, giving grace to somebody. It's in how we treat each other."