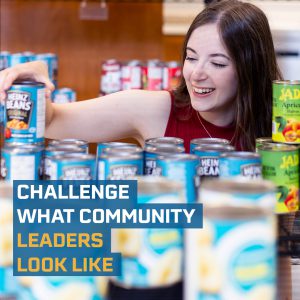 Known for her highly committed and impressive track record of community leadership, advocacy, dedication to helping others, and academic success.
Hometown and current town:
Program of Study
Bachelor of Child and Youth Study degree
MSVU Grad Year
Cheyenne's MSVU Experience
Valedictorian of her graduating class
A 2023 honouree on MSVU's Riva Spatz Women's Wall of Honour
After arriving at MSVU as a recipient of the prestigious President's Scholarship in 2019, Cheyenne continued to thrive academically. She graduated with a 4.2 GPA and as the winner of the Child and Youth Study Award for Academic Excellence.
"The Child and Youth Study Program courses focus on working with children and youth from all backgrounds and teach students about different disabilities, cultures, and issues children may face and how we can support them," Cheyenne said. "I am passionate about helping give a voice to those who are not always heard, and I knew this program and university could help me learn how to do that."
At MSVU, Cheyenne served as the Professional Studies Representative on the Students' Union's Student Representative Council, volunteered and held management positions at the Mount Student Food Bank and Captain Crow's Café, and served as a Student Ambassador for the Student Recruitment Office.
"Serving as a student representative on the MSVU Senate, helping to create a soup kitchen from the ground up, and being able to help prospective students learn about the Mount through orientation and the recruitment office are all experiences I'm very thankful for," said Cheyenne. "MSVU provides a safe place for students to grow and spread their wings."
Best MSVU Memories
During her time at MSVU, Cheyenne experienced many memorable moments, such as attending paint nights, decorating Residence for Halloween annually, and dancing with friends at the pub. However, she has also faced challenges like hurricanes, pandemics, and shutdowns.
"When I first got to the Mount in 2019, I was nervous because I had no idea what to expect," she confessed. "Little did I know that I would connect with some of the most incredible people I've ever met and make lifelong friends."
MSVU Mentors
Current MSVU President Dr. Joël Dickinson, MSVU President Emerita Dr. Ramona Lumpkin, and MSVU's Executive Director of Advancement Denise Green.
"I want to say a huge thank you to MSVU and all of the people I've met along the way. This community has been so kind to me, and I have grown incredibly because of the support I've received. I feel very lucky to have been a Mount student," she said.
Standout MSVU Achievement
One of Cheyenne's proudest accomplishments has been her contributions to MSVU's food security projects.
"Helping make food accessible to students became a huge passion of mine, and it's been an honour to serve visitors to the food bank and Captain Crow's Cafe for as long as I have," Cheyenne said. "I hope that I've been able to create a lasting impact on these services."
Access & Impact
Among her many contributions to the MSVU community, Cheyenne was part of the Child and Youth Study Society, Best Buddies, the MSVU Students' Union, Senate, the Girls Conference, and the Student Ambassador for the Recruitment Office. She also served as the volunteer coordinator for the Students' Union Food Bank and Captain Crow's Café.
At just 16 years of age, Cheyenne was named the Young Humanitarian of the Year by the Canadian Red Cross for her work battling negative perceptions of her home community of Dartmouth North. That same year, Cheyenne also received a Prince of Wales Youth Leadership Award and used her $2,500 cash prize to teach English at a school in Kenya, as well as buy supplies for students.
Cheyenne was a recipient of the President's Scholarship at MSVU. The largest entrance scholarship at the Mount, it is a "full ride" scholarship and awarded to a select group of new students each year.
Where is She Now?
Cheyenne has taken on a new role in Advancement at MSVU as a TD Fellow, having been named one of only two recipients of the TD Insurance Meloche Monnex Fellowships in Advancement awarded in Canada this year.
What's Next?
Cheyenne plans to continue volunteering with food security projects and later hopes to work in the child and youth field, using the skills and knowledge she gained at MSVU to help give children a voice and make a difference in their lives.
Call to Action
Cheyenne's story is proof that one person can have an incredible impact on a community… and that it's sometimes possible to learn more about yourself through helping others.