Mount Saint Vincent University celebrated more than 550 graduates from 19 countries during its fall 2023 convocation ceremonies on Sunday, October 22, 2023.
Students crossed the stage from arts, science, education, and professional programs to accept a range of certificates, diplomas and degrees and join a global network of alumni more than 39,000 strong.
In her address, MSVU President and Vice-Chancellor Dr. Joël Dickinson spoke of the university's 150th anniversary (this year) and focus on challenging the status quo.
Founded by the Sisters of Charity—Halifax, MSVU has a history 150 years strong of opening doors to higher education that otherwise remain closed. For 150 years, it's been both a place of learning across a number of disciplines and a place for unlearning outdated perspectives.
"Now more than ever, the world needs status quo challengers like yourself," said Dr. Dickinson to the graduates. "We have some big problems facing us like poverty, homelessness, climate change, wars, and more – and the status quo is no longer an option. Through education and innovation – and with minds like yours on the case – we have our greatest hope of building a better future for all of us.
Honorary degree recipient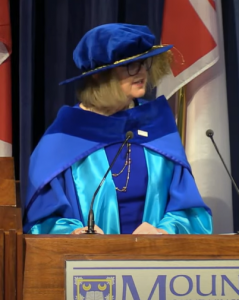 During fall 2023 convocation, MSVU bestowed an honorary degree on educator, advocate and leader the Honourable Jane Cordy, Senator. The third woman from Nova Scotia to be appointed to the Senate of Canada, Senator Cordy's career has been dedicated to championing issues of great social importance – from mental health to aging.
Addressing a ceremony of Faculty of Education graduates, the Honourable Jane Cordy noted that teachers should be aware of the impact that they have not only on their students, but in their communities. Their kindness and compassion can serve as a great comfort for their students and their colleagues.
"Graduates, these are challenging times for many families. As teachers, you will see that and you will understand that better than most people. Be caring. Be helpful. Use your talents and your resourcefulness. Fight for what you believe is right for your students," she said.
Student prizes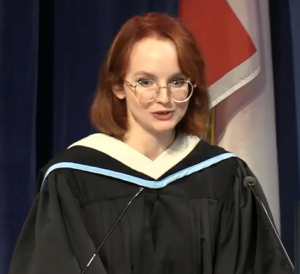 The Valedictorian Prize for significant contributions to extracurricular activities at MSVU and in the community-at-large was awarded to:
Sophia Godsoe, Bachelor of Arts (Honours) in English, Halifax, NS
The President's Prize, awarded to graduates whose generosity, energy and commitment enrich the university, was presented to:
Logan Oderkirk, Bachelor of Public Relations (Cooperative Education Route), Beaver Bank, NS
Membership to Kappa Gamma Pi, the National Catholic College Graduate Honor Society, is based on scholarship, leadership, and service, and was presented to:
Nathan Buchanan, Bachelor of Public Relations (Cooperative Education Route), Dartmouth, NS
The Graduate Thesis Award was presented to:
Catherine White, Master of Arts in Family Studies & Gerontology, Fredericton, NB, for her exceptional thesis titled "Suicide in Older Adults:  A Sad End to an Untold Story."