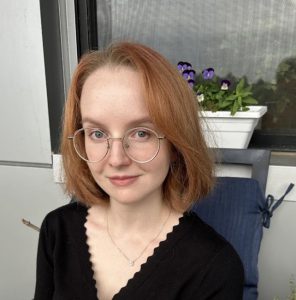 Valedictorian Sophia Godsoe, described by her professors as an "exceptional scholar" and "one of the top students in the English faculty's memory," has demonstrated unwavering dedication to academics and the community during her time at Mount Saint Vincent University. This fall, she will graduate with a Bachelor of Arts (Honours) degree in English, with a minor in Writing and an outstanding GPA.
Sophia has been praised for her exceptional creative writing skills, unwavering support of her peers, and outstanding contributions to the MSVU community. During her studies, Sophia worked at the MSVU Writing Centre while also providing writing support to her peers outside of the centre.  She also made valuable contributions to the successful year-end Green World Banquet as an active member of the English Society.
Additionally, Sophia has demonstrated her creative talents as a news media writer and editor and has presented her creative and scholarly work to diverse audiences both within and beyond MSVU. In addition to delivering a powerful honours thesis presentation, she presented at the 2023 Annual Atlantic Undergraduate English Conference and at various English creative writing symposiums and department events, where she skillfully performed as various characters from the works of Shakespeare.
Sophia will deliver her valedictory address during the fall 2023 convocation on Sunday, October 22 at 10 a.m.. You can watch the ceremony via MSVU's Facebook and YouTube pages. We asked Sophia to tell us more about her time at MSVU and what's next for her. Read on to learn more about Sophia.
Hometown: Dartmouth
Current City: Halifax
Degree being awarded: Bachelor of Arts in English (Honours) 
Previous education completed: High school diploma (Bedford Forsyth Education Centre)
Why did you choose to study at MSVU?
I chose to study at MSVU because it felt more intimate and friendly compared to other universities. Additionally, my grandmother used to visit the nuns in the Mother House, and her passing right before I applied made me feel connected to her by coming here. Initially, I started as a History student because I wanted to become an archivist, as I have a passion for research! However, I later fell in love with the English program, where I found a perfect blend of thorough research and creative enterprise.
As a child, what did you want to be when you grew up?
I had a very long list throughout the years: farmer, marine biologist, kindergarten teacher… When I was 12, I started to write and knew I'd never be able to stop.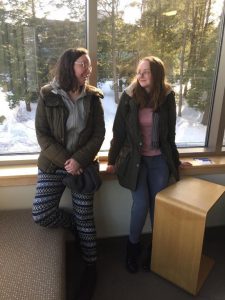 Who are your academic and research mentors (either at MSVU or beyond)?
Dr. Nathaniel Street, my endlessly motivating thesis supervisor, and Clare Goulet, the Writing Centre co-ordinator and astounding writing professor!
What class, professor, project or learning activity has held the most meaning for you? Why?
Dr. Street's History of Rhetoric course and Dr. Karen Macfarlane's Critical Methods and Critical Theory courses were all game-changers for me.
What is your favourite location on campus and why?
The little alcoves on the 4th floor of McCain. I love looking out over the water and taking in the quiet. I don't usually go there to study per se, but just to think and decompress.
Do you have any favourite stories about your time at MSVU?
Being a small part of the English Society's Green World Banquet earlier this year is such a surreal and beautiful memory. The work everybody put into it and the fun we all had were unmatched. I still have the program and some pressed flowers from the night to remember it by.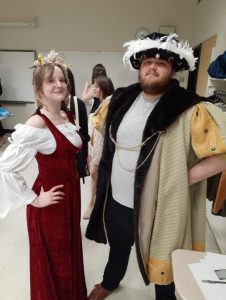 What do you think differentiates MSVU from other post-secondary institutions?
The smaller class sizes allow for real bonds to be formed between professors and students. The campus is also so peaceful and embedded in nature that it makes for a really unique studying experience. I think all the crows and deer are good for our brains.
Do you have any advice for current students or people considering going to MSVU?
Take full advantage of the services on campus and advocate tirelessly for yourself and your academic goals. You will be recognized for your achievements here, there's no doubt about it. Let this be the place where you learn confidence and humility in tandem – you have so much room to grow but always trust yourself and your own motivations. This place is patient and open, so enjoy that atmosphere.
Have you always been a high-achieving student academically?  What obstacles, if any, did you overcome while attending MSVU? What kept you motivated?
No, I have not always been a high-achieving student. I had a difficult time getting through elementary, junior high, and high school. I struggled with a learning disability and severe mental illness. However, I have always had a passion for learning. Even while I was struggling, I would independently research topics that excited me. It was this passion for independent inquiry that made me believe I would excel in university. Despite the obstacles, I have always been motivated. I often received messages that I would thrive in a university setting, and I feel that I have. All of us, whether we're finally graduating or valiantly pursuing our studies, are overcoming untold struggles and we're all brave for fighting for what we want in life.
What will you miss most about your time at MSVU?'
Is it too sentimental to say the people? But that's the truth! The Mount wouldn't be the Mount without the kind and understanding profs, the supportive peers, and the staff who come to make the campus feel like home. I'm happy to be continuing at the Writing Centre until December so I won't have to go cold turkey on seeing everybody.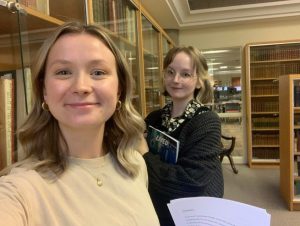 If you could share just one piece of advice with your pre-Mount self, what would it be?
There is no such thing as the perfect student, and you'll cause yourself extra stress feeding your perfectionism. Get to the root of why you feel you have to be perfect and recognize that your best is enough.
What is your proudest accomplishment?
Being chosen as valedictorian is pretty nice, I must say! But I think finishing my Honours thesis this month takes the cake. I worked so hard on it and it's really the culmination of so many of my academic and personal interests.
What does being named valedictorian mean to you?
It means that I am held in high esteem by a community I love and admire. There's nothing better than that.
Where do you see yourself in 10 years?
Working collaboratively with other writers or artists in some capacity, whether as an editor or fellow contributor to a larger project.
What's next for you?
I will be actively seeking writing, editing, or tutoring opportunities. That's the world I want to be a part of now and for the foreseeable future.