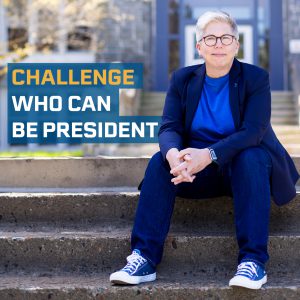 Passionate about education and dedicated to providing students with access to quality education and impactful experiences, with a strong commitment to supporting the growth and development of women and underrepresented communities in Halifax.
Joël's MSVU Experience
Dr. Joël Dickinson is Mount Saint Vincent University's President and Vice-Chancellor.
Hometown
Born and raised in New Brunswick, the traditional unceded territory of the Wolastoqiyik (Maliseet) and Mi'kmaq Peoples, Joël continues to learn the history, traditions, and ways of knowing of these and other cultures as they contribute to the extended community and to her personal growth.
Currently Living In
Kjipuktuk (Halifax), Nova Scotia, where she is committed to supporting the growth and development of women and underrepresented communities.
Access & Impact
Joël demonstrates a strong commitment to the mission, vision and values of MSVU, and to the university's purpose of fostering the education of women and other engaged thinkers, while committing to social justice and to an equitable, diverse, inclusive and accessible community.
She believes that MSVU is a special place that provides opportunities for those who have experienced barriers in their academic journeys.
"MSVU prioritizes opening doors to higher education that otherwise remain closed for too many," she said.
What's Next?
MSVU's 150th anniversary is a major focus for Joël and the university this year. She is eager to "celebrate this milestone with the university community and beyond" and reflect on the rich history of access and impact at MSVU.
Looking to the future, Joël says that MSVU has been challenging the status quo for nearly 150 years… "And we're not done trailblazing better paths. In fact, our next 150 years stand to be just as groundbreaking as our last 150!"
Joël is committed to supporting the growth and development of women and underrepresented communities in Halifax. She is nurturing existing partnerships with organizations whose work advances equity, diversity, inclusion and accessibility, and is eager to build new relationships to expand opportunities for everyone.
She is also working to diversify MSVU's offerings to include shorter and more accessible learning opportunities, particularly for new Canadians.
Joël sees a bright future for Halifax and is excited about the growth and diversity the city is experiencing. She is encouraged by the expanding cultural opportunities, the diversity of thought among employees and students, and the expanding food scene. "With diversity comes strengths and improvements in everything we do," she says.
Call to Action
With support and encouragement, all students can achieve their educational goals.
"We all know that education changes lives, societies and communities. And, the world is a better place when more diverse people have access to higher education," said Dr. Dickinson.
Joël also believes that it is essential to spend time listening to those with lived experiences to better understand and address the unique barriers they face. "No one can tell us what is standing in their way better than those trying to navigate a world that rarely takes their uniqueness into consideration," she says.
Joël calls on those interested in helping to remove barriers for MSVU students to donate to the MSVU 150 Fund: Access & Impact.