Tune in to Mount Saint Vincent University's Business & Tourism Department's new (virtual) Fireside Chats series to hear personal stories, perspectives and interesting anecdotes from top business and tourism leaders.
The next event in the series is coming up at 12 p.m. AT on Tuesday, November 3, 2020 and will feature entrepreneur, mentor and investor Michael Hyatt.
The event will be broadcast live on Zoom. Advance registration is required; anyone interested in taking part can register here. Questions can be submitted to business@msvu.ca in advance for inclusion in the conversation.
About Michael Hyatt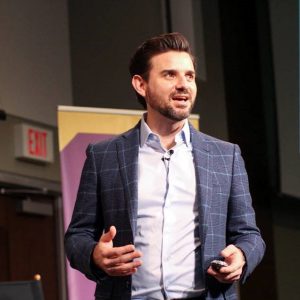 "A self-made millionaire by age 25, Michael is a mentor and investor in many start-ups, including the Rotman School of Business Creative Destruction Lab and The Founders Institute. He has built two highly successful tech firms valued at hundreds of millions of dollars, and is a recipient of the Top 40 Under 40™ award. He chairs his family's charitable foundation, and is the executive chair of BlueCat, one of Canada's leading growth companies. Michael is a weekly business commentator on CBC News." (Source: CBC)
At the fireside chat on November 3, Michael will provide his perspective on the entrepreneurial ecosystem in Canada and how we can be better positioned for growth.
About the Fireside Chats Series
Launched in September 2020, the Fireside Chats series features online addresses by high-profile entrepreneurs, managers, government officials and CEOs working in business and tourism in Canada. Presented by MSVU's Business Administration and Tourism & Hospitality Management Department, the webinars are open to all and also designed to provide exceptional additional learning opportunity for MSVU Business & Tourism students.
The series will continue in 2021 with several excellent speakers lined-up, including Christine Halef, President of AtlantiCann Medical, a cannabis producer based in Nova Scotia. Stay tuned for updates