Join MSVU staff, faculty, and future students for the University's annual fall open house, Open Campus Day. Though the event can't be held in-person this fall, MSVU is excited to offer a virtual open house experience so students exploring their post-secondary options can see what this special University is all about.
Virtual Open Campus Day will take place from 6 p.m. to 8 p.m. on Tuesday, November 3, 2020.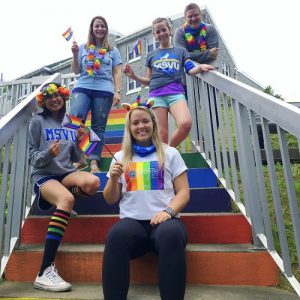 "Open Campus Day doesn't quite have the same meaning when we're not all able to be on campus, but this year's virtual event has given us an opportunity to make an impact with prospective students around the world," says Hayley van Kroonenburg, On-Campus Student Recruitment Officer. "Online learning has become a reality for many students this year, and our virtual open house is a perfect way to introduce students to the remote learning environment that MSVU has been excelling in for almost 40 years".
This free session will allow students to explore their programs of interest, interact with faculty and staff, learn about student services at MSVU, chat about scholarships, and more. Plus, there will be prizes! Who doesn't love winning prizes?!
Students are encouraged to apply for admission to MSVU prior to November 3, and any students who attend the virtual open house will be eligible to have their application fee waived.
Though the University's fall open house event is online this year, students who are within the Atlantic bubble can still come to campus for their own personalized tour at another date. The MSVU Student Recruitment team is thrilled to be offering a safely distanced campus tour experience that allows students to get a feel for their future University home. Students can book a tour at www.msvu.ca/bookatour and of course, if travelling to campus isn't possible, virtual tours are available at any time: www.msvu.ca/campustour.
Can't make it to Open Campus Day? There are many opportunities to connect and work with the Student Recruitment Team. Contact questions@msvu.ca to arrange to meet with a member of the team. To learn more or to register for Virtual Open Campus Day, visit www.msvu.ca/rsvp. The team looks forward to meeting new students on November 3!