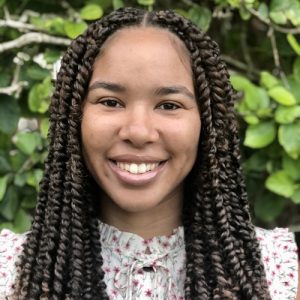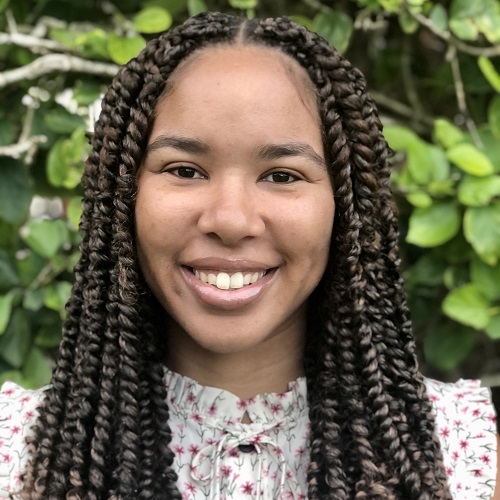 Tess Spencer is an exceptional individual whose academic strength, intelligence and enthusiasm have left a lasting impression among faculty members in the MSVU English Department. As a student at MSVU, Tess has been raising her voice as a speaker and through lead roles in dramatic readings.
A dedicated community volunteer, Tess provides her support to initiatives including an autism early intervention centre and as a tutor for children and young adults for the past five years. Tess has also been writing an in-depth analysis about the systematic marginalization of Black men in Bermuda, which she hopes to publish next year.
Tess will deliver her valedictory address during the fall 2020 virtual convocation on November 1, 2020 at 3 p.m. AT; you can watch the ceremony via MSVU's Facebook and YouTube pages. We asked Tess to tell us about her time at MSVU and what's next for her. Read on to learn more about Tess!
Hometown and current city/town: Hamilton, Bermuda
Degree being awarded: Bachelor of Arts with a Major in English and Minors in History and Psychology (With Distinction)
High school attended: Somersfield Academy (Bermuda) and Saltus Grammar School (Bermuda)
Previous education completed: High school diploma (Advanced Placement Scholar with Honour)
About Tess
Why did you choose to study at MSVU?
I chose to attend MSVU after a two-year stint at a much larger Canadian university. I realized what I was really looking for in a university was a smaller, nurturing environment. I am incredibly thankful that almost all my class sizes at MSVU ranged between 8 to 20 students, which gave me the opportunity to get to know my peers and professors. I am definitely glad I made the move!
Before the pandemic, how were you involved on campus during your time as an MSVU student?
One of my greatest joys from my time at MSVU was becoming Co-Communications Officer for the English Society, alongside my friend Brianna Bean. Together, we created cool posters, managed the Society's social media accounts and helped organize events. I also loved taking part in dramatic readings; Dr. Piccitto often placed me in lead roles, which was always a fun time! I also had the opportunity to speak at a transfer student support forum and enjoyed attending basketball games and various events put on by Vinnie's and other on-campus clubs.
What class, professor, project or learning activity has held the most meaning for you? Why?
It would be difficult to select one professor who has had the most meaning to me, as all of my professors have impacted me in one way or another. Dr. Piccitto, Dr. Zuk, Dr. Macfarlane and Dr. McCalla have all left their mark on me. Upon reflection, I have realized that I have a passion for English theory courses and found two courses particularly engaging: Feminisms and their Literatures (Dr. Zuk) and Queer Theory (Dr. Piccitto).
In Dr. Zuk's class, I recall being incredibly shocked that we were reading a book entitled Lionheart Gal: Life Stories of Jamaican Women. When I first opened the book, I noted that it was mainly written in Jamaican patois; this was the first moment that I realized that diversity and inclusion was truly valued by professors at MSVU and it's a moment in my academic career that I will never forget.
I also thoroughly enjoyed preparing for a discussion facilitation in Dr. Piccitto's course that allowed my peers and I to analyze Bermuda's very first Pride Parade (2019) through an intersectional theoretical lens. It sparked a memorable, lively in class discussion about race and queerness.
What is your favourite location on campus and why?
This may be an odd answer, but my favourite location on campus is the fifth floor of Seton. During my time at MSVU, I estimate that 95% of my classes were on this floor and it became a comfortable and welcoming space for me. All of my English professors' offices were on this floor, and they almost always had their doors open if you had a question about an assignment, or just wanted to say hello. Most of my peers in similar degree programs also took their courses on this floor so there was a familiar face around every corner, which I loved!
If you could share just one piece of advice with your pre-MSVU self, what would it be?
I would tell my pre-MSVU self not to be afraid to introduce myself to new people. I believe it is important to expose yourself to others with diverse life experiences and views of the world. Although I definitely came out of my shell as time went along, the sooner you let go of fear and start engaging with others in your community, the better! I found that the MSVU community was extremely friendly, and I had nothing to lose and much to gain from interacting with new people.
Do you have any favourite stories about your time at MSVU?
One day, Dr. Piccitto pulled me out of class and I was initially worried that something was wrong, but then she offered me a free ticket to see former US President Barack Obama speak in person and I have never been so excited! I have dreamt about seeing President Obama in the flesh since I was a little girl, but never thought it was possible as I lived in Bermuda. It was the best surprise ever!
I had a really fun professor for a night course that allowed us to order food to share among us before the beginning of class, which led me to conclude that learning and having fun aren't mutually exclusive!
I also think I found snowstorms more entertaining than most. I only saw snow for the first time in person when I was 19! Admittedly, I am still not accustomed to the cold even after a few years of living in Canada, but snow is pretty to look at (from inside)!
What's next for you?
My goal over the next several months is to gain some substitute teaching experience in Bermuda before applying for postgraduate degree programs in the field of education.
Anything you would like to add?
My time at MSVU genuinely helped me find my voice and my confidence. The community at MSVU has encouraged me to be more vocal at home, which subsequently pushed me to begin writing and in-depth critical analysis this summer, which illuminates how Black men have been systemically marginalized in Bermuda. This subsequently led to a speaking engagement at my old high school, where I had the privilege of talking to the student body about systemic oppression in light of the resurgence of the Black Lives Matter movement.
I would also like to mention my passion for working with children with autism as well as other neurodivergent youth. Over the past five years, I have had the pleasure of working and volunteering with Tomorrow's Voices, a Bermuda-based charity that primarily functions as an autism early intervention centre. I worked under the guidance of trained behaviour therapists and helped run applied behaviour analysis therapy sessions, with the goal of developing clients' academic and social skills, all while having fun!