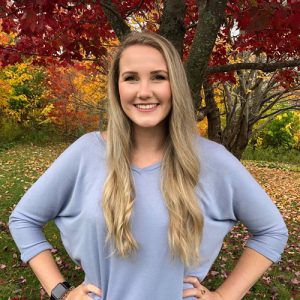 Emily is recognized as an excellent scholar, researcher and exceptional MSVU community member. In addition to her impressive academic performance, she is well known for her leadership and service, as well as her passion for being involved and helping others.
Emily is a student leader who engaged with her fellow students as a Peer Support Worker and Mount Mentor. She was also a member of the MSVU varsity volleyball team for three years. She has volunteered her time to the Student Athlete Mental Health Initiative, student ambassador program, organizations for women and girls in science, a math research program, and many other projects.
Emily will deliver her valedictory address during the fall 2020 virtual convocation on November 1 at 3 p.m. AT; you can watch the ceremony via MSVU's Facebook and YouTube pages. We asked Emily to tell us about her time at MSVU and what's next for her. Read on to learn more about Emily!
Hometown: Hampton, NB
Current city/town: Halifax, NS (eventually Montreal, QC)
Degree being awarded: BSc (Honours) in Mathematics
High school attended: Hampton High School
About Emily
Why did you choose to study at MSVU?
MSVU was one of the universities that recruited me to play varsity volleyball. Besides having a great volleyball team and athletics program, I wanted to make sure the university was the right fit for me. When I came for a tour, I was pleasantly surprised at how welcoming everyone was. I got a strong feeling of inclusiveness and family when I visited, and I knew it would become my home away from home. I have never regretted my decision to study here.
How were you involved on campus during your time as an MSVU student?
During my time on campus, I was involved in a variety of things. I played on the MSVU women's volleyball team for three years which kept me very busy, and I did some tutoring on the side. In my fourth year, I wanted to do more around campus, so I got involved as an MSVU Mentor where I got to know a lot more about campus life and student issues. My involvement with the MSVU Student Athlete Mental Health initiative when I played volleyball opened my eyes to the need for greater mental health support and programs on campus, and that led to my position as a Peer Support Work for the Stay Connected Mental Health Project in my final year. I was a TA/student marker for one of my professors, have been a student ambassador (with the Student Recruitment office), and involved with WISEatlantic [the NSERC (Natural Sciences and Engineering Research Council of Canada) Women in Science and Engineering Program for the Atlantic Region] and CAGIS [Canadian Association for Girls In Science] (organizations for women and girls in science). I found that the more I became involved, the more people I met, and that enriched my time at university. I have made a lot of great friends and been inspired by so many talented and giving people.
Who are your academic and research mentors (either at MSVU or beyond)?
I was fortunate to have several great mentors at MSVU who inspired and encouraged me and shared their love of math. Dr. Danielle Cox is a gem and opened my eyes to all that math had to offer. Dr. Tina Harriott is another great professor who often provided me with sound advice and encouraged me along the way. Of course, all of the math department professors were a great help to me and made my studies that much better. Now, I am fortunate to have another research mentor, my master's thesis supervisor from Concordia University, Dr. Mélina Mailhot.
One of my favourite questions to ask professors in class was about their research. It got them a bit distracted from the class lecture (haha), but it was exciting to hear about their work and see the passion they had for research. There is a lot of amazing research being done by professors and students here at MSVU and everyone should be applauded for their work.
Have you been involved in any research as part of your studies?
Yes! I was so lucky to do research for three summers and my honours thesis under the supervision of Dr. Danielle Cox. I worked on various problems in Graph Theory related to Node Reliability and Diffusion. If it wasn't for my time working with Dr. Cox, I wouldn't have found my love of math and problem solving as soon as I did!
What class, professor, project or learning activity has held the most meaning for you? Why?
Although the math department is small, it is mighty! I owe a special thank you to Dr. Danielle Cox who opened my eyes to math and the opportunities it can provide. Dr. Tina Harriott also deserves my gratitude for supporting me and offering her guidance on many occasions. I owe a big thank you to all of the amazing professors in the math department and the faculty of Arts and Science! I couldn't have asked for a better group of professors throughout my degree – they supported me through some tough times and course material.
I have a passion for helping people, so being fortunate to attend a university that provides so many opportunities to make a difference has really opened my eyes and filled my heart. Being a part of so many conversations and events to make MSVU and Halifax a better environment for all students has been really exciting and very rewarding.
What is your favourite location on campus and why?
My favourite location (probably besides the cute pink math department) is the library. I often grabbed a tea from Tim's and then head there to study. I love the big tables they have at the library, and it was a great place to meet or chat with classmates and friends.
If you could share just one piece of advice with your pre-MSVU self, what would it be?
I would tell myself that the time spent at university is one of great change and growth and that the person you were when you started will not be the same person when you graduate. And that's all part of the process. University is as much about learning what you do like as it is about learning what you don't like. It's okay to change courses, majors or direction. It's your path to follow and it never has to be linear. Embrace the changes and the growth.
Do you have any favourite stories about your time at MSVU?
It's hard to pick just one. I have so many stories from my time at MSVU. Like the time one of my professors started swearing when they saw a bug – reminded me that they are human too. Or being in class when the power went off, but we were math students so "chalk it is!" I won't soon forget struggling through assignments with classmates and bonding over the tough questions, being on the volleyball team and going to Nationals every year or having the chance to meet new people at different events around campus.
I have met so many great students, professors and faculty members at MSVU, and made some lifelong friendships. I will always remember my time as a Mystic.
What's next for you?
More studies!  I started my master's degree at Concordia University in September, but I am still here in Halifax as my courses are online until the situation in Montreal improves.  Hopefully next year it will be safe enough to make the move to Montreal so I can enjoy all that the city and the university have to offer. I am not certain what is in the cards for me right now, but that's the best part about the future – being open to different interests and opportunities ahead and figuring it out as I go.