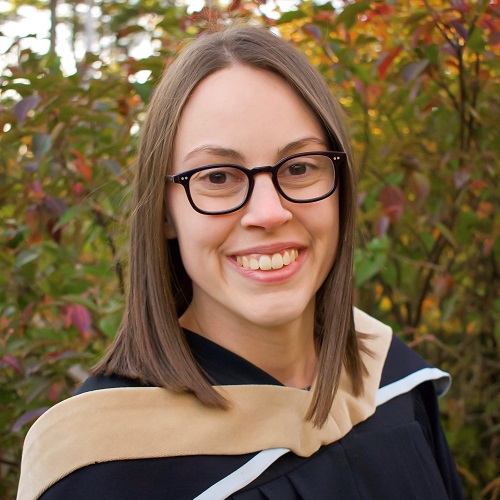 Valedictorian Abbie Hodder is known for being an exceptional and engaged student who has made significant contributions to the Business & Tourism Department during her four years at the University.
In addition to completing two co-op work terms with the department, she was involved in many extracurricular activities supporting inclusiveness at MSVU. An active volunteer, she made time for student leadership, co-op student resume writing workshops, the MSVU Fountain Play Centre, and other activities and initiatives.
Abbie will deliver her valedictory address during the fall 2020 virtual convocation on November 1st at 3 p.m. AT; you can watch the ceremony via MSVU's Facebook and YouTube pages.
We asked Abbie to tell us what she learned during her time at MSVU and what's next for her. Read on to find out more about Abbie.
Your hometown: Mineville, Nova Scotia
Current city/town: Halifax, Nova Scotia
Degree being awarded: Bachelor of Business Administration (Co-operative Education Option) – majors in Accounting and Management
High school attended: Prince Andrew High School, Dartmouth
About Abbie
Why did you choose to study at MSVU?
The small class sizes, having your professor know you by name and actually get to know you as a person rather than by just your student number, and the sense of community on campus really drew me to MSVU. Having completed my degree I would say that all these and more are reasons to choose to study at MSVU. I was able to learn more than I could imagine by having the ability to talk with my professors about their experiences and be involved in campus events where you connected with students, faculty, and industry professionals.
Before the pandemic, how were you involved on campus during your time as an MSVU student?
I was involved in a number of activities on campus as a student. I was the President of the Business & Tourism Society and past VP of External Events which had me very involved with a number of events on campus. I volunteered at the TEAM (Tourism Education Alliance of the Maritimes) event, MSVU Open Campus Day at the Business & Tourism Department table, resume writing workshops with the Co-operative Education Department, and at the Fountain Play Centre. I was the featured student in the Business & Tourism Department's Accounting video, and wrote a few articles for the Business & Tourism Department newsletter.
I have also worked at the MSVU in the Business & Tourism Department as the Special Projects Coordinator, as a Student Marker, and spent a semester as a Supplemental Instructor for Introductory Accounting.
Who are your academic and research mentors (either at MSVU or beyond)?
During my first semester at MSVU, I took Introductory Accounting and that is how I met Rhonda Bursey who is an Assistant Professor in MSVU's Business & Tourism Department. Over the four years I attended MSVU, I took seven courses with her as my instructor and marked 22 courses for her as a student marker. Rhonda played a huge role as an academic mentor during my time at MSVU. She taught me lots about accounting and business, but she also encouraged me to put myself out there and get involved with things on campus. As an off-campus student and someone who was very quiet and reserved when I started my degree, getting involved on campus seemed a little daunting. But without her encouragement to join the Business & Tourism Society, start working as a student marker, and take on other opportunities, I wouldn't have experienced and been part of a number of things that have really become special parts of my time at MSVU.
Have you been involved in any research as part of your studies?
I participated in a directed study/research course supervised by Dr. Karen Blotnicky in my final semester that involved research specific to portions of MSVU's Strategic Plan.
Did you complete any work terms or internships?
I completed three co-op work terms during my time at MSVU. My first two were with MSVU's Business & Tourism Department as the Special Projects Coordinator during the 2018-19 academic year. My third work term was with BDO Canada, LLP working in the tax service line.
What class, professor, project or learning activity has held the most meaning for you? Why?
In 2018, I participated in the THMT 3800 – Tourism & Hospitality Study Tour course. During the fall study break, we travelled to Orlando, FL and volunteered at two organizations – Give Kids the World Village and Second Harvest Foodbank. Having the opportunity to meet families that have children with a critical illness experiencing the trip of their dreams and hearing of the many schools and families that would benefit from the meals we were preparing really affirmed that small acts can be so much more to someone else.
What is your favourite location on campus and why?
The cookie jar and ice cream cooler in the cafeteria definitely saw me lots over the past four years and it was a favourite spot! But out of all the places on campus, the McCain Atrium was my most favourite – it's a great spot to study, meet up with friends, and really sit in an area where you'd get to see a lot of people throughout the day.
If you could share just one piece of advice with your pre-MSVU self, what would it be?
Don't be afraid to try new things, enjoy every moment of your time at MSVU and, most importantly, always have fun!
What's next for you?
I started my CPA [Chartered Professional Accountant] studies in May, taking the Fast Track route; currently, I am halfway through the required modules and intend to write the CFE [Common Final Examination] next September. I also work as a Junior Accountant at BDO Canada, LLP, and once it is safe to do so, I am looking forward to taking some time to travel in Europe and visit friends who live abroad.