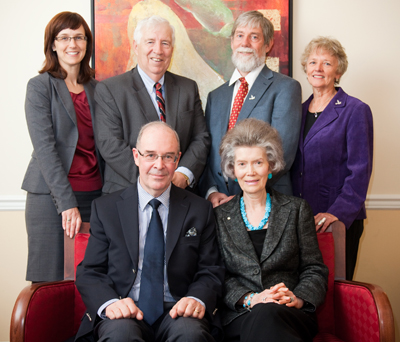 Mount Saint Vincent University (the Mount) is pleased to announce a generous contribution toward its Building Tomorrow Together capital campaign. Scotia Investments Limited and Dr. Martha and Bruce Jodrey have donated $300,000.00 in support of the Endowed Chair in Learning Disabilities.
The Endowed Chair in Learning Disabilities will be the first of its kind in an Education Faculty in Canada and will provide Mount graduates with enhanced knowledge and skills to identify and teach children with learning disabilities in a classroom setting.
Educating youth with learning disabilities has been Dr. Jodrey's dedication for many years.
 
"It is my personal passion to ensure that all children and young people have an equal opportunity to learn and advance their education and skills — to realize their full potential," says Dr. Jodrey. 
The Chair in Learning Disabilities at the Mount will be involved with teaching, research and course development in the Faculty of Education at both undergraduate and graduate levels. The research and education that the Chair in Learning Disabilities will carry out at the Mount will have a positive and lasting impact on public education and on the children and families who struggle with learning disabilities.
"It's my great privilege to recognize generosity of this nature.  The support shown by the Jodreys and Scotia Investments supports the Mount's mission to ensure that every young person is assured of the opportunity to realize their full potential, to learn and to participate in their communities," says Alexa McDonough, Interim President and Vice-Chancellor.
"I want to note the tremendous leadership, vision and tenacity of Dr. Martha Jodrey. Her volunteer time and effort directly led to the establishment of this Chair," she says.
The Endowed Chair in Learning Disabilities is one of the three pillars of the Mount's $16M Building Tomorrow Together capital campaign.  Building Tomorrow Together  is only the third campaign of its kind in the Mount's 137 year history.  This campaign will have a profound impact on students, scholarship and social progress at the Mount, in Nova Scotia, across Canada and beyond our borders.
Pictured above:
Front row (l-r): Mr. Bruce Jodrey and Dr. Martha Jodrey
Back row: (l-r) Deanne MacLeod, Chair of Leadership Gifts for Building Tomorrow Together, David Hennigar, Director of Scotia Investments Limited, Jim Sharpe, the Mount's Dean of Education, and Alexa McDonough, the Mount's Interim President
---
About Mount Saint Vincent University
The Mount is recognized as a leader in flexible education, applied research, and a personalized approach to education.  Nationally recognized among undergraduate universities in Canada for our success in Social Sciences and Humanities Research Council grants, the Mount has one of the lowest student-to-professor ratios. The Mount is committed to providing the best university experience for all members of our community and to developing thoughtful, engaged citizens who make a positive impact on their world. For additional information about the University, visit msvu.ca.

-30-
For more information:
Akiko Lovett
Public Affairs
Tel: (902) 457-6439
Fax: (902) 441-0505