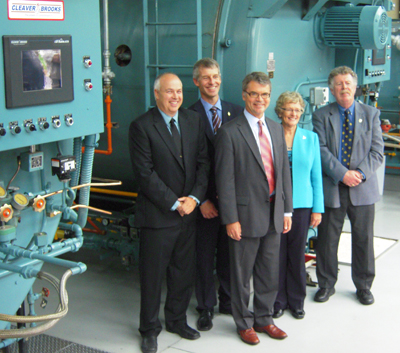 (l-r) Bruce MacNeil, the Mount's Director of Facilities Management, Brian Jessop, the Mount's VP Administration, Jim Bracken, President of Heritage Gas, Alexa McDonough, the Mount's Interim President, and Bill Estabrooks, Energy Minister
Mount Saint Vincent University has a greener campus today, thanks to its transition to natural gas.
The heating conversion from oil is part of the University's Plan for a Sustainable Campus and is funded, in part by the province, under the Gas Market Development Fund. The conversion cuts the University's operating costs by 10 per cent and eliminates sulfur and particulate emissions. It will also cut carbon dioxide emissions by about 35 per cent.
"I commend the Mount for reducing its environmental footprint by cutting green house gas emissions and air pollution," said Energy Minister Bill Estabrooks. "The Gas Market Development Fund was established by the province specifically for this purpose    to help build the gas market in Nova Scotia.
"The use of locally produced natural gas creates jobs, grows our economy and improves the environment, making life better for the people of the province."
The Gas Market Development Fund was established with funding from the Sable Offshore Energy Producers. The province is contributing about $367,000 from the fund for equipment and installation. The project cost is estimated at $490,000.
"With the conversion to natural gas, the Mount continues to be a leader in social, environmental and economic responsibility," said interim president, Alexa McDonough. "This project was made possible through a very strong partnership with Heritage Gas and the provincial government and contributes to a more sustainable future for the university."
The conversion makes the Mount an important customer for Heritage Gas and will allow access to more residential customers in Fairview, Clayton Park and Bedford.
"In addition to the direct benefits that the university will receive from natural gas and the environmental benefits for the broader community, the Mount's conversion is a key factor in making natural gas available to new residential and commercial customers," said Jim Bracken, president of Heritage Gas. "In 2009, our 2,500 residential and commercial customers effectively reduced greenhouse gas emissions by 91,000 tonnes, or the equivalent of removing 18,200 cars from Nova Scotia's roads."
 
For more information about the Mount's plan for a sustainable campus, Small Steps, Big Impact, visit www.msvu.ca/sustainability.
Pictured above:
(l-r) Bruce MacNeil, the Mount's Director of Facilities Management, Brian Jessop, the Mount's VP Administration, Jim Bracken, President of Heritage Gas, Alexa McDonough, the Mount's Interim President, and Bill Estabrooks, Energy Minister

 -30-
Media Contacts:
Tracy Barron
Department of Energy
(902) 424-1757
E mail: Barrontb@gov.ns.ca
Akiko Lovett
Mount Saint Vincent University
(902) 457-6439
E mail: Akiko.Lovett@msvu.ca
Jim Bracken
Heritage Gas
(902) 466-2135
E mail: jbracken@heritagegas.com