Last Friday, the MSVU campus community awoke to racist posters on the exterior of Evaristus Hall and nearby wikuom. They were removed quickly.
MSVU President Dr. Mary Bluechardt responded swiftly, writing to students, faculty and staff to share her "deep disappointment" and noting that "the MSVU administration strongly condemns the racism implied by this incident."
Certainly, this incident is not reflective of the inclusive campus community for which MSVU is known, and it runs counter to the institution's long-standing commitment to equity, diversity, and inclusion.
Many in the MSVU community identified this situation as an opportunity for important education. As an institution with teaching and learning at the core of its mandate, we have a responsibility to share our knowledge and expertise. To that end, we invite you to read the responses and reflections of several MSVU community members.
Paula Barry
Associate Vice-President, Student Experience
"It was incredibly disheartening to see that our own campus had been subject to this

campaign of hatred. Our own community had to face this bold, racist message as they began their day. I'm sorry you had to experience this here at the Mount. This incident serves as a stark reminder that we are certainly not immune from these attempts to make claims of 'reverse racism' and to uphold white privilege. The alt-right is threatened by institutions like ours, working to dismantle racist ideology and create a more inclusive environment for all. While universities have historically worked to uphold unearned privilege, we are also the spaces where privilege is challenged and where we are all encouraged to increase our understanding and take action. Clearly, we have much more work to do."
Gurneet Dhami
Graduate student in Applied Human Nutrition
"As a person of colour, the posters reminded me of how our differences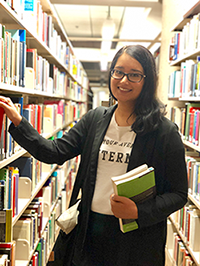 evoke hate in the world. My Master's thesis questions diversity in the profession of dietetics and nutrition, where discussion around culture needs to extend beyond the plate. We need to support spaces for dialogue around racism, privilege and equity in our daily lives. Education is critical in raising awareness, and this is where we need to understand how the Social Determinants of Health allow us to reach the point of accessing resources. Diving into Critical Race Theory can inform us of the lived realities racialized groups face daily, that people in positions of privilege do not endure. I don't think we should tolerate oppression with silence. We should not let racialized communities continue to hold the burden alone. Taking a look into the past shapes our present, and we can change the future by acting today; through education, building allyship and, most importantly, understanding that our differences do not equate to hate."
Dr. Alex Khasnabish
Associate Professor and Chair, Department of Sociology and Anthropology
"The 'It's okay to be white' posters are an Alt Right propaganda campaign that
first circulated in October 2017 on 4chan, an online forum notorious for its culture of trolling and ironic oppressiveness, and has recirculated every year since. The slogan is meant to provoke critical responses that are then used by the Alt Right as evidence that whiteness is under attack, that those concerned with social justice are overwrought hypocrites, and to draw white people into far-right politics. While the slogan seems innocuous it actually has long circulated in the white power movement, used by groups like the Ku Klux Klan, neo-Nazis, and racist skinheads. Like oxygen for a fire, arguing with the slogan only feeds the campaign. Instead, we need to address the enduring relations of oppression and exploitation that shape our society and then commit to a path of collective liberation rather than scapegoating and dehumanization. Other oppressed and exploited people are not our enemies. As the old Wobbly saying goes, 'an injury to one is an injury to all'."
Dr. Julie McMullin
Vice-President Academic and Provost
"Racism is personal; it is political; it is structural, it is systemic.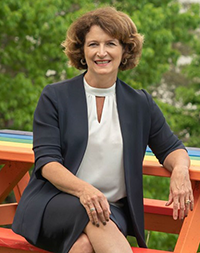 When I was growing up, I didn't know that I was white. Not knowing the colour of one's own skin is a privilege that lies at the core of racism.
Let me be clear: racism sickens me.
Yet, all of us must confront our own racism. We must challenge its subtle and overt forms and recognize that we face it every day. Confronting racism means interrogating one's own position of power and privilege, as well as condemning racist acts of hatred, violence, and discrimination.
When I learned about the cowardly, despicable posters that appeared on our campus at the beginning of the month I was angry and completely disheartened. Social justice, social responsibility, and a commitment to equity, diversity, and inclusion were values that drew me to the Mount. I hold those values very close to my heart.
We can do better; we must do better; we will do better. No one deserves to feel the way many of our colleagues felt when they saw or learned about those posters."
Patrick Small Legs-Nagge
Special Advisor to the President on Aboriginal Affairs
"I have talked to several people about this unfortunate incident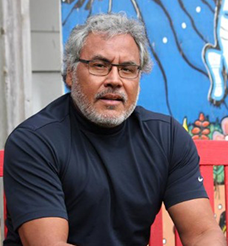 and how I think one should proceed. The oppressed are the ones who are solicited to respond to these types of incidents. We all know that they are hateful messages and most of the oppressed have endured this throughout our lives whether it be overt racism, systemic racism, classism, elitism, prejudice, biases, and so forth. What I would rather see is the non-oppressed speak out and share why these messages are so hateful. The change in society comes from the oppressor stepping up and challenging these beliefs and speaking to truth. I would rather see people of privilege from the oppressor group speaking out against this incident. They may not see themselves as oppressors but they are from that group and they have to speak to those within their group that are causing this hate."
DeRico Symonds
Black Student Support Coordinator
"These messages have been posted in public spaces, campuses,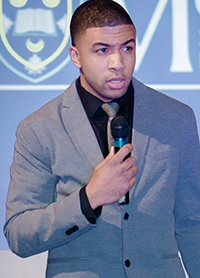 high schools and on street corners throughout the world since 2017. The rhetoric originated following discussions on a white supremist channel titled 'Politically Incorrect'. Fliers reading 'It's OK to be white' first appeared in cities on Halloween in Maryland, Illinois, Indiana, Massachusetts, Ohio, Washington and more. On Halloween in 2018, four to five males wearing masks posted the same message throughout the downtown Halifax core.
Reading the message for simply what it says, one may think that these are individuals are celebrating their culture. But the message 'It's OK to be White' has its roots in white supremacy and racism. The message is a form of covert racism, a subtle message that many would not see as harmful. This message is in direct defiance and defensive to the notion of diversity, inclusion and promotion of marginalized communities. A promotion of any culture other than white for these individuals comes as an attack on 'white population'. Their response is to say, 'It's OK to be white.'
The message has undertones of racial intolerance with intentions of deterrence of racial promotion and pride for people of color. There is a groundswell and rise of white supremacy across Canada and the United States. This message is a subtle, almost unrecognizable form of racial discrimination. In any circumstance or situation, this messaging is unacceptable. 'It's Not OK to Be Racist'."
Jasmine Tang
Racialized Student Representative, Students' Representative Council (Students' Union)
"'It's Ok to be White' seems like an innocuous phrase, but a simple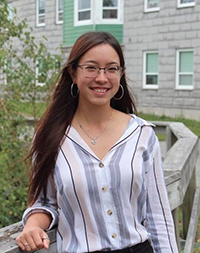 Google search of the five words willreveal otherwise. The campaign to spread the slogan started as a joke, but was quickly adopted by Neo-Nazis, white supremacy groups, and a former KKK grand wizard. The danger of the phrase is in its perpetuation of white supremacists' idea that the dismantling of racism is a direct attack on them. It was a shock to come across these posters at MSVU, where diversity is valued and celebrated. Though MSVU and its Students' Union swiftly condemned the acts, there remains much work to be done. Important as it is to empower racialized voices, we need our white allies to stand beside us. We must all stand in unity to fight against hate.
'In the end, we will remember not the words of our enemies, but the silence of our friends.' – Martin Luther King Jr."