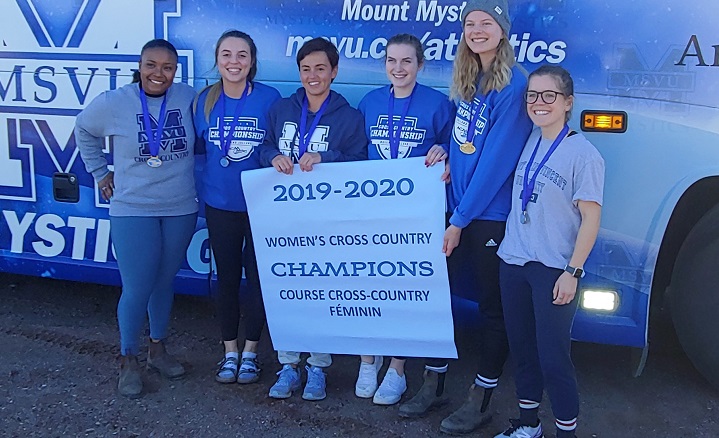 The Mount Saint Vincent University Mystics cross country running team had an incredibly successful showing at this year's ACAA Cross Country Running Championships on November 2, taking home several awards, including a first-place win for our women's team. This year's championship event took place in Brookvale, PEI and was hosted by Holland College.


MSVU awards include:
Women's Team Champions – The MSVU women's cross country team took home the banner for their first-place finish.
Team members: Grace Anderson 27:45, Hannah Baillie 27:49, Jessica Ecker 29:18, Melissa Arsenault 32:42, Jillian Smith 33:17, Natalie Freeman 37:15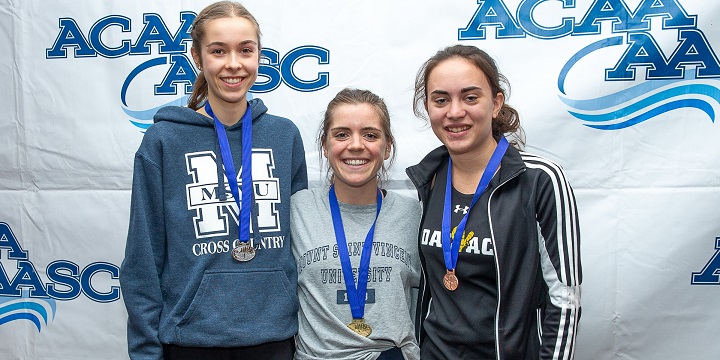 MSVU Individual Accomplishments

Grace Anderson – 1st place overall, individual and ACAA Women's Cross Country Runner of the Year (centre in photo above)
Hannah Baillie – 2nd place overall, Women's Cross Country (at right in photo above)
Donald Dewolfe – 2nd place overall, Men's Cross Country (at left in photo below)
Matthias Mueller – ACAA Coach of the Year (centre in photo below)


The Mystics proudly returned to campus on Saturday evening with their first ACAA banner since the team was re-established in 2016.

Congratulations Mystics!


2019-2020 MSVU Mystics cross country runners include:
Melissa Arsenault, Dartmouth, NS
Hannah Baillie, Halifax, NS
Jade Farquharson, Nassau, Bahamas
Joshua Deal, Kentville, NS
Lily Stratton, Bedford, NS
Natalie Freeman, Middle Sackville, NS
Jillian Smith, Fredericton NB
Donald Dewolfe, Cornwall, PEI
Ainsley Buffet, Dartmouth NS
Jessie Ecker, East Fall River, NS
Eric Paloco-Toba, Halifax, NS
Grace Anderson, Trenton, NS