Meet Jennifer Guy
A two-time graduate of Mount Saint Vincent University (BSc in Applied Human Nutrition and MEd, Studies in Lifelong Learning), Jennifer Guy is no stranger to the MSVU community.
She brings a unique blend of knowledge to her new role. She is passionate about creating welcoming learning environments and loves to hear the unique perspectives of her students.
"Cultivating inclusivity and diversity is central to my teaching philosophy," Jennifer says. "By engaging learners in critical reflection and dialogic learning, I can highlight multiple learner perspectives and alternative ways of knowing. Appreciating different perspectives helps me create supportive learning spaces, which in turn, fosters diverse learner needs."
Digging into the details of the food and beverage industry
In her role as a Lab Instructor, Jennifer engages Tourism and Hospitality Management students at MSVU in the four pillars of the food and beverage industry: service, cooking, food safety and supervision. Students have the opportunity to engage in hands-on learning as they experience working in a commercial kitchen, (Vincent's Restaurant in the Rosaria Student Centre).
Notes Jennifer: "Through Vincent's, students get exposed to the various parts of operating a restaurant. Service includes greeting, seating, upselling, receiving payment, and responding to guest needs in both formal and informal dining environments. When cooking, students consider sustainability, learn about food aesthetics and discuss food science and nutrition. The food safety certification standard adopted at Vincent's is internationally recognized and equips students with skills to serve a wide range of customer and industry needs. Supervision provides students with the opportunity to consider food procurement, revenue, equipment maintenance, kitchen design and layout."
---
"In Vincent's [on-campus teaching and learning restaurant] the students bond over preparing, sharing and tasting recipes from around the world. This experiential learning combined with the theory offered in class prepares students for management roles in the tourism industry and beyond."
– Lab Instructor Jennifer Guy
---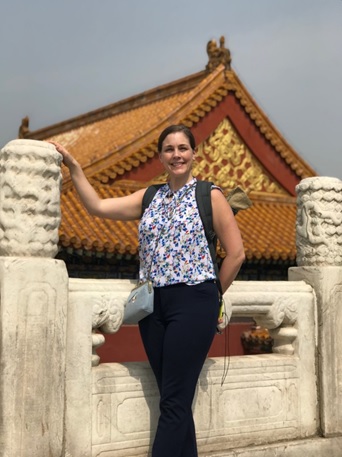 Jennifer credits her own diverse background with helping her to grow and expand her skills. She has held many different professional positions, including Atlantic Territory Manager for Nestle Health Sciences, as well as roles in various hostels and restaurants from Nova Scotia to Australia. She notes that her travel and work experiences have helped make her a better educator and colleague. "I believe that all students and teachers come to class with a backpack filled with not only books, but also lived experiences informing their knowledge, thoughts, feelings, and behaviours."
When asked what excites her most about her role as a Lab Instructor in Business & Tourism, Jennifer replies, "The students who I get to interact with every day make my job so rewarding. I try to take a student-centered approach to learning and support multidirectional feedback. I see learning as an exchange, and my goal is to ignite individual self-efficacy and to foster inclusivity. The students are teaching me as much as I am teaching them. Ultimately, I hope to build capacities that go beyond the classroom to help people and communities participate fully in society."
She is also pleased to be able to continue to grow her own professional career at MSVU – a place that feels like a second home to her. "As a student and now as an educator at MSVU, I have always loved the close-knit, community feel. There are progressive approaches to teaching here and a strong support for experiential learning and building inclusive environments which is important to me."
Exploring food and community in research
In May 2019, she received a doctoral scholarship grant from SSHRC. For her doctoral work, Jennifer is examining how food preparation practices and sharing meals with others influence people and communities. Her research explores how discussions about food can help people navigate work and life in a new culture, create democratic learning spaces, and build awareness of diverse perspectives and lived experiences.


Extensive student and professional commitments
Since 2000, Jennifer has been an active member of Dietitians of Canada and has held various positions on the Board of the Nova Scotia Dietetic Association (NSDA). She is currently a member of the Continuing Competency Committee for the NSDA as well as a member of the multi-stakeholder group for Internationally Educated Dietitians in the Atlantic Region. On campus, Jennifer is a co-faculty advisor for the Intercultural Food Bridging Society, and member of the Caritas Day Committee and the Tourism Education Alliance of the Maritimes Committee (TEAM).
It's clear that Jennifer has a knack for multi-tasking. In addition to teaching, researching and volunteering, she is also a mom to four busy children. She has a passion for exploring new cultures and spending time with friends, colleagues and family. Jennifer gets her energy from exercising and seeing students reach their potential.
When asked what advice she would give to her students, she answers with a smile: "I think we could all benefit from being gentler on ourselves, as well as others. It's important to try not to take things personally and recognize that every experience and interaction in life serves as a learning opportunity for the future. I live by the notion of constant and never-ending improvement."