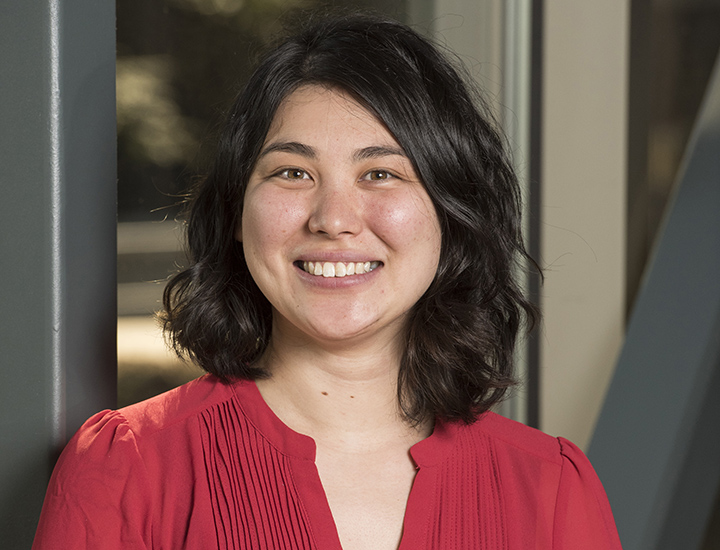 Kathleen Chan's time at Mount Saint Vincent University is far from over, but she will close her undergraduate chapter as valedictorian of her convocation ceremony on Thursday, May 17, 2018.


Originally from Burlington, Ontario, Kathleen completed a BSc in biology at Bishop's University before coming to the Mount. Following her first degree, she took time to explore the field of paleoclimatology (the study of climate change throughout history). It was a lecture by a local dietitian and nutrition researcher that sparked her interest in nutrition. "It blew my mind," she remembers. "I knew then that was what I wanted to do."
Kathleen chose the Mount's Applied Human Nutrition program because of the wide range of opportunities for research and community engagement offered. Already familiar with the East Coast thanks to many summers spent with family in New Brunswick, and inspired by Halifax's arts and culture scene (which her husband, an artist, was eager to join), Kathleen and her family (completed by two dogs) readily made the move to Halifax (pictured below).

Research opportunities of a lifetime
Under the supervision of Mount faculty researcher Dr. Kyly Whitfield, Kathleen completed an honours thesis on public opinions around infant feeding in Nova Scotia. Kathleen is thankful for Dr. Whitfield's support and encouragement throughout the process. "She is someone who believes in you even when you don't. Our personalities are a great match, which makes for a great working relationship."


Kathleen will graduate this spring with an impressive 4.21 GPA, but her thirst for knowledge is not satisfied yet. In July, she will head to Cambodia to work alongside Dr. Whitfield on a study regarding thiamin deficiency and food fortification. Following a year in Cambodia (which represents the research component of her graduate studies), Kathleen will complete the coursework for her MSc in Applied Human Nutrition at the Mount.


Dr. Whitfield describes Kathleen as a valued member of the nutrition program: "She is an original thinker and team player. She actively supports her peers and knows nearly every faculty and student in the program."
Passion for community engagement
Kathleen's passion for engaging communities in her work is fueled by her strong desire to help others. She has held a term as President of the Canadian Association of Foodservice Professionals MSVU Branch, been senior chair of the Mount nutrition department's student caucus, and volunteered with organizations like Diabetes Canada and the Dartmouth North Community Food Centre (the latter of which she now works for part-time as a program facilitator). Earlier this year, she was named the 2018 recipient of the Diabetes Canada Regional Young Volunteer Award.
One of the Mount programs that Kathleen was drawn to from day-one is the
Food Action Research Centre (FoodARC)
– a research centre dedicated to studying topics related to food security. At FoodARC, she worked in a variety of roles which provided opportunity to view the research process from many different angles and expand her understanding of the behind-the-scenes work that goes into bringing big research projects to life.
During her undergraduate studies, Kathleen was also part of
a winning student team
in the national food product development competition known as Mission ImPULSEible. Not only did she and her teammates win the top regional title in 2017, but their pulse-based drink called
Megumi
also took the top national prize.
The journey continues

Kathleen is excited for what lies ahead, especially as she expands her nutrition research experience internationally. Her transition to Cambodia is likely to be eased by her significant previous international adventures. Kathleen has previously spent time in Mexico, South America, Asia, the Canadian North and Europe. And she will be accompanied on this new adventure by her husband and dogs, as usual.
Looking back on all that she has accomplished, Kathleen is grateful for the many new skills she's acquired or refined in recent years, including how to lead and bring out the best in others. If she could share just one piece of advice with new Mount students, it would be a piece of advice once offered to her: "Do the best you can and don't sweat the small stuff."


"The first step to finding what you are passionate about is to try different paths and find what feels good, fun and challenging," she adds. "Keep an open mind and experience as much as you can."


—————————————————————————————————————————————–

Kathleen will deliver her valedictory address during the morning convocation ceremony on Thursday, May 17, 2018, which gets underway at 10 a.m.