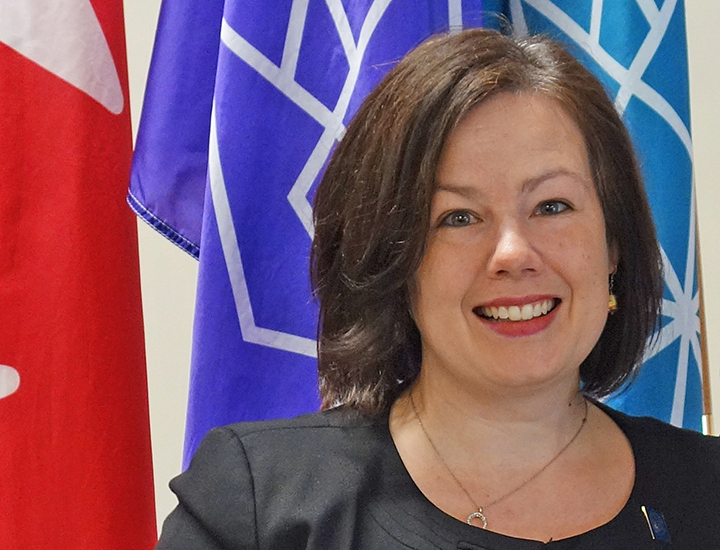 A master of multi-tasking, Pamela Lovelace will graduate this May with a Master of Education degree in Lifelong Learning.
In addition to graduating, she is also a full-time project manager at the Dalhousie School of Social Work, Chair of Equal Voice Nova Scotia, Board member for the Canadian Coalition for the Rights of Children, Graduate Students Representative on the Mount's Students' Union Students' Representative Council and university Senate, Chair of the 250 Vimy Royal Canadian Air Cadet Squadron, and more. She's been the recipient of Volunteer of the Year awards from both the city of Halifax and the province of Nova Scotia, among other recognition, including the Canada 150 Sesquicentennial Pin. On top of all of that, she is the proud (and busy) mom of two teenagers, residing in Hammonds Plains, NS. She has recently added being named Valedictorian of her Convocation ceremony to her long list of accomplishments.
Pamela describes her educational journey as a "living fairy tale." There was a point in her life when she never thought she would go to university – now, she will be the first in her family to receive undergraduate and graduate degrees. "I have changed the course of my life, and my children's lives, because the Mount empowered me," she said.
Finding a home at the Mount
Her journey to graduation has been a long one, but no obstacle has stopped Pamela from achieving her educational dreams. Pamela did not complete high school; instead she lived independently in Wolfville, NS and supported herself working at Acadia University. At the age of 19, she decided to try returning to school, determined to make her dream of completing a post-secondary education a reality.
Without a high school diploma, Pamela thought her chances of admission were slim. She remembers approaching the Mount to see what she could do to be admitted. "They asked me to write an essay about why I should be admitted," Pamela remembers. "I ended up writing what felt like a novel explaining how badly I wanted to come here. I was totally shocked when I was admitted."


"I never thought I would complete an undergraduate degree, let alone write a thesis or continue on to my Master's."
Expanding academic passions
Pamela first graduated from the Mount in 1999 with a Bachelor of Arts (Hon) in English with a minor in German and accompanying Business certificate. She wrote her thesis on the short stories of Alistair MacLeod, which resulted in a lunch meeting with the author that she fondly remembers. Other highlights of her undergraduate years include helping coordinate the Annual Atlantic Undergrad English Conference, working with the Lesbian Pulp Fiction collection, the International Biennial Gothic Conference, and receiving the Mount Students' Union's Women's Recognition Award.


Following graduation, she worked as Communications & Events Coordinator for NSCAD before transitioning to CBC Television to work in broadcast – a field she always dreamed of being part of. In 2008, nine years after completing her undergraduate, Pamela returned to the Mount to begin her Master's while still working full-time at CBC Television. She was drawn back by a new academic interest in adult learning and the decision-making process.


A self-identified "knowledge explorer, producer and mobilizer," Pamela knows she will always love learning and sharing the learning experience with others. The Master of Education in Lifelong Learning program at the Mount offered a compelling avenue to pursue her interest in how people learn and how they make decisions. A researcher at heart, Pamela loves exploring the history of women's rights in Nova Scotia, particularly surrounding the right to vote. This aids in her extensive advocacy work, through which she seeks to promote and empower women in leadership roles in politics. She was a mentor and sponsor of the recent Women in Politics: 100 Years of Progress event hosted by the Mount's Students' Union to mark the 100th anniversary of women's suffrage in Nova Scotia, and speaks on panels, at conferences and with media regularly on the topic of advancement of women.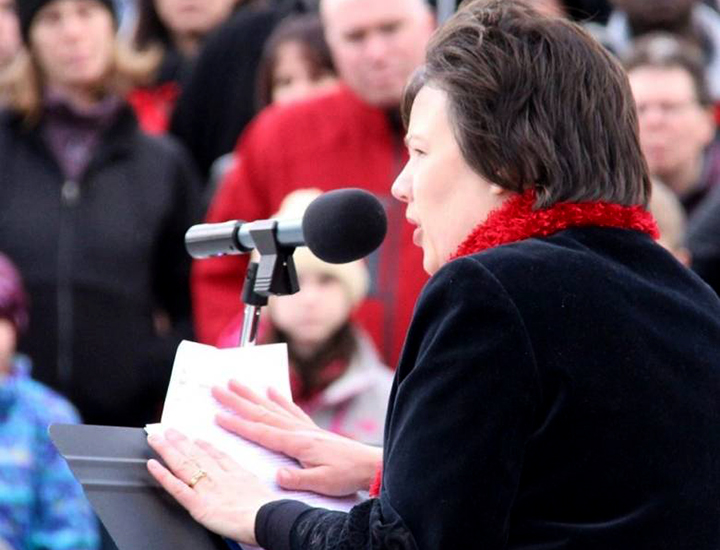 More worlds to explore
One of the ways Pamela will continue sharing knowledge is through the book she is writing, which chronicles the trials and tribulations of prominent women in modern Canadian politics. Pamela has already conducted many of the interviews for her book, and with a publisher already lined up, she hopes to begin the publishing process by the end of the year.
There are many fields that Pamela plans to continue working within, including violence prevention, children's rights, teaching, and research. She aims to return to politics at the federal level to help advance causes close to her heart (she ran in the 2016 municipal election in Halifax).


In the immediate future, however, Pamela's sights are set on some summer downtime, finishing her book and growing her garden. She will also fit in a little travel, heading to Geneva, Switzerland with Dalhousie's Wisdom2Action initiative, to promote and entrench youth engagement as a Canadian value.


Wherever her path takes her, Pamela is sure to continue inspiring and empowering those around her. In her Valedictory address, she hopes to convey the power of embracing your inner change-maker. "It's okay to celebrate yourself," she notes. "It's a good thing to take time for yourself and feel good about who you are and what you stand for."
—————————————————————————————————————————————–
Pamela will deliver her valedictory address during the afternoon convocation ceremony on Thursday, May 17, 2018, which gets underway at 2 p.m.