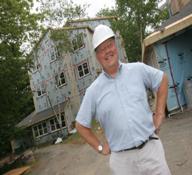 The Atlantic Provinces have more seniors per capita than any other part of the country and that number is growing faster than anywhere else in Canada. Between 2007 and 2033 the seniors' population (65+) is projected to increase 86.3 per cent to 257, 874. That means that for every minute of every day until 2033, a baby boomer will turn 65.
So, what does this mean for seniors and for our province? It means a greater demand for a wider variety of housing that will accommodate those who wish to age and stay in their homes.
Dr. Donald Shiner, Associate Professor in Business and Tourism at the Mount and Principal Investigator for Atlantic Seniors Housing Research Alliance (ASHRA), has recently completed a six year study that investigates this topic.  Projecting the Housing Needs of Aging Atlantic Canadians was made possible through a $1.2 million Social Sciences and Humanities Research Council of Canada (SSHRC) grant. The goal of the study was to enhance the understanding of aging Atlantic Canadian's housing needs and wants amongst both public and private organizations.
"Two fundamental conclusions that were drawn from this research are that as we age, we want to stay in our homes for as long as possible," indicates Dr. Shiner, whose been a professor at the Mount since 1984. "Secondly, having support in our communities is essential for creating successful conditions for this to occur."
The project was completed through the research alliance which is composed of 37 members including all four Atlantic Provinces, representing universities, housing developers, seniors' organizations, service providers and government departments. It examined a number of issues relevant to the housing needs of Canada's aging population and highlights how policies, at all levels of government, can affect the potential for seniors to remain in their own homes for longer periods of time. The study investigated factors such as seniors' income, health, support networks and the availability of housing programs including housing alternatives.
"The biggest mistake we could make today would be to assume that the coming boomer age wave will act in any way like today's seniors or accept what currently exists," says Dr. Shiner. "If we understand how and why aging persons will make future decisions, we can better prepare to evolve our responses to these needs."
At a recent Minister's meeting in Hamilton Ontario, Dr. Shiner presented a series of ideas to Federal, Provincial and Territorial Ministers responsible for seniors' issues in Canada based on the ASHRA research findings. These included suggestions on implementing a home accessibility tax credit, a home accessibility audit program, a tax rebate program to encourage aging in place and making changes to the national building code by 2016.
"Eventually, we hope to see major public policy changes emerge from this research," says Dr. Shiner. "In addition, Canadians must start thinking more strategically about their future in their homes and be proactive about growing old in their homes."