Did you know that Nova Scotia is one of five provinces in Canada with the highest number of international students and immigrants? To apply to Canadian universities, international students must first take a language proficiency test. But, do these tests adequately enhance the student's proficiency in the English language?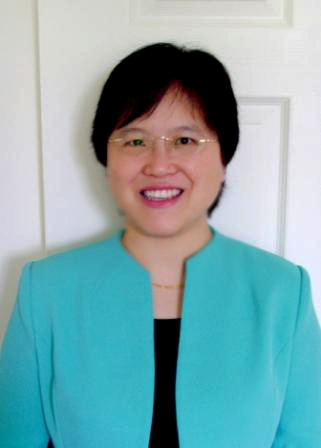 Dr. Hong Wang, Associate Professor in Teaching English as a Second Language (TESL) in the Faculty of Education at the Mount is investigating this question.
Dr. Wang, who has been a language teacher and educator for 27 years, was recently awarded, as a co-investigator, a Social Sciences and Humanities Research Council of Canada (SSHRCC) grant of $200,000 for three years. In collaboration with a team of researchers from around the world, her research "Test Preparation: Does It Enhance Test Performance and English Language Proficiency?" will come to fruition.
"There has been sufficient feedback from faculty and professors on students that have taken the tests and have achieved satisfactory scores but have trouble speaking in classes and writing academic papers in a post-secondary environment," says Dr. Wang. "There is a need for this type of research since many classes have English as a second language (ESL) students."
Students looking to write an English language test prepare in a variety of ways, such as: private tutors, studying at language schools in their home countries, studying at private language schools in Canada and taking preparation classes for such tests as TOEFL (Test of English as a Foreign Language), IELTS (International English Language Testing System), and CAEL (Canadian Academic English Language Test).
This study, in partnership with the four largest international English language testing agencies, will examine the pros and cons of test preparation on students taking a language test. The research team consists of four researchers from Ontario, Quebec, Nova Scotia and Australia. The researchers will be studying the six largest test-taker groups – Chinese, Punjabi, Korean, Arabic, Persian and Spanish speakers who study and settle in Canada and in Australia, which has a similar international student and immigrant pattern as Canada.
The first year of the study will focus on collecting data on test preparation courses and materials at three test preparation centers in Toronto, Beijing, and Tehran. The second year of the study will consist of conducting the experiment with those students who have studied for their English language tests and those who have not. This will take place in Iran and China and will offer evidence of the relationship between test preparation and the English language ability of the test takers. The final year of the study will focus on exploring the relationships between the students' test scores and their actual English language proficiency within the context of students' academic performance at the Mount and at Queensland University in Australia.
Dr. Wang, a member of the Mount community since 2006, says that the goal of this project is twofold. The short term goal aims to change the dynamics in schools and neighborhoods across Canada to develop more opportunities for international students to succeed. The long-term goal is to ensure that Canadian universities are assisting in creating knowledgeable workers and professionals to support the Canadian economy.
"Hopefully, this work will be able to provide empirical evidence to show the validity of test scores and from this we can work with university officials to look at students' test scores in a different perspective," says Dr. Wang.