Mount students rank in top 100 in business simulation exercise
Students in Mount Saint Vincent University's Bachelor of Business Administration program are proving they have what it takes to compete in the global business market.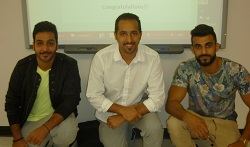 Fourth year students working together with instructor Jules Fauteux are using an on-line business simulation system to hone their business strategy skills. The class is leveraging the web-based program GLO-BUS to help learn about business strategy development and execution. In small teams, the students are co-managing mock digital camera companies competing in a simulated global industry setting. Their results are ranked against more than 1,300 other teams at dozens of universities world-wide.
The simulation exercise spans eight weeks, with each week representing a business year. Team decisions on dozens of variables produce business results and in class team scores. Global rankings are assigned to each team at the end of the week. After the first week, one team of Mount students – including Yazeed Alarifi (missing from photo above), Naif Alduriaan, Mohammed Alyami, Abdullah Alshinanah (left to right in photo) – broke into the global top 100 achieving a ranking of 56th out of more than 1,300 teams around the world from 85 universities and a wide range of countries. The Mount was the only Canadian team in the top 100. After last week, the same team moved into 28th position.
Scores are assigned based on the relative performance across teams in the class and against investor expectations. Earnings per share, return on equity, share price, image rating, and credit rating are measures used in the simulation because they apply to real life business environments. According to Fauteux the students are enthusiastic about the game. "They're engaged because they want to compete. They want to learn but above all they want to win!"

In an e-mail to Fauteux, GLO-BUS representatives congratulated the Mount team for their Top 100 ranking and commented, "You should be quite proud of your students for such an excellent performance."

Simulation is a wonderful way of integrating technology in teaching and making practical experiences part of the curriculum. It may be mock digital camera businesses now, but who knows what enterprises they will explore next; based on their simulation successes, these Mount business students have bright futures ahead.