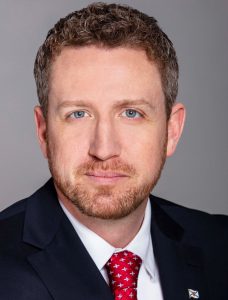 The next installment in Mount Saint Vincent University's Business & Tourism Department's (virtual) Fireside Chat series will feature Nova Scotia's new Premier, the Honourable Iain Rankin. The event will take place online at 6 p.m. on Tuesday, April 6, 2021. All are welcome to join.
A graduate of MSVU (Bachelor of Business Administration '06), Premier Rankin will speak to his career journey to Premier, his experiences in government, and his vision for the provincial economy and tourism sector. Premier Rankin has been a supporter of future generations of community and business leaders by giving of his time and expertise at professional development opportunities for MSVU students.
The event will be broadcast live on Zoom. Advance registration is required; anyone interested in taking part can register online. Questions can be submitted to business@msvu.ca in advance for inclusion in the conversation. The session will be co-hosted by MSVU tourism student Beth Connell and professor Jeff McKinnon.
About Premier Iain Rankin
The Honourable Iain Rankin was sworn in as Nova Scotia's 29th Premier on February 23, 2021. A graduate of MSVU (BBA '06), he was first elected to the Nova Scotia House of Assembly in 2013 as MLA for the constituency of Timberlea-Prospect. He was re-elected in 2017. He has served as the Minister of Environment and Minister of Lands and Forestry. Both portfolios have shaped his view on the imperative of achieving strong economic growth that includes a focus on climate change mitigation.
Premier Rankin also serves as president of the Executive Council and Minister of Intergovernmental Affairs and Regulatory Affairs and Service Effectiveness. He is Minister of the Office of L'nu Affairs, formally the Office of Aboriginal Affairs, and responsible for youth, military relations and the Office of Citizen-Centered Approaches.
About the Fireside Chat Series
Launched in September 2020, the Fireside Chats series features online addresses by high-profile entrepreneurs, managers, government officials and CEOs working in business and tourism in Canada. Presented by MSVU's Business Administration and Tourism & Hospitality Management Department, the webinars are open to all and also designed to provide exceptional additional learning opportunity for MSVU Business & Tourism students.
---

We're building stronger societies through community engagement. Learn more about this MSVU Strategic Plan Theme »