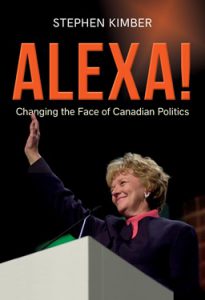 On Thursday, April 22, 2021, at 7 p.m. ADT, Goose Lane Editions and the Alexa McDonough Institute for Women, Gender and Social Justice at Mount Saint Vincent University will co-host the digital launch of Stephen Kimber's new book Alexa!: Changing the Face of Canadian Politics. All are welcome.
The book tells the story of ground-breaking Canadian political leader, champion of women, and human rights advocate Alexa McDonough, OC, ONS, DHumL.
An advocate for women in politics, Alexa was the first woman to lead a recognized political party in Canada. In the 2006 federal election, she became the first woman to win four consecutive terms representing Nova Scotia in Parliament and the second MP to represent Halifax for four consecutive federal terms. That year, she was also the only woman elected among 32 Members of Parliament in Atlantic Canada.
Though best known for her 30-year political career, Alexa served as Interim President at MSVU from 2009 to 2010. She is also the recipient of an honorary degree from the university (2009). In 2013, MSVU's Institute for Women, Gender and Social Justice was re-named the Alexa McDonough Institute for Women, Gender and Social Justice (AMI) through the fundraising efforts of a group of labour union representatives. The AMI, a representation of the values Alexa spent her career fighting for, is located in the Margaret Norrie McCain Centre for Teaching, Learning and Research at MSVU – the only building on a Canadian university campus dedicated to celebrating the accomplishments of women.
The event will feature remarks by:
KelleyAnne Malinen, PhD, event emcee
Stephen Kimber, Author, Alexa!: Changing the Face of Canadian Politics
Special guests to be announced.
Audience Q&A
Questions for author Stephen Kimber should be submitted in advance by emailing digital@gooselane.com. Please use the subject line "Alexa Q&A." The deadline to submit questions is Tuesday, April 20.
How to join the event
The event will take place online, via YouTube at https://youtu.be/MnHXT2h1Fao. You can register in advance through Eventbrite to receive a notification before the event goes live.
https://www.eventbrite.ca/…/alexa-live-book-launch-with…
About the book, Alexa!: Changing the Face of Canadian Politics
In this authorized biography, veteran author Stephen Kimber chronicles Alexa's life and political career and with it, weaves a narrative of the changing attitudes towards women in politics, from her early battles as the lone female MLA in a hostile Nova Scotian legislature to her leadership of the federal NDP to her role as senior stateswoman in Jack Layton's shadow cabinet. Along the way, Stephen delves into Alexa's personal life to uncover the origins of her political career: her upbringing in a wealthy family committed to progressive politics, her tightknit circles of female friends, her personal metamorphosis from "wife-of" to "leader-of," and her emergence as a political leader whose importance goes beyond partisan politics. The result is an engrossing story of one of Canada's most beloved politicians, whose common touch and lifelong advocacy of progressive causes made her a significant player in Canadian public life.
The book is available for pre-order now at www.gooselane.com/products/alexa. It will be available starting April 20, 2021 in bookstores everywhere. You may purchase copies locally from the event's official bookseller (King's Co-op Bookstore), your local independent bookseller, Chapters, Indigo, and Coles locations, or online at www.gooselane.com.
About Stephen Kimber
Stephen Kimber, a Professor of Journalism at the University of King's College in Halifax and co-founder of the university's Master of Fine Arts in Creative Nonfiction program, is an award-winning writer, editor, and broadcaster. He is the author of two novels and 10 non-fiction books, including What Lies Across the Water: The Real Story of the Cuban Five. Stephen worked for Alexa McDonough as a freelance speechwriter in the early days of her NDP leadership in Nova Scotia.
About the Alexa McDonough Institute for Women, Gender and Social Justice
The Alexa McDonough Institute for Women, Gender, and Social Justice aims to achieve equity and improve lives through feminist initiatives that extend knowledge and understanding of issues related to women, girls, gender, and social justice for the Mount Saint Vincent University community and beyond.
---

We're building stronger societies through community engagement. Learn more about this MSVU Strategic Plan Theme »