By Gurneet Dhami, student, Master of Applied Human Nutrition
A group of BIPOC Students from the Applied Human Nutrition Department at Mount Saint Vincent University celebrated nutrition month this March with a taste of art.
I'm a student in MSVU's Master of Science in Applied Human Nutrition program and my colleague Safura Syed is a recent graduate. We're both active community members and event participants, now navigating the pandemic pivot to online experiences. Both of us returned home to Ontario when the pandemic started last March.
This March, we decided that we wanted to leverage nutrition month as an opportunity to make space for under-represented voices in the field of dietetics and nutrition. Inspired by recent racial justice activism, we made a creative submission to an open call issued by the MSVU Art Gallery for community-based art workshops, an area in which we had an interest but no formal training. We saw a unique opportunity.
Through my thesis research, I'm finding a lack of race-based data in Canadian dietetics – BIPOC voices aren't as centred as much as they should be. "We wanted to create a space for our BIPOC students to talk as they like about food, culture and much more," said Safura.
Claire Dykhuis, Education & Outreach Coordinator at the MSVU Art Gallery, was intrigued by the concept of a BIPOC-focused food and art event. "I thought it was an interesting concept and exciting opportunity to connect with members of the MSVU campus community [nutrition students] that the Art Gallery doesn't intersect with as much as we'd like. We were especially keen to support a BIPOC closed space and explore new ways to integrate visual art with food-related activities and professions."
Claire connected us with the perfect workshop partner: Stephanie Yee, a Halifax-based visual artist whose art "employs familiar imagery, processes, and materials as a means of exploring preconceived notions." Stephanie helped bring the workshop to life, planning ways of applying art-based perspectives, cooking and question prompts to discuss cultural foods and professional journeys. Claire was also an event planning partner, providing logistical support, promotions, and facilitating Gallery funding and resourcing.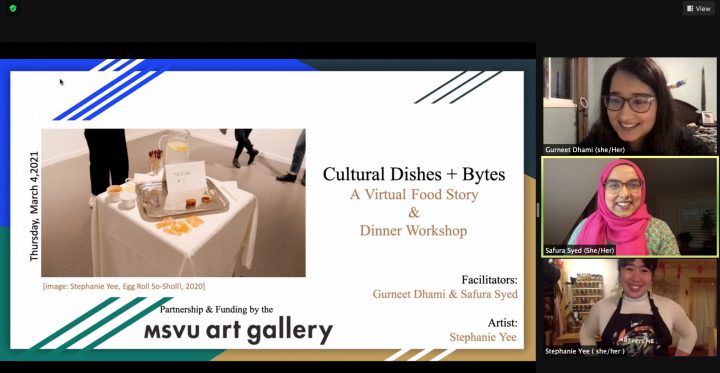 After plenty of planning, a group of BIPOC undergraduate and graduate applied human nutrition students gathered on Zoom on March 4th for our event titled "Cultural Dishes + Bytes: A Virtual Food Story & Dinner." Participants shared in a virtual dinner party that showcased dishes of cultural significance to them. Each participant was given a grocery store gift card to offset the cost of preparing a meal for the gathering. Artistic aspects of food were explored – from texture and taste to culture and comfort. As nutrition students, our initial interactions with food are around nutrition facts and daily recommendations; using our senses to explore more of the experience and enjoyment of food is secondary in our studies. Our probing questions and Stephanie's talk about her art experience with food left us with ideas we can incorporate in our studies and projects.
"We chatted about food, nutrition, and explored new ways of expressing ourselves," said Safura. "A valuable moment of organic discussion started when someone brought up the question that we have all been asked, 'Where are you really from?' This was a moment of deep reflection as we unpacked bias, assumptions and the curiosity behind this question in a way we could not if this wasn't a closed space."
Spaces like this remind me of the work we have to do in dietetics to unpack oppression. Both Safura and I wish we had had more such spaces in the past in which to connect with peers. And we're keen to help extend the space we created by putting together a guide to help others plan and host their own dinner art parties. Stay tuned for that!
---

We're ensuring transformative teaching and learning. Learn more about this MSVU Strategic Plan Theme »