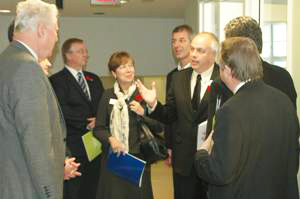 Mount Saint Vincent University (the Mount) recently celebrated the completion of the renovations in Evaristus Hall at the 'Open Doors' in Evaristus reception on Monday, November 7. The $3.4 million renovations resulted in state of the art laboratories, a common gathering area, meeting rooms and a new level that boasts study rooms, a common area and a multi-faith peace room. The renovations, completed in early 2011, were realized through the federal government's Knowledge Infrastructure Program (KIP) and provincial government funding.
More than 40 members of the Mount community were joined by a number of representatives from the Federal Conservative Post-Secondary Education Caucus for the event. Guests enjoyed expert-led tours, refreshments and a selection of student photography on display as a tribute to the space that was created 'with students in mind' as noted by University President and Vice-Chancellor Dr. Ramona Lumpkin in her remarks.
"These renovations resulted in Evaristus Hall being seen as more than the place to pay tuition, register for courses or meet with a professor," noted Daniel McKenna, president of the Mount Saint Vincent University Students' Union. "Many returning students barely recognized the space. Our Students' Union is so blessed to have the relationship we do with the Mount – we work together to find the best results for our students so they are receiving the best university experience possible. Initiatives like the one we're celebrating today gives our students a clear message – the Mount puts students first."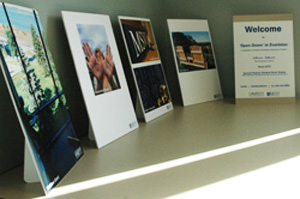 The Mount's 'Open Doors in Evaristus' event was part of the national 'Open Doors, Open Knowledge' initiative being celebrated at more than 50 universities across Canada this November. The series, developed by the Association of Universities and Colleges of Canada (AUCC) – currently celebrating its 100th anniversary – aims to thank the government for developing the KIP program while showcasing the benefits of infrastructure renewal in post-secondary environments.
For photos of 'Open Doors' in Evaristus, photographed by Public Relations student Khaled Abdullahi, please visit the Mount's Flickr site for a complete album.