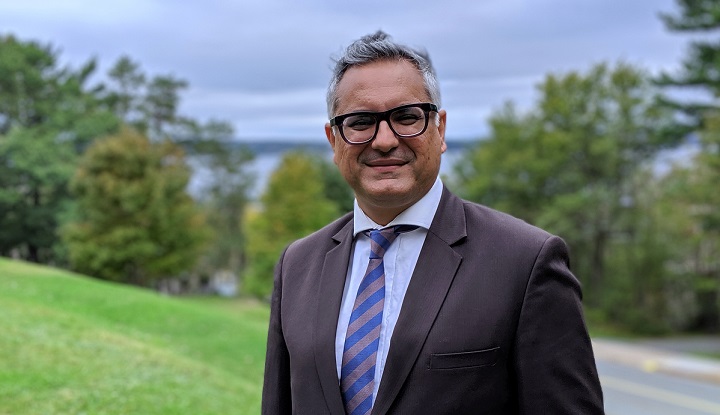 Mustansar Nadeem began his new role as Mount Saint Vincent University's new Vice-President, Administration on September 9. It's a position that reflects Mustansar's wealth of professional experience in senior administrative leadership, collaborative project management, and his strong belief in the academic and social benefits of a small university.
"I am delighted to be joining a world class institution with a long history of solid administrative management," he says. "I look forward to furthering that work in support of the delivery of quality teaching, learning, research, and employment experiences."
As Vice-President, Administration, Mustansar will provide strategic direction and leadership to Facilities Management, Financial Services, Human Resources, and Information Technology and Services.
As the University's senior administrative officer, Mustansar will also provide strategic counsel and advice to the President and Board of Governors and will work closely with MSVU's senior academic leadership, governments, corporate partners and community leaders.
Responsible for administration of the annual budget, physical assets and staff members, the position of Vice-President, Administration plays a major role in the fulfillment of MSVU's vision, mission and values, and the achievement of its goals.
Experienced senior administrator
Mustansar comes to Mount Saint Vincent University as a highly experienced leader in the delivery of administrative functions, including finance, human resources, information technology and facilities in post-secondary institutions. Most recently, he has held senior leadership roles at Olds College in Olds, Alberta, serving as Vice-President of Corporate Services and Chief Financial Officer. Mustansar also provided executive leadership to Student Housing, Continuing Education, Athletics, International Education and Development, and Conference Services.
Prior to his work at Olds College, Mustansar acted as Director of Finance and Administration at Parkland College in Yorkton, Saskatchewan. A Chartered Professional Accountant, he has also held administrative management roles with the Northwest Territories Power Corporation.
Mustansar holds a Master of Business Administration degree from Laurentian University and a Bachelor of Commerce degree in Accounting from Mount Allison University. He has also trained extensively in executive and financial leadership with the Chartered Professional Accountants Association.
Innovative project manager
Mustansar says he feels fortunate to have had the opportunity to work in a variety of settings and on some very interesting projects.
During his time at Parkland College, he was instrumental in the opening of a new $25 million Trades & Technology Centre, the development of a campus master plan, and the launch and exponential growth of an international education portfolio. Other initiatives included the development of a space management and utilization project and the development of an information technology management and cyber security framework.
Mustansar is also experienced in capital projects and project management and is an expert in Public Sector Accounting Board (PSAB) financial reporting standards.
Collaborative leader
Mustansar describes his leadership style as collaborative and consultative, and says he values open dialogue, transparency and free flow of ideas. He is looking forward to learning as much as he can about MSVU from members of the campus community as well as external partners.
"First and foremost, as a leader, I have the responsibility to put the institution and the people in the best possible situation to succeed in any environment. So that entails building relationships, understanding context and arriving at direction."
With MSVU's strategic planning exercise underway, he says the timing is perfect to collaborate in determining priorities for the next five years.
"Mount Saint Vincent University has been very successful on delivering on its last strategic plan and I think there will be an opportunity to build on those successes," he says.
Campus community advocate
Mustansar is an enthusiastic advocate for small universities and the benefits they offer in terms of a truly immersive experience. A former international student who chose to transfer from a large university to a smaller one, Mustansar says being in a small university helped him focus on his studies and thrive academically. He says the close-knit campus community also helped him adapt to life in Canada and expand his social network.
"Being on a small campus offered me a more holistic and engaging experience and prepared me well for life after university," he says. "I had ample opportunities to get involved in a variety of activities, benefit from small class sizes, make lifelong friends and get to know my professors and their work."
For this reason, Mustansar says MSVU's focus on student success was particularly appealing to him.
"I highly identify with the brand of education that MSVU offers and I can attest to the effectiveness of such an approach," he says. "The commitment to diversity, inclusivity and accessibility has been evident from my first visit to the campus and I am honoured to be part of the picture here."