Today (October 2) is National Custodial Worker's Recognition Day. To mark the day, we are pleased to feature some of MSVU's outstanding custodial staff. These people work hard each day to help keep our campus clean and safe. If you see a member of our custodial team on campus today (or any day!), please take a minute to show appreciation for all they do.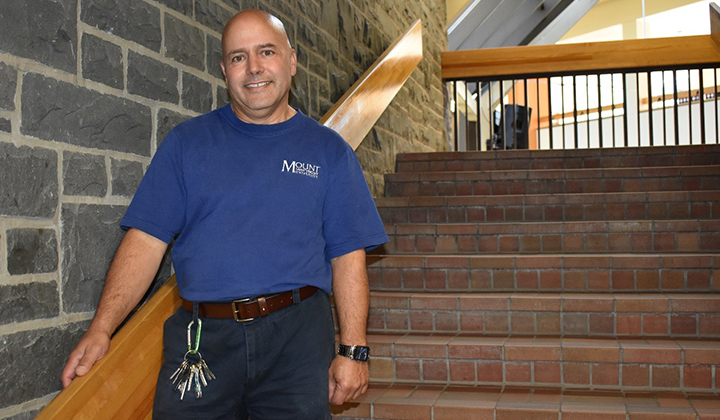 Raymond Sampson
Years of Service: 40
Where you can find him: Rosaria Student Centre
Favorite Hobby: Working on cars
Raymond Sampson is no stranger to the MSVU community. In fact, this year he will celebrate his 40th work anniversary. Raymond started working with MSVU directly out of high school and has always enjoyed the team of people he works with and the community feel on campus.
"I started off working in maintenance 10 years ago and now I work in Rosaria, mostly around the gym area. I knew I liked it here and wanted to stay. I love meeting and talking with the students. Overall, it is a positive environment and people are very considerate."
In addition to building relationships with those on campus, Raymond loves the diversity in his work. "As custodians, we are involved in all different parts of the University. We all come together to get the work done. It's a real team. I'm happy here in my role. It's been a long time, but it has been worth it."
When asked who or what inspires him, he answers with a smile. "Diane Tinkham, who used to work for the doctor's office, was like an angel from up above. She is retired now, but she always inspired me and was such a kind person. She treated students like gold and got to know them. She was a real inspiration and I learned a lot from her and how she treated others."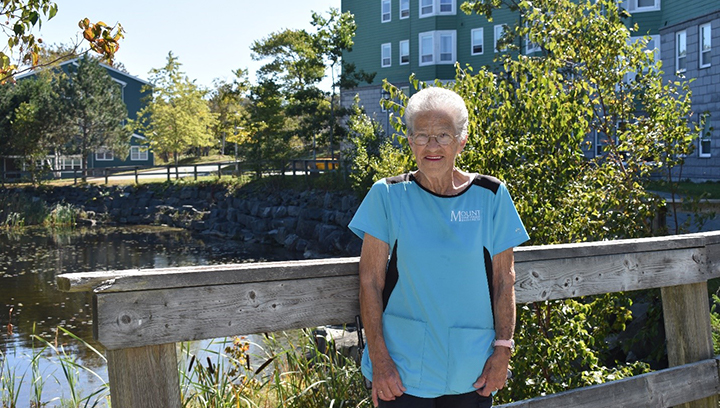 Linda Isenor
Years of Service: 30
Where you can find her: The Birches Residence and 2nd floor Evaristus
Favorite hobbies: Painting ceramics, Bingo, spending time with family
Linda Isenor, also known as "mom" or "grandma" to students and staff, has been working at MSVU for 30 years. She takes great pride in keeping the Birches Residence tidy and welcoming for students. In fact, every Christmas, Linda "decks the halls" of the Birches by putting up Christmas trees and ornaments. And it is not uncommon to see her giving out hugs or encouraging words to students, especially those who may feel homesick at times.
Before working at MSVU, Linda worked in the accounting department at the Worker's Compensation Board. She was also a stay-at-home mom to six children and babysat many of her neighbourhood children. As her own children started to become more independent, Linda knew she wanted to continue working, so she was pleased when the opportunity at MSVU came up almost 30 years ago. "It has been a great place to work. I love it here and it's become my second home."
Linda loves meeting students from around the world, and enjoys the team of people she gets to work with every day. In November, Linda will celebrate her 75th birthday but she has no plans of slowing down. "I wish I was turning 55, so I could work longer. I'm not ready to retire yet, and I won't leave until the students are gone at the end of a school year. They are my kids."
When Linda isn't taking care of her MSVU "kids", she is spending time with her other family. She has more than 20 grandchildren and two great grandchildren – all of whom are her pride and joy.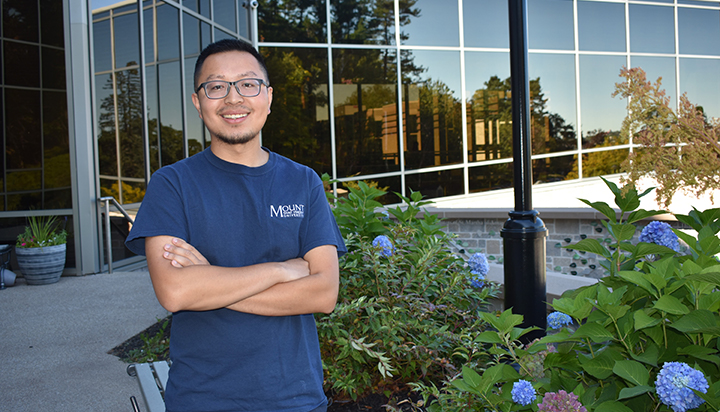 Wen Wei
Years of Service: 1
Where you can find him: McCain Centre
Favorite hobbies: Photography, flying airplanes, trying new food
Born and raised in Chengdu, China, Wen Wei has been working as a custodian at MSVU for one year. Wen graduated from Saint Mary's University as an accounting major and was working for a small business providing tax support before joining MSVU. He was hungry for greater balance and to be in a role where he could be more active.
"I didn't like sitting in front of a computer and I was bringing work home with me. My role now gives me work-life balance and I have made a lot of good friends. It is not a stressful role. It is a peaceful lifestyle."
Wen also enjoys that every day is different and that he gets to help keep people safe on campus. "We help to take care of the university and work closely with security. We will do things like shovel or fix things to help students, faculty and staff feel safer. We are also sometimes emotional support for students."
Most recently, Wen has been teaching students some photography basics, which is a true passion of his. "There is great lighting around campus for photos and also a lot of beautiful wildlife. Overall, it is a beautiful campus to be a part of."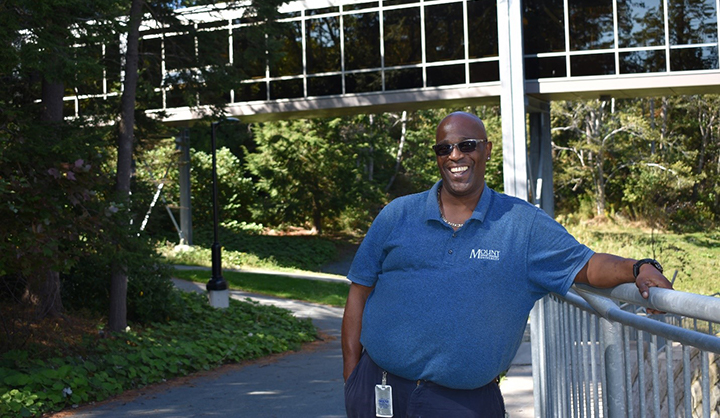 Jude Bartholomew
Years of Service: 5
Where you can find him: McCain Centre
Favorite Hobbies: Working in his garden, cooking and spending time with the "Missus" and dog Ellie
Jude Bartholomew is always a smiling face around the McCain Centre. Before joining MSVU, Jude worked as a general manager for a restaurant. He was looking for a steadier position that would provide greater work-life balance, while also allowing him to connect with people. Jude feels he has found the perfect balance here at MSVU.
"I consider myself a conversationalist, and I love meeting people and getting to know the students, professors and staff. My goal is to make people feel welcome here. I see that as part of my role. I knew from a young age that I didn't want to work behind a desk. I'm a people person so this has been a good fit for me."
And while Jude enjoys keeping things squeaky clean around MSVU, he sees his role as going beyond that. "It is a lot more than just cleaning. We also help set up functions and are here to help people find their way around campus. For me, it's about being neighbourly and friendly. We are also trained in first-aid and WHMIS – helpful things not just for ourselves but also for others on-campus in keeping people safe."
When Jude isn't working, he enjoys the simple pleasures of life – cooking, gardening and spending time with loved ones.