This year marks a major milestone for a proud MSVU alumna. On the occasion of her 65th anniversary since graduation, we are pleased to recognize Johanne (Zwicker) McKee's (BScHE '54) inspiring connection to her alma mater and special spirit of philanthropy.
Johanne has donated throughout her life – giving of her time when that was what she and her husband Ian could afford to offer, and through financial support when they were able later on. No matter the means, Johanne has always found a meaningful way to give back to her community and strongly believes that anyone can be a philanthropist.
---
"You don't have to donate huge sums of money. The act of giving within your means and ability – whether that be time or money – that makes you a philanthropist."
– Johanne McKee (BScHE '54), Read more about Johanne's MSVU story
---
With an aim of cultivating a "culture of philanthropy" at her alma mater, Johanne and her husband Ian generously established the Student Opportunities Fund at MSVU in 2013. This gift matching endowed fund was seeded by the McKees' initial gift of $50,000, and to encourage giving at any level, Johanne matches all donations to the fund up to an additional $50,000.
The
Student Opportunities Fund
is intended to enhance student learning experiences. It is available to graduate and undergraduate students in any MSVU program, and provides students with financial support to attend workshops and conferences that will contribute to their academic success, provide research presentation opportunities, or enable studies abroad.
The McKees recently met a recipient of a grant from the fund, Applied Human Nutrition graduate student Gurneet Dhami. Gurneet shared what the fund has meant to her.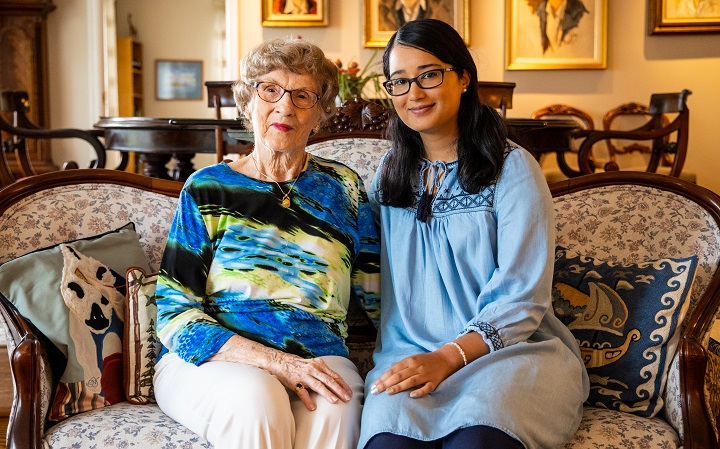 "The support from past students benefits future students as we all share a path of life-long learning at the Mount," Gurneet said. "I'm thankful to connect with Johanne who understands the importance of professional development outside the classroom by promoting the Student Opportunity Fund which has granted me the opportunity to attend a couple of key conferences for my career development. I hope other students get a chance to tap into this valuable resource and expand their learning outside the classroom this school year."
Johanne encourages her fellow MSVU alum to consider supporting the fund as a celebration of their time at the University.
"As a celebration of Johanne's 65th milestone class year, we'd love to be able to announce that the Student Opportunities Fund she has so generously championed and supported has reached its matching goal," says Denise Green, Executive Director, University Advancement at MSVU. "With $17,000 left to be matched, there's still room for other MSVU alum and friends to be part of the special effort Johanne started and double their impact by having their donation matched dollar for dollar. All towards helping students achieve their full potential."
"There is a reason for us to give back – so that future students can benefit from their university experience, just as we have," says Johanne.