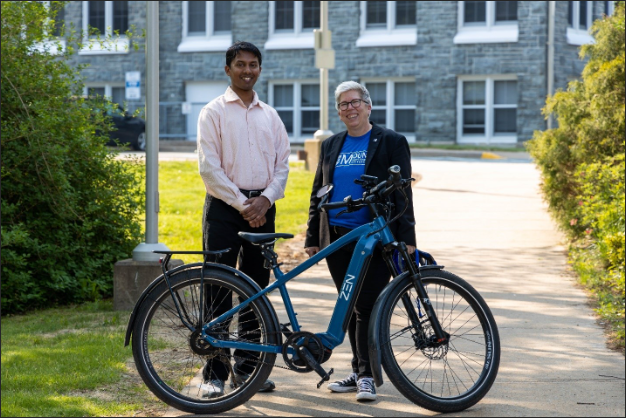 Thanks to a grant from HCi3's Accelerating to Zero Grant Program, announced today, Mount Saint Vincent University and Zen Electric Bikes are partnering to bring a new clean-energy powered transportation option to campus. The new electric bike program at MSVU is believed to be the first of its kind on an Atlantic Canadian university campus.
The Halifax Climate Investment, Innovation and Impact (or HCi3) grant is valued at $50,000. MSVU and Zen E-Bikes will each invest $25,000 in the project (including through in-kind support and subsidies).
During the fall 2023 semester, MSVU will be making available to students, faculty and staff a fleet of 15 electric bikes for travel on campus and off (e.g. to work, etc. for students). This pilot program will also feature a new solar powered e-bike storage and charging station on campus.
Electric bikes are pedal-style bikes with an electric motor attached to help power riders. Pedaling is still required, but the rider can determine how much of a boost from the motor they want as they pedal. The MSVU campus is well-known for its many steep hills. The electric aspect of the bikes will help propel riders up campus hills with ease, reduce traffic & parking related issues and improve air-quality on campus.
Additional details of the program are being determined.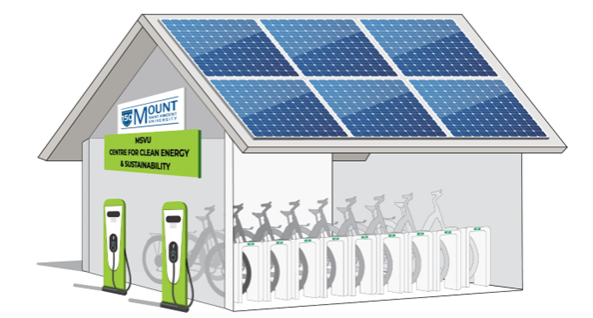 This initiative is aligned with MSVU's commitments to community engagement, accessibility and sustainability as detailed in our strategic plan, Strength Through Community. In particular, the plan includes a commitment to ensuring a campus infrastructure that is environmentally sustainable while meeting the needs of the university community.
"We're excited to be leading the way on this form of alternative and sustainable transportation for students," said Dr. Joël Dickinson, President and Vice-Chancellor, Mount Saint Vincent University. "Not only will this initiative help reduce greenhouse gas emissions and positively impact parking pressures, but we hope it will also raise awareness among students about about electric transportation options and how they might implement the latest clean energy technologies into their lives."
Zen Electric Bikes notes that during the product lifetime, 15 E-bikes can eliminate 360 tons of CO2; with the addition of solar panels and a back-up charging system, the system is completely net-zero.
"The Atlantic Canadian eco-system has been leading the way in terms of battery research and with the HCi3 initiative, we can commercialize these technologies for everyday activities," said Ravi Kempaiah, CEO, Zen Electric Bikes. "We are thrilled to be working with Dr. Joël Dickinson and her team; their personal and institutional commitment to innovation and sustainability will inspire students and educational institutions to consider clean transportation on campuses."
The Halifax Climate Investment, Innovation and Impact (HCi3) Fund's Accelerating to Zero grant program supports innovative projects that help Halifax/Kjipuktuk reach its goals of becoming net zero by 2050 through a just and equitable low-carbon transition. They support projects that directly reduce greenhouse gas emissions or enable the conditions for equitable and meaningful climate solutions to support the region's journey to net zero. HCi3, a subsidiary of EfficiencyOne, is one of seven non-profit organizations that, along with the Federation of Canadian Municipalities, make up the Low Carbon Cities Canada (LC3) Network established by the Government of Canada.
About Mount Saint Vincent University
Mount Saint Vincent University is marking its 150th anniversary in 2023. Since 1873, MSVU has been challenging the status quo, and prioritizing access and impact. As a leader in online and experiential learning, and based on a strong tradition of social responsibility, MSVU takes a personalized approach to education to nurture socially responsible global citizens. The University has been nationally recognized for its small class sizes that connect students with peers and professors, for providing students early access to valuable research opportunities, for its legacy in the advancement of women, and for facilitating critical advancements in food security, healthy aging, literacy, childhood development and much more. MSVU is located in Mi'kma'ki, the unceded and ancestral territory of the Mi'kmaq People.
Zen, founded by a Guinness World Record Holder and e-bike specialist, promotes sustainable transportation with innovative e-bike technology. Zen co-founders include a battery research scientist, principal motor engineer with decade long experience in electric vehicles and tech solution architect.
---

We're focusing on Operational Excellence and Sustainability. Learn more about this MSVU Strategic Plan Theme.