Dr. Jessie-Lee McIsaac has been recognized with the prestigious Early Career Research Award at Mount Saint Vincent University. Presented during the university's 2023 spring convocation celebrations, the award highlights Dr. McIsaac's exceptional contributions to the research community generally and her significant impact on early childhood development research in particular.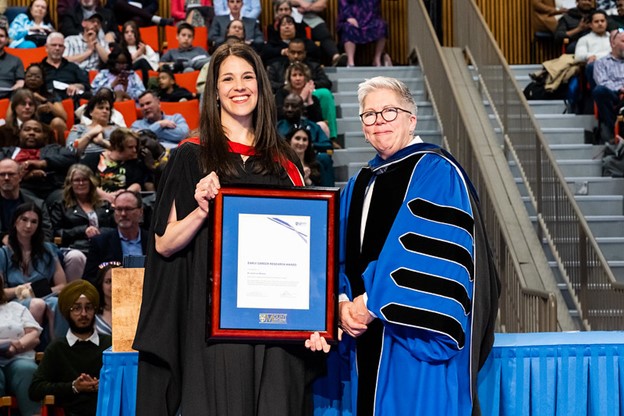 The Early Career Research Award was established to honour MSVU faculty members who are in the early stages of their careers and are pursuing innovative and exciting research in their fields.
Dr. McIsaac is an Assistant Professor in the Faculty of Education and the Department of Child and Youth Study at MSVU. She is also a Tier II Canada Research Chair in Early Childhood: Diversity and Transitions and directs the Mount's Early Childhood Collaborative Research Centre (ECCRC).
Her academic background includes a PhD in Public Health and an MSc in Health Promotion from the University of Alberta, along with a BSc in Kinesiology from Dalhousie University. Previously, she served as a Postdoctoral Fellow and Associate Research Scholar at Dalhousie University's Healthy Populations Institute.
Dr. McIsaac is a dedicated researcher who specializes in early childhood development. Her primary focus is to understand and address the needs of marginalized families. One mainstay of Dr. McIsaac's research is to use the perspectives of families to understand how societal factors impact their health and overall well-being. Dr. McIsaac also aims to bridge the gap between research, policy, and practice. She goes beyond traditional research outputs to make research as accessible as possible for a wider audience. Additionally, she believes in a collaborative approach to research, working closely with researchers, community members, policymakers and research participants to co-produce research that influences both policy and program design.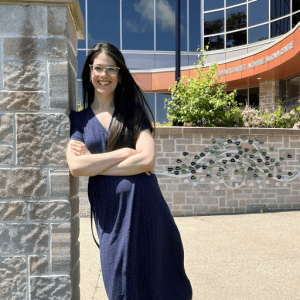 Dr. McIsaac's recent research has delved into various critical early childhood development and education aspects. One recent example is an exhibit from a newcomer family photovoice project that has been shown in multiple community locations such as parks, libraries, museums, and government institutions. In addition, she has undertaken research funded by the Canadian Institutes of Health Research investigating the impact of COVID-19 on families in the Maritime region.
Receiving this award is a testament to Dr. McIsaac's outstanding early-career accomplishments and leadership across her research endeavours.
Congratulations, Dr. McIsaac on this well-deserved recognition!
---

We're advancing research, scholarly work and professional activity. Learn more about this MSVU Strategic Plan Theme.