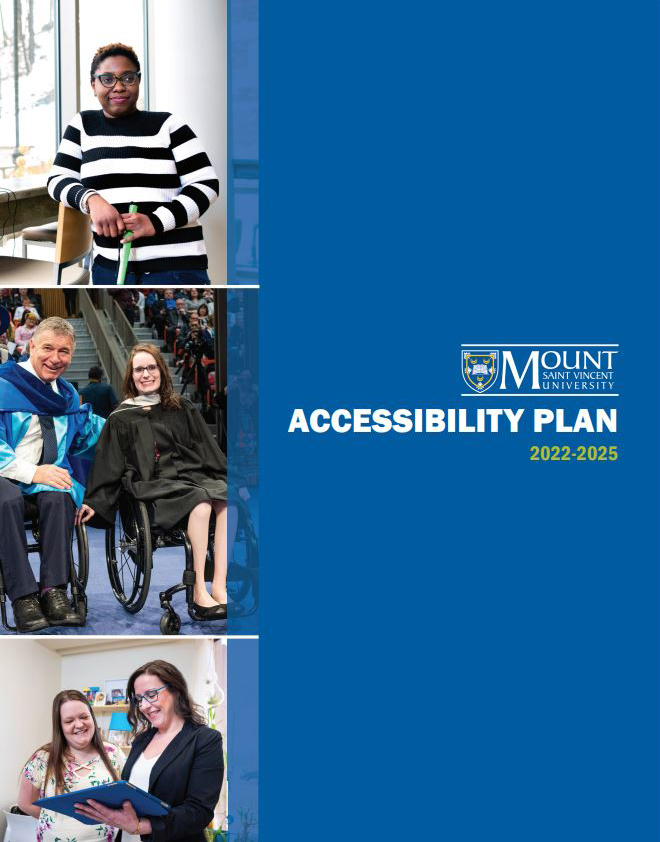 On Friday, December 2, 2022, the MSVU Accessibility Advisory Committee (AAC), joined by Dr. Joël Dickinson, President and Vice-Chancellor of MSVU, introduced the university's first multi-year Accessibility Plan.
The MSVU Accessibility Plan: 2022-2025 was created by the AAC, which is chaired by Dr. Brook Taylor, Interim Vice-President Academic and Provost, and is composed of MSVU students, faculty and staff, as well as external community members who work within the realm of accessibility in Nova Scotia. The plan reflects MSVU's commitment to fulfilling the requirements of the the Accessibility Act that was passed in Nova Scotia in 2017 and aims to make Nova Scotia inclusive and barrier-free by 2030. Consistent with the 2020 Nova Scotia Post-Secondary Framework, the AAC identified eight areas of focus to improve accessibility. These priority areas include:
Awareness and Capacity Building
Teaching, Learning and Research
Information and Communication
 Delivery of Goods and Services
Employment
 Transportation
 Built Environment
Implementation, Monitoring and Evaluation
The MSVU Accessibility Plan will work toward full and equitable access to education, programs, and services through a collaboratively developed and value-based commitment to accessibility that prioritizes institutional accountability within a human rights framework. Through this plan, MSVU will continue to work to remove barriers and support persons with disabilities within our community.
"At MSVU, we believe that to build stronger societies, we must enhance access to education. The creation of this plan will allow us to further transform words into action," said Dr. Dickinson. "Together, I have no doubt that we will achieve the goals and objectives laid out in this plan and beyond.
The plan, which will evolve over time as new standards are introduced, new collaborations are formed, and new technologies become available. It will build on many of the accessibility initiatives that have already been completed or are underway at MSVU, including for example the MountAbility program for students who self-identify as having a disability that might otherwise have been a barrier to university studies; creation of the EDIA Advisor role; and updating building accessibility and wayfinding signage across campus.
"I am thrilled, after years of collaborative and first-voice driven work, that MSVU has an Accessibility Plan that is a real and accountable action plan focused on continuing to remove barriers for a more accessible university experience for all," said Gloria Johnston, Manager of Accessibility at MSVU, who played a lead role in developing the plan. "This work will support the province's goal of an accessible Nova Scotia by 2030."
MSVU will continue to collaborate with other Post-Secondary institutions, their Accessibility Advisory Committees, the Nova Scotia Accessibility Directorate, and community partners to advance this plan and work toward improving accessibility in our community.
---
An accessible plain text version of the MSVU Accessibility Plan can be found online at msvu.ca/accessibility.
For more information on the MSVU Accessibility Plan or to request alternative print formats, please contact: AccessibilityFeedback@msvu.ca