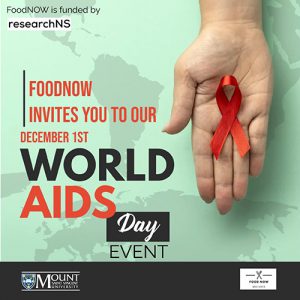 To recognize those impacted by HIV/AIDS, FoodNOW (Food to eNhance Our Wellness) will bring people together for program updates and to generate discussion about nutrition, foods, wellness and living with HIV/AIDS in Nova Scotia, on Thursday December 1, 2022 from 6:30-8:30 p.m., at the Rosaria Student Centre (Room 401) on Mount Saint Vincent University campus.
Register for FREE through eventbrite. Refreshments and door-prizes will be available.
FoodNOW is a community-based, four- phased project, in Kjipuktuk (Halifax), Miꞌkmaꞌki (Nova Scotia/NS). This project aims to help knowledge and experience sharing, with the ultimate aim of improving access to nutrition and food for people living with HIV/AIDS (PLWHA) in NS. It includes a 1) literature review, 2) food costing project, 3) interviews with PLWHA and service providers, and 4) a questionnaire. The results will be used to inform future research and community-based interventions including food programming in Nova Scotia and beyond.
FoodNOW was founded by Nova Scotia-based dietitians, service providers, and people with lived experience. We are funded by Research Nova Scotia. For more information, check out the FoodNOW website.
Questions we are answering, and will be discussing at the event, include:
1. What food and nutrition resources are available to people living with HIV/AIDS in Canada?
2. Can people living with HIV/AIDS afford a nutritious diet in Nova Scotia (NS)?
3. What ideas do service providers and PLWHA in NS have for improving available programming?
The FoodNOW research team and partners will be available for a question period during the event. The event will be held December 1st from 6:30-8:30, at the Rosaria Student Centre (Room 401) on MSVU campus. This event is FREE, will be catered, parking is free, and space is limited.