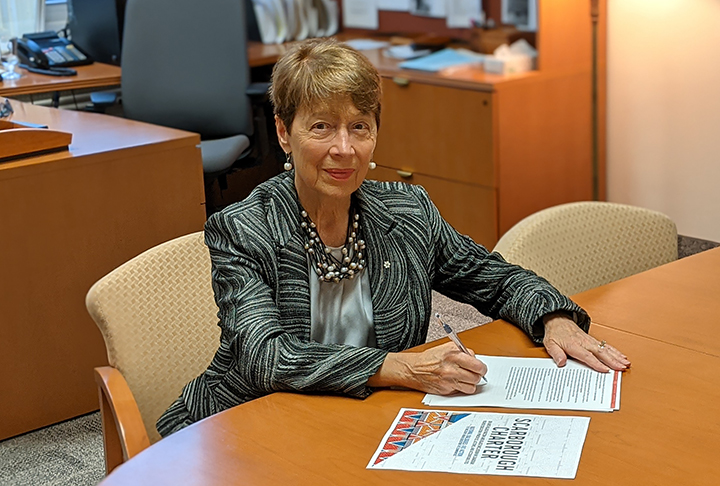 As a new signatory of the Scarborough Charter, Mount Saint Vincent University is sharing and formalizing its commitment to redressing anti-Black racism and fostering Black inclusion.
"We've long been committed to creating an equitable, diverse, inclusive and accessible community at MSVU, and our ongoing focus on this is a key pillar of our strategic plan," said Interim MSVU President and Vice-Chancellor Dr. Ramona Lumpkin, who was among representatives of 40 Canadian postsecondary institutions who took part in a virtual charter signing ceremony on Thursday, November 18.
"Signing this charter is an important way that we can demonstrate our strong commitment to providing a safe and welcoming university community for Black learners, scholars and community members," she said. "We want all faculty, staff and students to be able to fully participate in the university experience, which is why we aspire to be a leader in removing systemic barriers."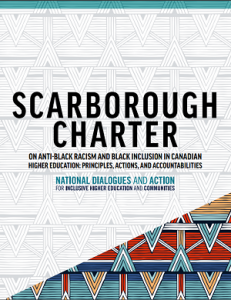 The result of more than a year of collaborative effort, the Scarborough Charter recognizes key barriers to Black inclusion and identifies concrete actions post-secondary institutions can take to end systemic racism. It also includes accountability measures to help institutions take meaningful action. The charter reflects extensive feedback provided by Black political and civic leaders as well as students, faculty, staff members and senior leaders at partner institutions.
"This is an extraordinary and critical step toward strengthening MSVU's commitment to dismantling structural inequities in higher education that perpetuate anti-Black racism," said Delvina Bernard, Equity, Diversity, Inclusion and Accessibility (EDIA) Advisor at MSVU. "This builds on recent actions at MSVU such as entrenching EDIA in the university's strategic plan, hiring an EDIA Advisor, and the recent targeted recruitment and appointment of new faculty of African descent."
Noted Delvina, "I endorse this approach because signing a charter helps create mechanisms of mutual and inter-university accountability. We all can benefit from sharing best and emerging practices in this domain. I hope this charter stimulates critical debate, personal as well as institutional reflection, and measurable social change."
The Scarborough Charter draws its name from a two-day forum held at the University of Toronto Scarborough in October 2020, during which institutions from across Canada collaborated to develop a national plan focused on helping fight structural anti-Black racism and promote inclusion. The charter includes principles, actions and commitments that reflect a collective recognition of the realities of anti-Black racism, encapsulate shared aspirations to address them, and provide a concrete framework for delivering on that promise.
To learn more, visit: https://www.utsc.utoronto.ca/principal/scarborough-charter