Earlier this month, MSVU's Counselling Services staff welcomed a new member to their team – Wendell, a handsome Portuguese Water Dog! The five-year-old canine is a therapy dog certified through St. John Ambulance. While Wendell is new to MSVU, the university has had an official therapy dog paw-sition since 2011.
"We strongly believe in the power of animal assisted therapy," said Jillian Rankin, Manager of Counselling Services at MSVU. "Wendell is a gentle, loving dog who has been specially trained to meet the needs of our students, and we can't wait for the MSVU community to meet him!"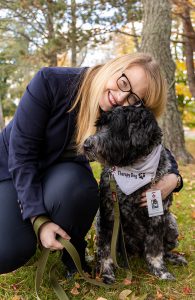 And no one knows Wendell better than Jillian does – she's his owner! "Wendell has always been calm with a sweet personality, and loves meeting new people ever since he was a puppy, so I knew he would make a wonderful therapy dog someday."
Having Wendell to cuddle and spend time with helps students who are feeling stressed or dealing with a variety of mental health issues, such as anxiety, depression, social issues, and homesickness. Clinical evidence suggests that therapy dogs can help fill the absence of previous support systems and help students adjust to a new lifestyle in university.
You can follow along on Wendell's adventures by following @wendell.msvu.therapydog on Instagram!
About Wendell
Nickname: Wendell Bark (after Wendell Clark, his favourite Toronto Maple Leafs hockey player)
Favourite food: Kale and carrots (loves the crunchiness!) and peanut butter
Favourite toy: His hot dog stuffy
Hobbies: Going for hikes and snuggling on the couch
Most embarrassing moment: Being a water dog while also being afraid to swim for the first three years of life!
Best friend: Digby, Wendell's 7-year-old doggy neighbor. Digby taught Wendell how to swim!
Guilty pleasures: Sucking on his fleece blankets to lull himself to sleep, and sleeping in until noon on the weekends.
Biggest fear: Large flights of stairs
Wellness with Wendell Hour at MSVU:
Stop by for some cuddles, ear scratches and belly rubs:
Mondays from 2-3pm (Main Floor of Library)
Thursdays from 3-4pm (in McCain 104) with Peer Support