October 23, 2022 – Kjipuktuk/Halifax, NS – Mount Saint Vincent University (MSVU) celebrated more than 475 graduates from 16 countries during its fall convocation ceremonies held in Halifax, Nova Scotia on Sunday, October 23, 2022.
In her convocation address, President and Vice-Chancellor Dr. Joël Dickinson called on graduates to challenge the status quo wherever their journey takes them and step outside their comfort zones.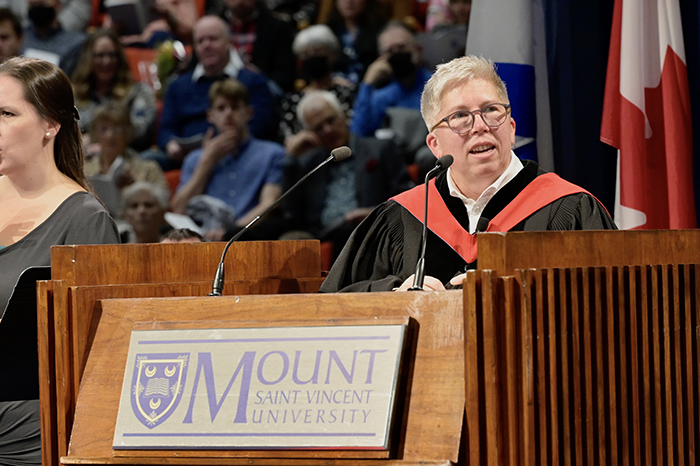 ---
"Never live within the limits that others have imposed on you or that you have imposed on yourself because I guarantee you that you don't know how far you will go," said Dr. Dickinson. She also reminded graduates that, as leaders and change-makers, the world has never needed them more.
This fall, students crossed the stage from arts, science, education, and professional programs to accept a range of more than 36 certificates, diplomas and degrees before becoming part of MSVU's network of more than 36,000 alumni worldwide.
Student prizes

---
Valedictorian Prizes for significant contributions to extracurricular activities at MSVU and in the community-at-large were awarded to:
The President's Prize, awarded to graduates whose generosity, energy and commitment enriches the university, was presented to:
Oluwatosmisin "Tomi" Adesina, Bachelor of Arts (Public Policy Studies), Lagos, Nigeria
Ajoke Laseinde, Master of Arts in Education (Curriculum Studies), Ibadan, Nigeria
Membership to Kappa Gamma Pi, the National Catholic College Graduate Honor Society, is based on scholarship, leadership, and service, and was presented to:
Jennifer Kurmey, Bachelor of Tourism & Hospitality Management, Halifax, NS
Simone Mercer, Master of Public Relations, Stephenville, NL
Faith Comeau, Master of Arts in School Psychology, Halifax, NS
Graduate Thesis Award
Erin Esau, Master of Arts in Women and Gender Studies, Dartmouth, NS, has been selected as the recipient for the Graduate Thesis Award for her thesis titled "Equity for Student Parents: Toward Academic Culture and Policy Change."
Honorary degree recipient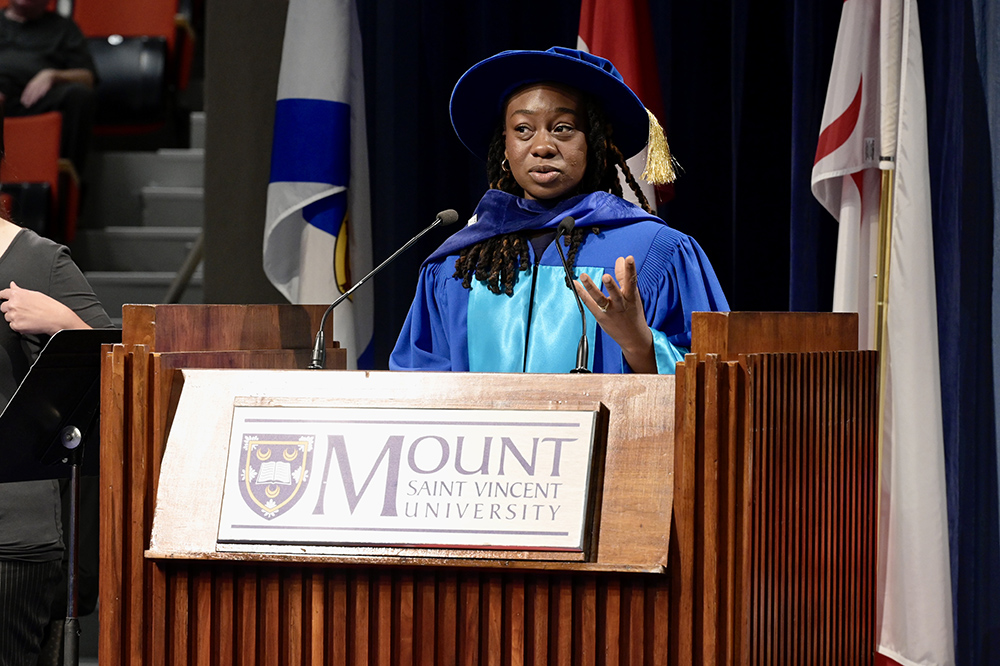 ---
During fall 2022 convocation ceremonies, MSVU bestowed an honorary degree on a visionary in STEM education: Dr. Eugenia Addy.
Dr. Addy is an educator, speaker, community organizer and advocate who is passionate about creating meaningful opportunities for youth to achieve their full potential. She is the CEO of Visions of Science, a charitable organization dedicated to transforming communities, society, and the planet through equitable access to science, technology, engineering and math.
She addressed Faculty of Education graduates, noting that it was a field that changed the trajectory of her life. She described growing up in a single parent home with a mom who always saw her potential, while also growing up in a community that was overlooked and underfunded, but full of life and vibrancy (a community she credits with playing a significant part in her achievements).
She said that it was educators who pointed her in the right direction and put opportunities in front of her. With the support of educators who believed in her potential beyond what was prescribed for her, she accomplished more than she thought possible. She reminded graduates of the power that they hold to make a difference for others.
"Don't be afraid to be the first," said Dr. Addy. "Don't be afraid to do what has never been done. Yes, YOU are the one that is here to make a change. And don't forget to take all the people along with you."
Special presentation by Dr. Mary Jane Harkins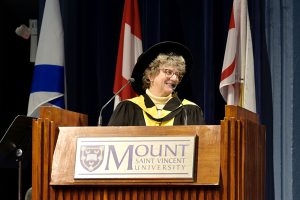 ---
Dr. Mary Jane Harkins, professor in the Faculty of Education, also delivered a special address to graduates. Dr. Harkins is the producer of the documentary Sister Dorothy Moore: A Life of Courage, Determination and Love, which recently premiered at the Atlantic International Film Festival. The film describes how Mi'kmaq Elder Sister Dorothy Moore, a survivor of Indian Day School and an Indian Residential School, overcame many obstacles to become a highly respected educator. Dr. Harkins shared her experience learning from Mi'kmaq Elder Sister Dorothy Moore.
Dr. Harkins cited from Sister Dorothy Moore's new book A Journey of Love and Hope, in which Sister Dorothy says: "my dear friends, let us walk in peace, in harmony, and in balance on Mother Earth and let us soar like an eagle filled with pride and gratitude that each of us is scared in the eyes of the creator." With the support of MSVU's President Dr. Dickinson and Nimbus Publishing, Dr. Harkins also presented graduates with a copy of Sister Dorothy's book.
About Mount Saint Vincent University
As a leader in online and experiential learning, and based on a strong tradition of social responsibility, Mount Saint Vincent University takes a personalized approach to education to nurture socially responsible global citizens. Founded in 1873, MSVU has been nationally recognized for having one of the lowest student-to-professor ratios, for providing students early access to valuable research opportunities, for its legacy in the advancement of women, and for facilitating critical advancements in food security, healthy aging, literacy, and childhood development.
-30-
Media contact:
Gillian Batten
Director, Communications
Mount Saint Vincent University
902-441-0505
gillian.batten@msvu.ca