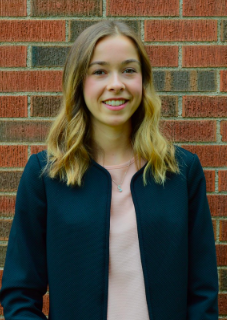 Through leadership, passion, hard work and commitment both inside and outside of the classroom, Hannah Baillie is leaving a lasting mark on MSVU.
Graduating with a Bachelor of Public Relations this fall, Hannah's academic success led to her becoming a finalist in the prestigious Rhodes Scholarship program in 2021. Outside of academics, she has been involved with the Symmetry Public Relations journal at MSVU serving a term as editor-in-chief.
Hannah has used her communications knowledge and experience to become involved with and make an impact on several organizations focused on health and youth, including Eating Disorders Nova Scotia, the Young Canadians Roundtable on Health, and the IWK Health Centre. As a member of the Mount Mystics Cross Country team, Hannah's enthusiasm for volunteerism resulted in her receiving the Sheila and Stephenie Allt Memorial Award in 2019 – an awarded given to a student-athlete who has demonstrated a commitment to volunteering within the Mount Community or external community.
She will deliver her valedictory address during the fall 2022 convocation on October 23 at 11a.m. You can watch the ceremony via MSVU's Facebook and YouTube pages. We asked Hannah to tell us about her time at MSVU and what's next for her. Read on to learn more about Hannah.
Hometown: Halifax, N.S.   
Degree being awarded: Bachelor of Public Relations (co-operative education route), Advanced Certificate of Proficiency in French  
Previous school attended: Sacred Heart School of Halifax 
Why did you choose to study at MSVU?
I was initially drawn to MSVU for the public relations program. I knew that I liked writing and communication, but I was also interested in business and political science. To me, public relations felt like the ideal combination of all these subjects. Thankfully, this proved to be the case!
I was sold on coming to the Mount after taking a campus tour during the winter of 2018. I fell in love with the campus and its abundance of green space, wildlife, and Bedford Basin views. I liked how it blended the new with the old and found the confusing staircases and mysteriously labelled floors of Evaristus to be quite charming. The fact that all campus buildings are connected by underground tunnels was also a selling feature.
How were you involved on campus?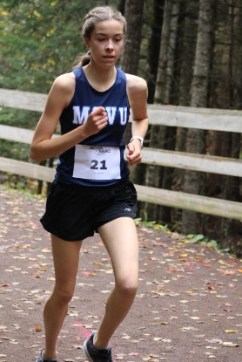 One of the best things about the Mount is that there are so many ways to get involved. From athletics to academics, campus jobs, and societies, there is truly something for everyone.
Within the Athletics Department, I had the opportunity to compete as a cross-country athlete and work as a member of the MSVU Game Crew for volleyball and basketball. I grew up playing a lot of sports and was very happy to continue this involvement at the Mount. Plus, I got to watch some pretty exciting games!
In my second year, I worked as a Research Assistant in the Mount Library and Archives and as a tutor with the MountAbility program. Both experiences helped me to connect with Mount students and faculty outside of my department, which I really enjoyed.
As an upper-year student, I became more involved with Symmetry (the Mount's student-run PR and Communication publication) and the PR & Communication Student Society. I had so much fun working with my friends and classmates while writing blog posts, articles, and planning social events.
Did you complete any work terms or internships?
Yes, three! The co-operative education part of the PR program is fantastic. I learned so much from my co-op placements at the Downtown Halifax Business Commission, Nova Scotia Health, and the Nova Scotia Barristers' Society.
Who are your academic and research mentors (either at MSVU or beyond)?
Public relations is not often thought of as the most "academic" field; however, there are a lot of really great academic mentors in the Department of Communication Studies. In particular, Dr. Ellen Shaffner and Dr. Amy Thurlow gave up a lot of time this year to help me prepare for my Rhodes Scholarship application and interview. Even though I was unsuccessful in the final stage of this process, Dr. Shaffner and Dr. Thurlow encouraged me to keep applying to graduate programs and helped me settle on the Master of Public Administration program at Dalhousie, where I am currently studying.
What class, professor, project or learning activity has held the most meaning for you? Why?
The Department of Communication Studies as a whole is a very vibrant, inclusive, and caring community. Naming just one meaningful professor, project or activity is hard to do!
In my final year of the PR program, I got to work with my friends on a communication plan for the Nova Scotia Liquor Commission (NSLC). This project was framed as a competition and spanned two courses, taught by Dr. Ellen Shaffner and Professor Roy Jamieson. Collaborating with an external client was a valuable experience because we got a taste of what working in a public relations agency would be like. We also learned how to conduct research, prepare budgets, and target our communication strategies to meet the client's needs. I think part of what made this project so much fun is that we were given a lot of freedom. In the end, my team ended up winning the competition and it has been fun to watch the NSLC implement pieces of our plan since then.
What is your favourite location on campus and why?
At the very top of Seton Hill there is a square road/loop (near the Caritas Residence) which is where we always ran our cross-country practices. This is my favourite spot on campus for a few reasons. Firstly, I have a lot of fun memories of running workouts up there with my teammates. Secondly, it has a stunning view of the MacKay Bridge and the Bedford Basin (particularly at sunset!). And lastly, because it seems like I always see the Mount deer (and crows) when I am up there. It's a very peaceful spot, even when you're running kilometre repeats.
Do you have any favourite stories about your time at MSVU?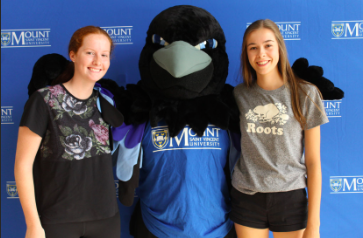 There have been so many fun, unique, and positive experiences during my time at the Mount that it is hard to choose just one favourite moment. One story that comes to mind is from my online Research Methods class taught by Dr. Ellen Shaffner. We had a "pet of the week" competition where one student would introduce their pet at the beginning of each class. At the end of the semester, we voted on "pet of the year." This was a light-hearted way to break the ice before diving into course material. I have since joked that my dog, Harry, has earned his PR dog-ree for attending so many online classes with me.
What do you think differentiates MSVU from other post-secondary institutions?
MSVU calls itself a "small wonder," and this couldn't be more true. The small class sizes helped me form deeper connections with my classmates and professors, which came in handy when the pandemic forced us to switch to online learning. The fact that I already knew most of the people in my classes helped me manage the change in routine.
Another thing that distinguishes the Mount from other post-secondary institutions is its inclusivity and encouraging atmosphere. People really want to help you get involved and see you succeed. This was particularly apparent in athletics, where Head Cross-Country Coach Matthias Mueller and Director of Athletics June Lumsden consistently went out of their way to ensure a positive experience for student-athletes.
What will you miss most about your time at MSVU?
MSVU is a special place and there are many things that I will (and already do) miss. Thankfully, I still get to come to campus a few times per week for cross-country practices as an assistant coach. Maintaining this level of connection to the Mount has helped ease my transition to a new, larger university.
I already miss seeing my PR classmates every day, the professors in the Department of Communication Studies, and the familiarity of the McCain Building and Seton Academic Centre. I was disappointed to find out that there are generally no deer on Dalhousie's downtown campus, so I miss them too. The crows, however, I have mixed feelings about.
What's next for you?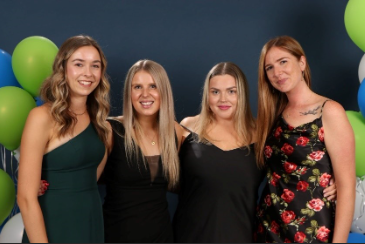 I'm currently studying at Dalhousie University in the Master of Public Administration (MPA) program. This is a two-year program, so I will be in Halifax for the next while. After that, I am interested in either living or studying abroad. There are a few social policy programs in the UK that really interest me, but I'll have to re-evaluate that at the end of 2024!