Meet Randy Headley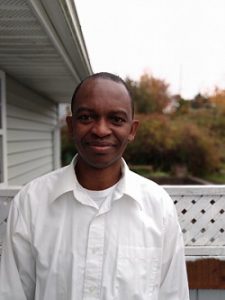 Already a familiar face and friend to many at Mount Saint Vincent University, Randy Headley has been appointed as the University's new full-time Black Student Advisor. The role was previously a part-time one.
"My primary goal in this role is to support students of African ancestry at MSVU. I want to encourage Black students to participate in their learning journey," says Randy. "I will also assist potential applicants with the application process and transition to MSVU. I will collaborate with students, the indigenous African Nova Scotian communities and the MSVU community to achieve the best supports for Black students."
Randy is no stranger to identifying and serving the needs of MSVU's Black students, having previously served as the first Africentric Support Group Coordinator at MSVU from 2013-2017. In 2012, he started an informal support group for Black/African students (Support Group for Students of African Descent), which was renamed the "Africentric Support Group" in 2013.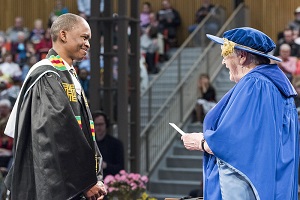 "MSVU invested in my idea to support Black/African students, and I served as the Africentric Support Group Coordinator until 2017. In 2017, I joined the Office of the Dean of Professional and Graduate Studies as the Graduate Admissions Officer. I will continue to diligently serve this university in the Black Student Advisor role," Randy says.
In his new role as Black Student Advisor, he is renewing his focus on empowering and assisting the university's students of African ancestry, while also strengthening and encouraging the entire Black community at MSVU.
Randy says his vision for his role includes better understanding the Black/African student learning experience, and educating the MSVU community about the Black experience, through the lenses of Africentricity. He also wants to empower Black students and collaborate with all stakeholders to meet the needs of Black students at the university.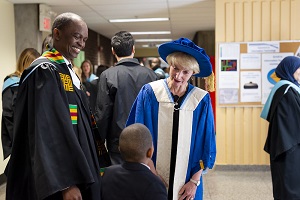 Since arriving at MSVU from Guyana in 2003 as a student in the Bachelor of Business Administration (co-op) program, Randy has made a mark. As an undergraduate student, he took part in varsity sports, became involved in student leadership as the international students' president in 2006 and 2007, participated in student societies, and worked with various offices, including two co-op work terms in the Admissions/Registrar's office.
Randy's MSVU education is a perfect complement to his employment experience at the university. While working as a full-time Administrative Assistant in the Registrar's Office, Randy completed his Master of Arts in Education (Life-Long Learning) at the University. "In 2018, I completed a thesis – The learning experience of students of African descent at MSVU – which looked at Black students' experiences through the lens of Africentricity and critical race theory," he says. Since 2018, Randy has been a member of the Board of Directors at the Delmore Buddy Daye Learning Institute and is currently Vice-Chair.
Randy and his wife have three young children – two boys and a new baby girl. "My wife and I work very hard to ensure that our children place great value on knowledge, and to see the value in both formal and informal learning," he says, noting that his boys (in pre-pandemic times) were eager to get to the MSVU library or Curriculum Resource Centre at the end of each school day to read.
Randy adds that he and his wife are also active volunteers, recently packing and distributing 10 backpacks to families whose children were returning to school through their work with Youth Empowerment Organization, where they also serve as Board members. "We place great emphasis on giving back to the community as a family," he says. "During the pandemic, my older son designed and help to build a book house, which was filled with books and placed at the front of our house, to promote literacy in our community."
Showing a positive spirit that will serve him well as he begins his new job, Randy adds, "Every opportunity to try something new excites me."