Mount Saint Vincent University and the Atlantic School of Theology, with the generous support of RBC, are co-hosting an online forum to feature the stories of Black women in leadership toward helping others – especially employers and decision makers – understand what they can do to improve and support the leadership journey of Black women.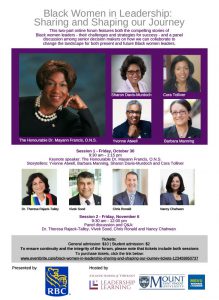 Titled Black women in leadership: Sharing and shaping our journey, the event will take place in two parts: the first on Friday, October 30 and the second on Friday, November 6.
All are welcome.
The COVID-19 pandemic has highlighted and exacerbated existing systemic barriers. The time for change is now. The success of Black women leaders is essential to all of us for so many reasons, including a more just and equitable society, and our economic recovery and future prosperity. Much more needs to be done to address anti-Black racism and help Black women leaders rise. Each one of us has a role to play in educating ourselves and taking real action to contribute to the success of Black women leaders.
Black Lives Matter is a response to the experience of silencing, exclusion and violence that has been perpetrated upon Black people to the point of exhaustion and even death, and this event is a response to the silencing, suffocation and exclusion of Black women and their voices in professional settings. Barriers to their opportunities, options, resources and freedom of full self-expression have been active and oppressive.
Event details
Tickets must be purchased in advance and are $10 for general admission and $2 for students. To ensure continuity and the integrity of the forum, tickets include both sessions. Tickets can be purchased on eventbrite (presenter bios are also available at this link).
Part 1: The stories of Black women leaders – their challenges and strategies for success
Friday, October 30, 9:30 a.m. to 1:15 p.m.
Keynote speaker:
The Honourable Mayann Francis, O.N.S., Distinguished Public Service Fellow in Faculty of Management, School of Public Administration at Dalhousie University, and former Lieutenant Governor of Nova Scotia
Presenters:
Yvonne Atwell, former Executive Director with the Community Justice Society and first Black MLA
Barbara Manning, founder of MillerManning and past CEO and President of GenieKnows Inc
Sharon Davis-Murdoch, founding member and Co-President, Health Association of African Canadians
Cora Tolliver, Regional Director, Conflict and Complaint Management Services, Atlantic Canada, Department National Defence
Part 2: Collaborating to change the landscape for both present and future Black women leaders – A panel discussion and Q&A with senior decision-makers
Friday, November 6, 9:30 a.m. to 12:00 p.m.
Panelists:
Dr. Theresa Rajack-Talley, Vice-Provost for Equity and Inclusiveness at Dalhousie University
Vivek Sood, Executive Vice President of Related Businesses for Sobeys Inc.
Chris Ronald, Regional President-Atlantic Canada for RBC, and member of the MSVU Board of Governors
Nancy Chahwan, Chief Human Resources Officer at the Treasury Board of Canada Secretariat
Emcee:
Crystal Taylor, owner and operator of Ebony Consulting with more than three decades of experience in employment equity policy, including diversity and inclusion programs and initiatives
This event is also supported by the African Canadian Women in the Public Service Network and MSVU Business & Tourism Department.