Tune in to Mount Saint Vincent University's Business & Tourism Department's new (virtual) Fireside Chats series to hear personal stories, perspectives and interesting anecdotes from this region's top business and tourism leaders.
The next event in the series is coming up at 6 p.m. on Tuesday, October 27, 2020 and will feature Ben Cowan-Dewar.
The event will be broadcast live on Zoom. Advance registration is required; anyone interested in taking part can register online. Questions can be submitted to business@msvu.ca in advance for inclusion in the conversation.
About Ben Cowan-Dewar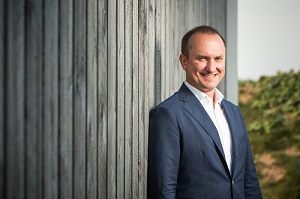 In 2004, Ben set out to turn a former mining site on the west coast of Cape Breton Island in Nova Scotia, into a golf resort. Today, the co-founder and CEO of Cabot Links, and recipient of Canada's prestigious Top 40 under 40 award, is credited with revitalizing the economy in a region of rural Nova Scotia.
Along with business partner Mike Keiser, Ben developed Cabot Links and Cabot Cliffs, both named among the World's Top 50 golf courses. The resort now includes two award-winning courses, internationally-renowned accommodations and villas, restaurants, and employs more than 500 people. Ben also recently expanded the Cabot brand with the ground-breaking of Cabot Saint Lucia, a masterplan resort community in the Caribbean. This property will include Cabot's third golf course and second resort.
Ben has served as the Chair of Destination Canada since 2017 and was recently named to the Industry Strategy Council with the aim of aiding Canada's economic recovery from COVID-19. He is a member of the Young Presidents Organization (YPO) and has served on the boards of the Golf Canada Foundation and Cape Breton University. He was awarded the Meritorious Service Medal by Governor General David Johnston in 2017.
At the Fireside Chat on October 27, Ben will address the inspiration for his businesses, including his decision-making on location and how he has grown the Cabot brand into one that is internationally recognized. The session will also explore Ben's perspective on creating a competitive advantage in the hospitality industry.
About the Fireside Chats Series
Launched in September 2020, the Fireside Chats series features online addresses by high-profile entrepreneurs, managers, government officials and CEOs working in the business and tourism industries in Nova Scotia and beyond. Presented by MSVU's Business Administration and Tourism & Hospitality Management Department, the webinars are open to all.
The Fireside Chats provide students within MSVU's Business and Tourism Department opportunities to hear current perspectives from experts and leaders working within their areas of study. The events also provide a new opportunity for students to gain exceptional learning experiences outside the classroom as part of the Learning Passport (LP) program. The program is designed to encourage students enrolled in Business and Tourism courses to participate in extracurricular activities within the department, the University and the broader community.
The November session will take place at 12 p.m. AT on Tuesday, November 3, 2020 and feature Michael Hyatt – register here. "A self-made millionaire by age 25, Michael is a mentor and investor in many start-ups, including the Rotman School of Business Creative Destruction Lab and The Founders Institute. He has built two highly successful tech firms valued at hundreds of millions of dollars, and is a recipient of the Top 40 Under 40™ award. He chairs his family's charitable foundation, and is the executive chair of BlueCat, one of Canada's leading growth companies. Michael is a weekly business commentator on CBC News.​" (Source: CBC)